Tchami, WHIPPED CREAM, Moore Kismet, SVDDEN DEATH, SLANDER, VNSSA, and more are set to play the debut edition of Audiotistic San Diego.
---
As one of the most decorated brands to fly their flag under the Insomniac umbrella, Audiotistic has continued to thrive with their standalone festivals and stage takeovers all over California. Known for bringing a dynamic range of genres to the stage that most recently include bass, house, and hip-hop, they've now set their sights further South than ever before with the newly-minted edition in San Diego.
Set to take place on November 20-21 at the North Island Credit Union Amphitheatre, Audiotistic San Diego will feature their beloved Frequency 1.1 and 2.2 stages and plenty of amazing artists to catch during the weekend. On Saturday there will be a bevy of top-tier talent taking the stage including WHIPPED CREAM, Wuki, Diplo, Herobust, and Tchami, while SVDDEN DEATH will be decimating minds with 'The Maze Of Punishment' takeover featuring artists like Guppi, Eptic, and Space Laces among others.
The heat from Saturday will continue into Sunday as well with immediate standouts including SLANDER, Moore Kismet, Dion Timmer, and GRYFFIN announced to play the Frequency 1.1 stage that day. House lovers will want to head to the Frequency 2.2 stage though as Harvard Bass, VNSSA, SIDEPIECE, Lee Foss, and more will be throwing down some heaters to shuffle the day away to in style.
Tickets for Audiotistic Bay Area go on sale Friday, August 5 at 10am PT. Tickets start at $119 with payment plans beginning at $6.19. (Hah, we see what you did there Insomniac.) Head over to their website for more details and let us know if you plan to attend in the comments!
---
Audiotistic San Diego 2021 Lineup: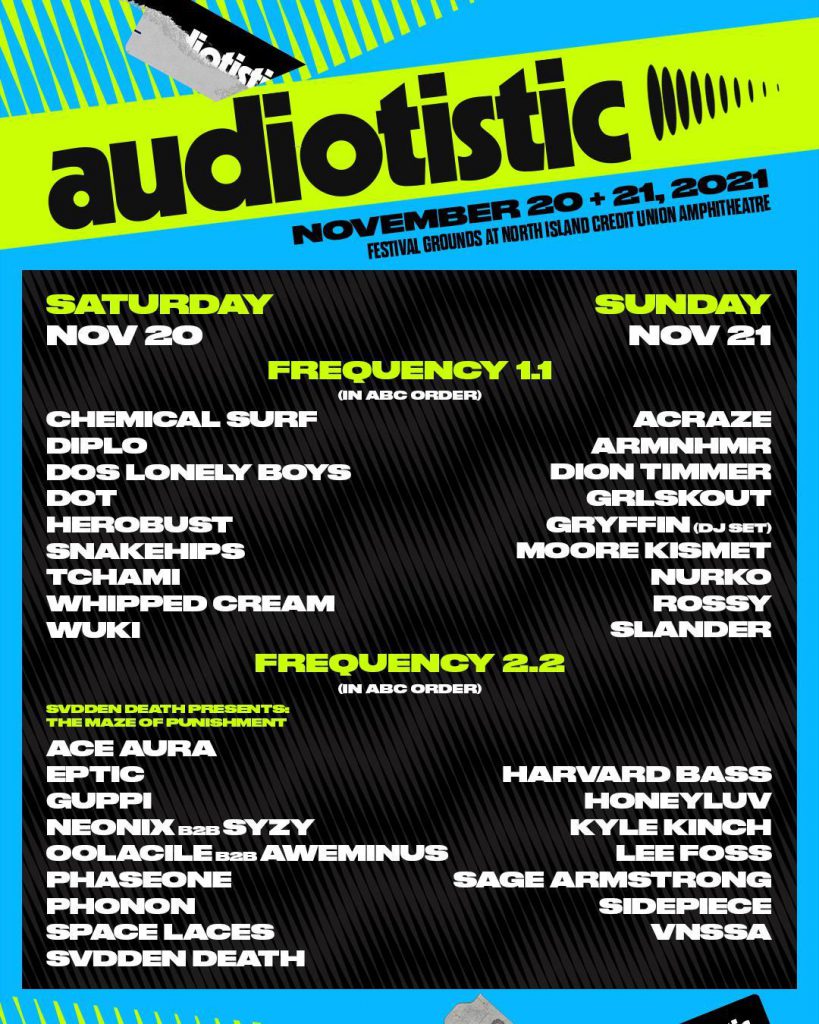 ---
Audiotistic Bay Area 2021 – Lineup By Artist:
Saturday
Frequency 1.1
Chemical Surf
Diplo
Dos Lonely Boys
DOT
Herobust
Snakehips
Tchami
WHIPPED CREAM
Wuki
Frequency 2.2 (SVDDEN DEATH Presents: The Maze of Punishment)
Ace Aura
Eptic
Guppi
Neonix b2b Syzy
Oolacile b2b Aweminus
PhaseOne
Phonon
Space Laces
SVDDEN DEATH
Sunday
Frequency 1.1
ACRAZE
ARMNHRM
Dion Timmer
GRLSKOUT
GRYFFIN (DJ Set)
Moore Kismet
Nurko
Rossy
SLANDER
Frequency 2.2 – Sunday
Harvard Bass
Honeyluv
Kyle Kinch
Lee Foss
Sage Armstrong
SIDEPIECE
VNSSA
---
Connect with Audiotistic on Social Media: