Wobbleland ventured back to the Bay Area with some new artists to catch and their banging tunes in tow for its 2022 edition.
---
Regularly bringing the heaviest bass lineups in Northern California, Vital Events took some chances this year with a more experimental lineup for the 2022 rendition of Wobbleland. This year's edition of the festival took place at Bill Graham Civic Auditorium and brought forth a plethora of rising artists and OGs in the bass scene, along with a surprising amount of space to dance in. This made it a special weekend for all who were awaiting its return.
Like many, I was eager to return and excited to see some hardworking friends and rising artists on the lineup for the weekend's festivities at Wobbleland. Previous lineups featured heavy dubstep, but this year's lineup ventured into experimental bass, mid-tempo, and drum and bass. While some unsavory artists who have been silent about allegations of sexual assault were on the lineup, seeing a plethora of support for the underground and newer artists was much more welcomed.
Little to no line made it an easy entrance process each night with a surprisingly laidback security check.
Arriving at the venue was the easiest it's ever been, with free street parking all around as well as secure, paid parking in the venue lot. Bill Graham Civic Auditorium can be known for having inconsistent levels of security, yet Wobbleland was one of the better ones. The security and ID/COVID checkpoints were fast, allowing my group and I to enter the venue quickly.
Once inside, we faced the Wobbleland stage in the main room and the side room with the Toxic stage. To put the cherry on top, we were met with no lines at the multiple bars all around, a lounge area room, and an outside smoking area as usual. This made it easier than ever to get right into the mayhem that would ensue.
After hitting the bathrooms downstairs and ID checks for the bar, we were in and ready to party. Although there was much less of a crowd than I'd ever seen in the venue, there was still excitement in the air as people walked briskly between stages to catch the first sets. It was clear that everyone was ready to rage all weekend.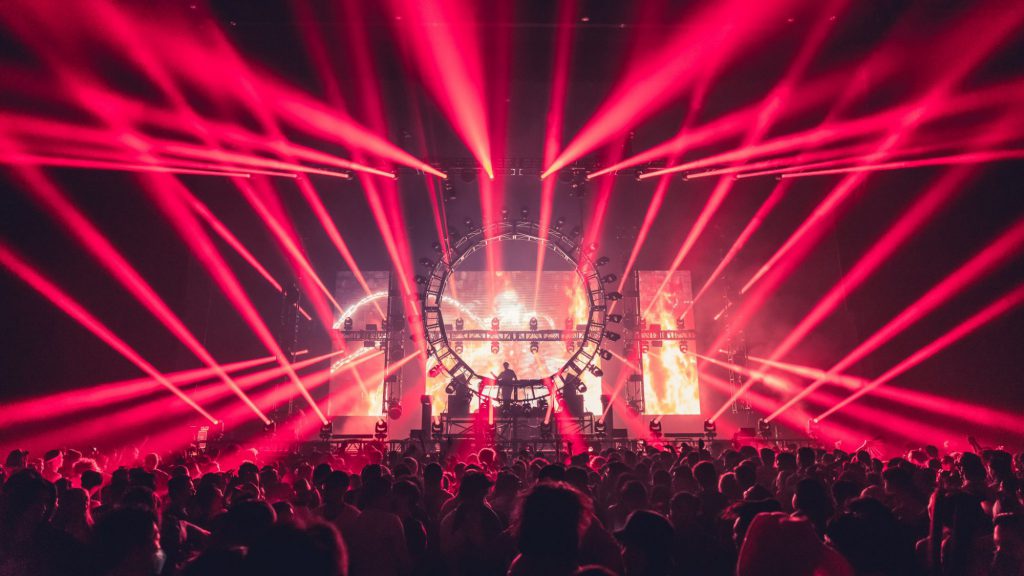 The Toxic stage contained a treasure of hidden gems, with lots of rising artists and local talent.
I decided to support some local artists to start the first night and headed to the Toxic stage. The stage was at the far end of the room, with three giant LED screens showing the artist's visuals. This small room was perfect for a laidback feeling to avoid the overwhelming crowding in the main room.
Xotix kicked off the night at 6pm with some 140 sounds and insane energy to move the crowd. The boys dominated the decks and played some unreleased tracks. They even brought Jalaya onstage early to play their collab for the last song. Their energy was unbeatable, and they took me by surprise.
Going off that collab track, Jalaya took to the stage for his own set. Having seen Jalaya at his LoFreq event, I knew I'd enjoy this set, but I wasn't prepared for what exactly would transpire. He brought out all his weapons of sound with his live drumming via a drum pad, a plethora of personal tracks/collabs, and even bringing out his friend and vocalist Isabelle Coates to sing a few of theirs as well. I was blown away and will be right up front again for the next one.
After that, I couldn't miss an all-time favorite, Minnesota.
My group and I headed back over to the Wobbleland stage to find a good spot in the crowd. The mainstage production was pretty insane. The stage itself was sitting behind a circular truss with LED lights flashing back and forth and the occasional lasers beaming off into the crowd. Not surprisingly, the crowd started to fill in more in preparation for his set.
Then, just as expected, Minnesota had an epic set prepared to share with us. He brought some of the best to the Bay Area with a nice mixture of West Coast bass, drum and bass, and more. He truly has a talent for capturing a crowd, as I've never seen another artist do so well.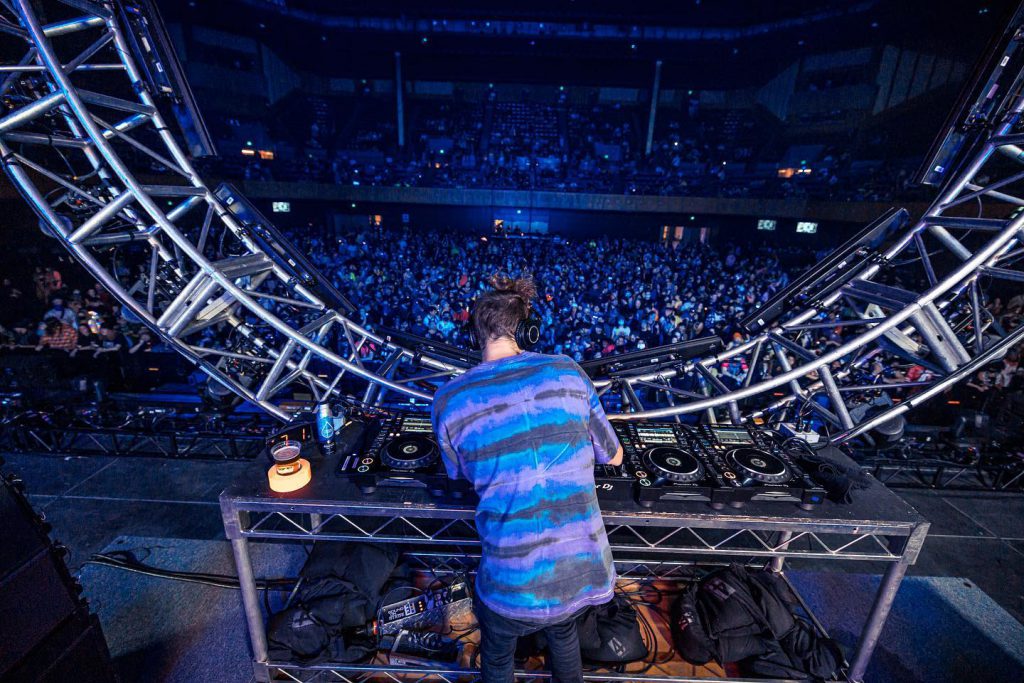 The second day brought a bigger crowd, lots of intensity, and all the talented women.
While day one featured many rising artists, day two featured all the talented women on the lineup. I was psyched to see all the ladies take the stage, as well as some prominent names such as Dirt Monkey and the highly-anticipated Getter b2b Eptic. Kicking off hot and heavy with HVDES was just perfect. Her dark and playful set was a great way to open up the mainstage room, and she won over some new forever fans. Soon after, One True God took the stage. He truly swept everyone off their feet with his unique set – it was like a seductive dance everyone wanted to be a part of with dark and repetitive beats to keep the hips gyrating.
From there, we headed over to the Toxic stage to catch Ace Aura. If I said I was amazed, that would be an understatement. Ace Aura had the crowd by their necks, dropping tune after heat-filled tune and sprinkling in color bass originals left and right. His energy was at insane levels, and he brought all the headbangers out to play. For my first time seeing him live, I knew right then and there that I'd catch any Ace Aura set I had the chance to.
My final favorite sets of the night were a hard pick between SubDocta and Getter b2b Eptic.
While Getter and Eptic played b2b on the Wobbleland stage, SubDocta played the Toxic stage and brought out some drum and bass to get the blood pumping. Getter and Eptic brought the ultimate festival feeling to Wobbleland, and the main room filled up almost entirely to witness the dream happen live. They had real Bay Area vibes about them, knowing just how to read the large crowd and keep the massive energy throughout. Bouncing back to the Toxic stage, SubDocta had the crowd getting down. While it was a much smaller vibe in the side room, it had an intimate feeling that brought everyone's comfortable weirdness out.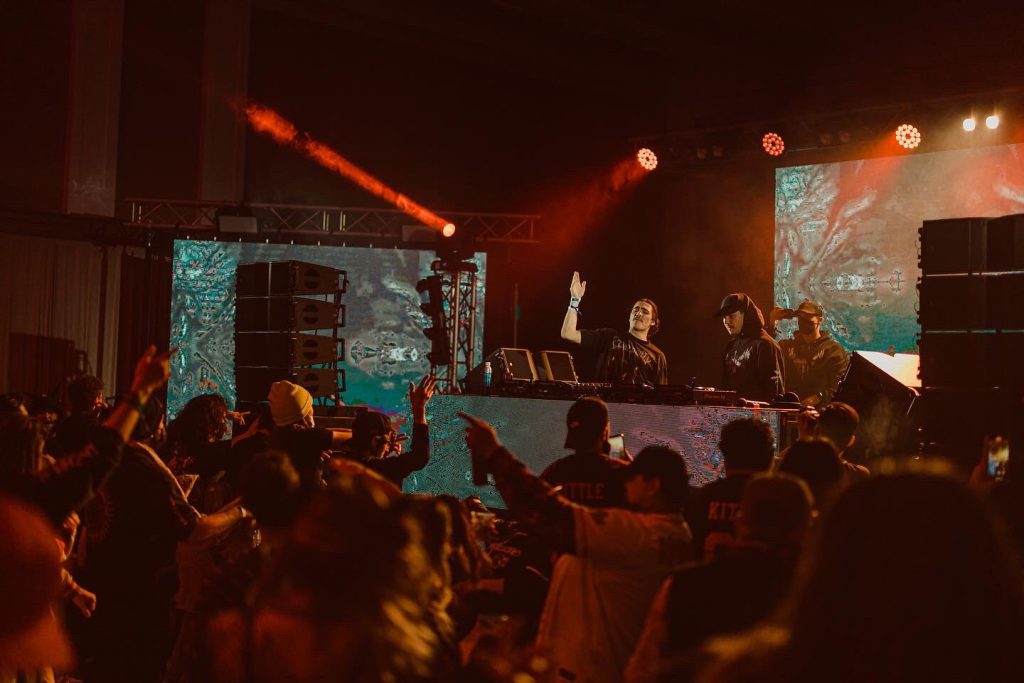 The final day of Wobbleland showed us who could really hang for three day festivals now.
Sunday served as a bittersweet reminder of our inevitable aging. Being closer to the 25+ crew, I made sure to wear comfier shoes and bring my earplugs every day, but I was still not prepared for the toll my body would feel again after a three-day festival. With my last being before the pandemic, I can say that aftercare was already on my mind by day three.
Kicking off the evening with the gifted Slang Dogs was no joke. Their dark and brooding intensity drew the crowd in, filling the Toxic stage room as few other artists had done. Their one-of-a-kind sound remains irreplicable and irresistible, surely bringing them new followers to hypnotize. With Kumarion right after, the Toxic stage was the place to be. The drum and bass heads had a joyful day three at this stage; experiencing his high energy and fast-paced set, we were all sweating up a storm. Don't sleep on your chance to catch him if he's playing a festival or club near you.
Wobbleland Bay Area opened our eyes to the larger world of bass music, and gave us new experiences to cherish.
The return of Wobbleland to the Bay Area was filled with surprises and reminded us all of why we love bass music. Now we can look forward to its return next year with hopes of seeing more women, fewer problematic artists, and even more rising artists take the stage. You can reminisce with our Wobbleland 2022 playlist for the time being and keep the energy going into 2023!
---
Connect with Wobbleland on Social Media: