The Widdler and Pushloop announced dates for their Back To Basics: Vol. 2 tour – coming to a city near you in 2022!
---
In need of some live music in the form of deep, dark bass and trembling subwoofers? The Widdler and Pushloop have you covered as the producers are set to hit the road this year in support of their Back To Basics: Vol. 2 tour presented by Sub.Mission. After completing the first leg of their Back To Basics tour in 2019, the pair announced a second round of dates for 2020 which were inevitably postponed due to COVID-19. Now, two years later, they're coming through with an expansive tour that will cover major ground across the US in 2022.
Bass lovers from the west coast to the east coast are in luck as the Back To Basics tour will hit nearly every major city in the US. The tour will kick off in Portland, OR at The North Warehouse, and from there the duo will travel to San Francisco, Las Vegas, San Diego, Denver, Brooklyn, Washington DC, Miami, and more, including an appearance at Bigfoot Electro and a mystery location on June 18. To close out the tour, the producers will play the beloved Bellvue, CO venue The Mishawaka for a two-night run on June 24–25.
The Widdler and Pushloop are two artists that continue to push boundaries in the bass scene with their innovative sound design. Their joint EP, Abydos, dropped shortly before the first round of the Back To Basics tour was announced and featured some of their best work to date. Both dropped some incredible music in 2021 as well – The Widdler's Triton EP and Pushloop's Banyan EP each incorporate a blend of Eastern musical influences, reverberant basslines, and unique effects that showcase their exceptional production finesse. When they get together this time around, there's no telling what the pair might bring to the decks.
Tickets for The Back To Basics tour go on sale Thursday, January 27 at 2pm local time and can be purchased through this fanlink. This tour is bound to be phenomenal, so don't miss out – grab your tickets as early as possible to secure your spot at a show!
---
Back To Basics: Vol. 2 Tour 2022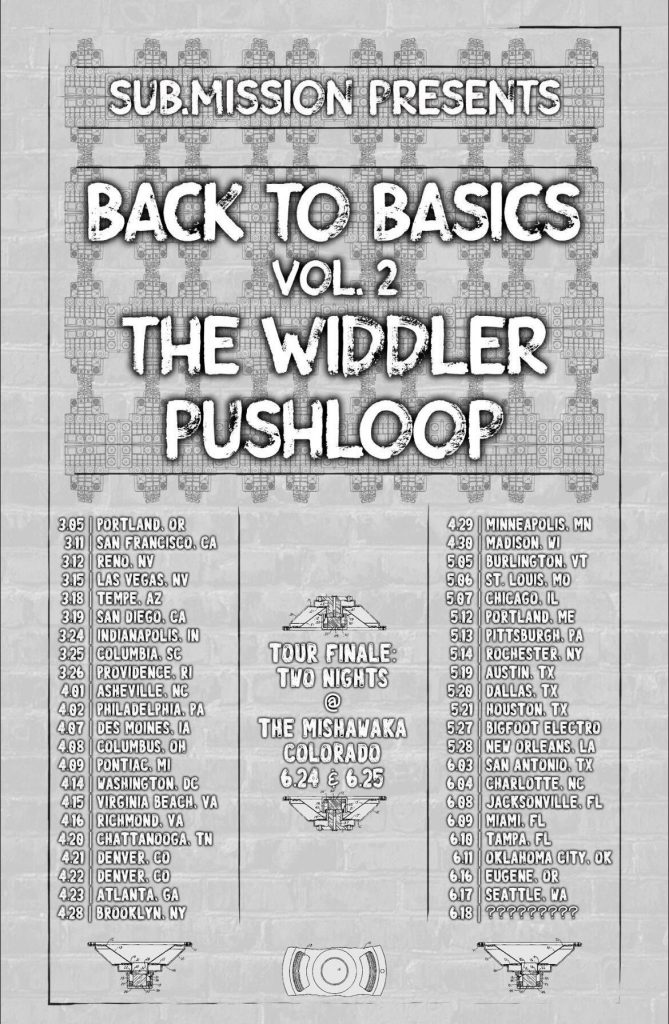 ---
Back to Basics: Vol. 2 Tour Dates & Venues
March 5 – The North Warehouse – Portland, OR
March 11 – The Midway – San Francisco, CA
March 12 – The Bluebird – Reno, NV
March 15 – Discopussy – Las Vegas, NV
March 18 – Shady Park – Tempe, AZ
March 19 – Quartyard – San Diego, CA
March 24 – Location TBA – Indianapolis, IN
March 25 – Main Course – Columbia, SC
March 26 – Fete Music Hall – Providence, RI
April 1 – Asheville Music Hall – Asheville, NC
April 2 – The Ave – Philadelphia, PA
April 7 – Platform – Des Moines, IA
April 8 – Otherworld – Columbus, OH
April 9 – Elektricity – Pontiac, MI
April 14 – Flash – Washington, DC
April 15 – Elevation 27 – Virginia Beach, VA
April 16 – Canal Club – Richmond, VA
April 20 – Chattanooga, TN
April 21 – Denver, CO
April 22 – Denver, CO
April 23 – Atlanta, GA
April 28 – Brooklyn, NY
April 29 – Minneapolis, MN
April 30 – Madison, WI
May 5 – Burlington, VT
May 6 – St. Louis, MO
May 7 – Chicago, IL
May 12 – Portland, ME
May 13 – Pittsburgh, PA
May 14 – Rochester, NY
May 19 – Austin, TX
May 20 – Dallas, TX
May 21 – Houston, TX
May 27 – Bigfoot Electro
May 28 – New Orleans, LA
June 3 – San Antonio, TX
June 4 – Charlotte, NC
June 8 – Jacksonville, FL
June 9 – Miami, FL
June 10 – Tampa, FL
June 11 – Oklahoma City, OK
June 16 – Eugene, OR
June 17 – Seattle, WA
June 18 – ?????????
June 24 – The Mishawaka – Bellvue, CO
June 25 – The Mishawaka – Bellvue, CO
---
Follow The Widdler on Social Media:
Website | Facebook | Twitter | Instagram | SoundCloud
Follow Pushloop on Social Media:
Website | Facebook | Twitter | Instagram | SoundCloud