Boston's Big Night Live has a unique hybrid style that lifted revelers' spirits with Above & Beyond for the lead-up to New Year's Eve.
---
Above & Beyond is my favorite act in the dance music scene and I would go to the ends of the world and back to see them live. Since I'm based in NYC, there are plenty of opportunities to see the biggest names, including the Anjuna boys, but getting to check out new venues and events can be half the fun of the scene. So when Above & Beyond announced they would be playing at Big Night Live in Boston for the first time, I jumped at the opportunity to make the trip.
When mentioning Big Night Live to others in the scene, the response has been either, "I love that venue!" or "What's Big Night Live?" A little research explained why the dichotomy – the venue opened barely four months before COVID shut down all nightlife in the US, so only a handful of local fans got to appreciate it previously. Thankfully, having survived the lockdowns, Big Night Live is back and, based on recent bookings, it's back with a vengeance.
Big Night Live breaks the "Theater-in-a-Box" mold in the most spectacular fashion.
After only a quick glance, one can be excused for thinking that Big Night Live is just another "Theater-in-a-Box" with little unique character. However, this observation could not be further from the truth. As we took in the complete venue, we found that there were lots of nuances to the space that set it apart.
Most notable is that the entire audience section is tiered, with a GA section in the front, a second one a few steps up behind that, and then several VIP sections behind those, each higher up than the ones before it. In the very back, raised higher than the rest, is a small section that sports fans might refer to as "the bleachers" where you can stand, dance, and see a clear view of the stage.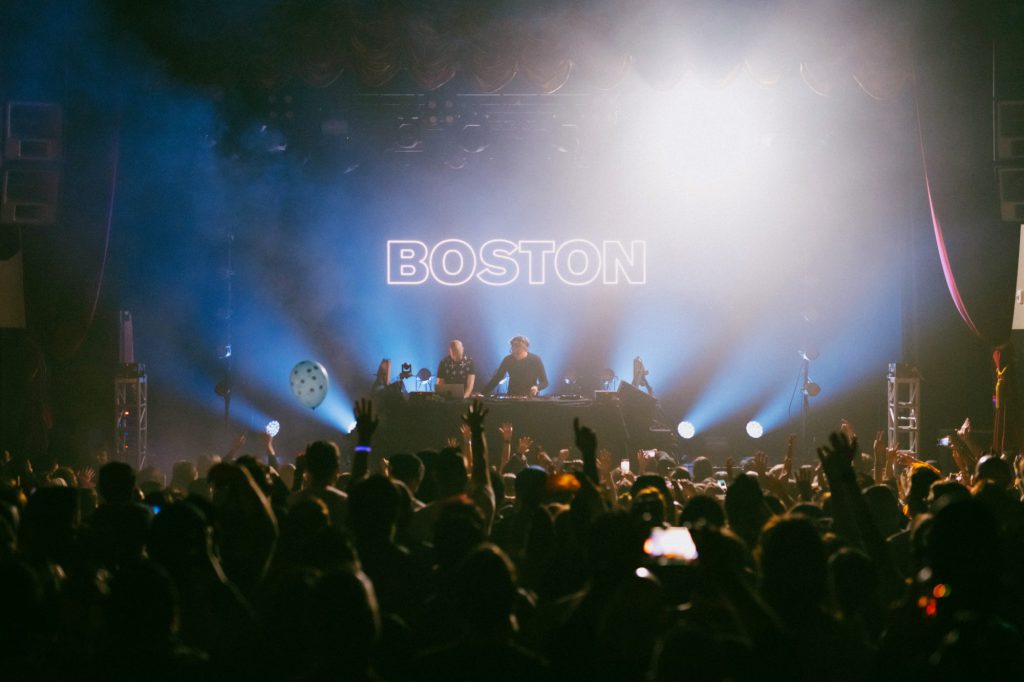 The tiered setup at Big Night Live assures that you can get a decent view of the stage from nearly anywhere.
For a venue of about 1,500 people, it's truly a rarity to be able to see over the crowd in front of you. Meanwhile, despite the VIP sections being in the back, they have a very exclusive feel to them and those VIPs are getting a great view while being taken care of by their dedicated staff.
Speaking of staff, I was absolutely floored at how wonderful all my interactions were with the Big Night Live team. Our friends had an issue with their tickets from Ticketmaster, and the box office team patiently helped work this out and with a smile no less. Serious points to Big Night Live here!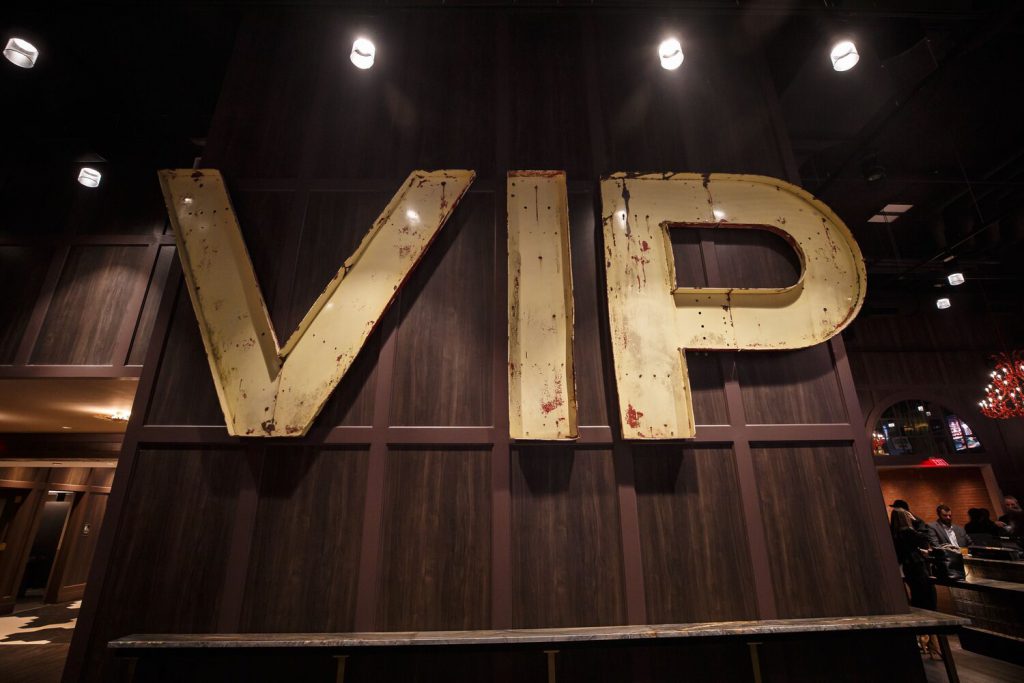 Big Night Live doesn't just present itself as a posh venue, it makes everyone feel like a VIP.
So the venue looks great and the staff is terrific, but can they put on a good show? In short, hell yes! The sound in the main space is absolutely perfect and there are video screens nearly everywhere to assure you won't miss out while stepping aside for a drink or a bathroom break.
The bathrooms are clean and well-lit, a quality often overlooked at other venues. Cocktails were poured in reusable plastic glasses, a nice touch that gives the VIP treatment to everyone. And as we wandered around the venue I was generally impressed with the sound from everywhere in the main space. If I had any complaints, it's that the sound at the main bar leaves a lot to be desired. But perhaps this helps prevent those that might linger at the bar and forces them back into the crowd.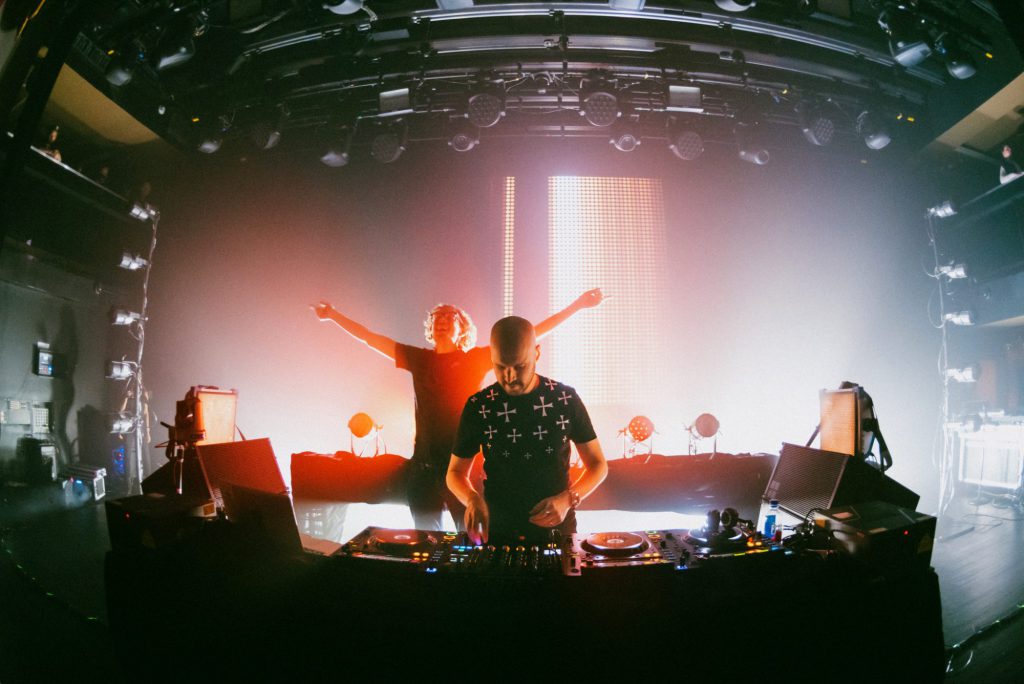 Ultimately, we were there for the music and we were not disappointed.
We only caught the very end of Kaeno's set, but what we did hear was terrific. Next up was Bexxie, and while we'd never heard of her, she will not soon be forgotten by my crew! I found myself Shazaming nearly every song in Bexxie's set and I was pleasantly surprised to see how many were either Bexxie originals or remixes by her. Building up her set, she weaved in a few classic pop and hip hop tracks that got the nostalgia flowing and kept our feet moving. Bexxie stirred the crowd into a frothy mess when she closed with "Pump Up The Jam" from Technotronic, sending us all the way back to 1989!
Normally I'd be concerned about the transition from a big '80s anthem to Above & Beyond, but Paavo and Jono had planned accordingly. The stage went dark for about five minutes of transition silence, only to be replaced with simple visuals and a single building chord as Above & Beyond took the stage. It was a perfect reset and the set built slowly through several emotional tracks as Paavo typed inspirational messages on screen. By the midway point, there wasn't a dry eye in the house, but then we were taken in a different direction.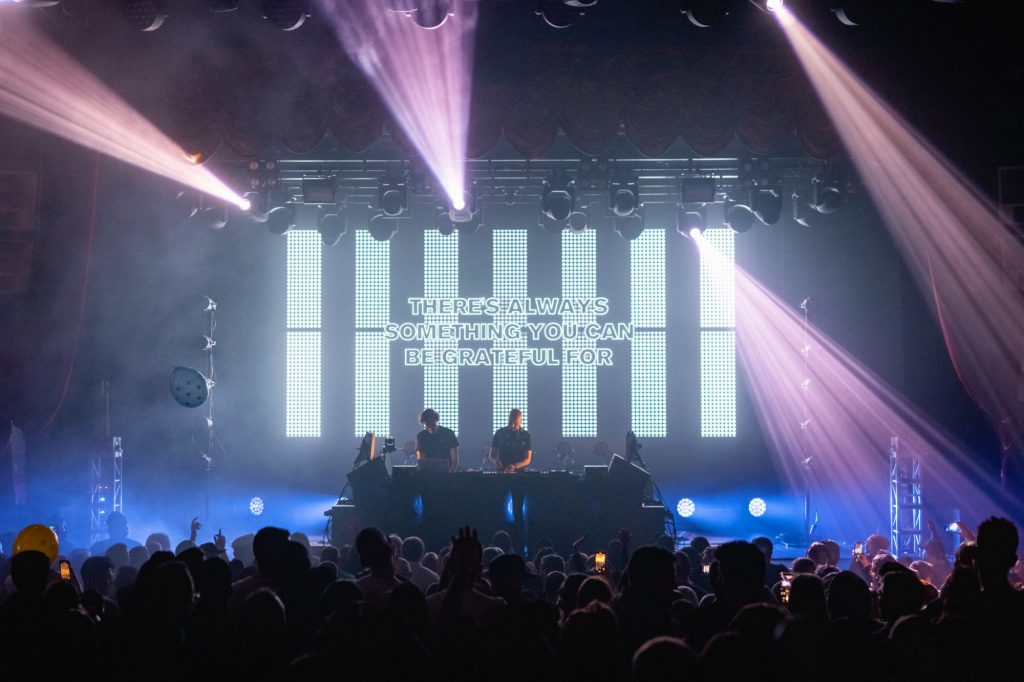 I can't recall the precise words, but Paavo typed several screens of messages that put the set on rocket ship into outer space!
The screens he typed were something like this:
There's been a lot of emotion so far tonight
But some tracks are just for fun
Some tracks are just for dance
It's time to trance
And with that, the boys took Boston on a 30-minute journey into the heart of pure trance, often going deep into the library. In fact, I think I heard my favorite Above & Beyond track "Indonesia" played live for the first time – and that track is from 2006. Ultimately they brought the Big Night Live crowd back down to planet earth closing out with a few more emotional tracks that had the crowd swaying arm in arm.
Everything about the Big Night Live experience was truly outstanding.
Big Night Live is targeting a unique group of music fans by mixing luxury and freedom in a club with no velvet ropes, no dress code, and yet a posh style and a substantial VIP section with high-end bottle service. In NYC, for example, velvet ropes, dress codes, and bottle service go hand in hand, and the t-shirt and jeans crowd can't be found at those clubs, opting for the warehouses instead. Big Night Live seeks to bring these crowds together in a space with high ceilings, huge red chandeliers, and a little something for everyone.
If you haven't been to this venue yet, I highly recommend it. I also wish that NYC would get over the great divide of velvet rope versus warehouse, because the Big Night Live team has proven that, yes, we can have it all. So if you are in the Boston area, get to Big Night Live and enjoy it all!
---
Follow Above & Beyond on Social Media:
Website | Facebook | Twitter | Instagram | SoundCloud | YouTube | Twitch
Follow Big Night Live on Social Media: