Gem & Jam is just around the corner so prepare yourself for the festivities and enjoy this playlist featuring artists from their diverse lineup!
---
Art and music lovers are surely feeling the excitement that's currently stirring in the air as the beloved Arizona-based festival, Gem & Jam is coming up quickly! This multi-day camping festival always brings top-notch artists that span across a wide variety of genres, as well as countless artsy booths to enjoy while wandering around the event. What better way to prepare oneself for a festival than listening to the artists that will be at the Pima County Fairgrounds on February 4-6.
There are so many incredible tastemakers on this year's lineup and we know they're all putting together something special to celebrate the return of Gem & Jam. Headliners like STS9, Liquid Stranger, Claude VonStroke, and Lotus are sure to get everyone moving to their beats. While our hearts are still heavy about the unfortunate passing of CharlestheFirst, we're hopeful that others on the lineup will be paying tribute to him during the festival.
Some of the other standout artists you should check out include Daily Bread, Choppy Oppy, VEIL, Josh Teed, Tripp St., Wreckno, and Goopsteppa, but there's truly so many more to explore. So to help get you revved up for Gem & Jam 2022, we've curated a playlist for your listening pleasure featuring tunes from these artists as well as the rest of the lineup! Enjoy it before the fest, after, when you're making your morning coffee, or cruising through somewhere with a pretty view. We can't wait to see some of your smiling faces out on the desert dancefloor.
Tickets and camping passes are on sale, snag them now and keep up to date on Gem & Jam's website for other information regarding the festival. See you in February!
Stream the Gem & Jam 2022 Playlist on Spotify:
---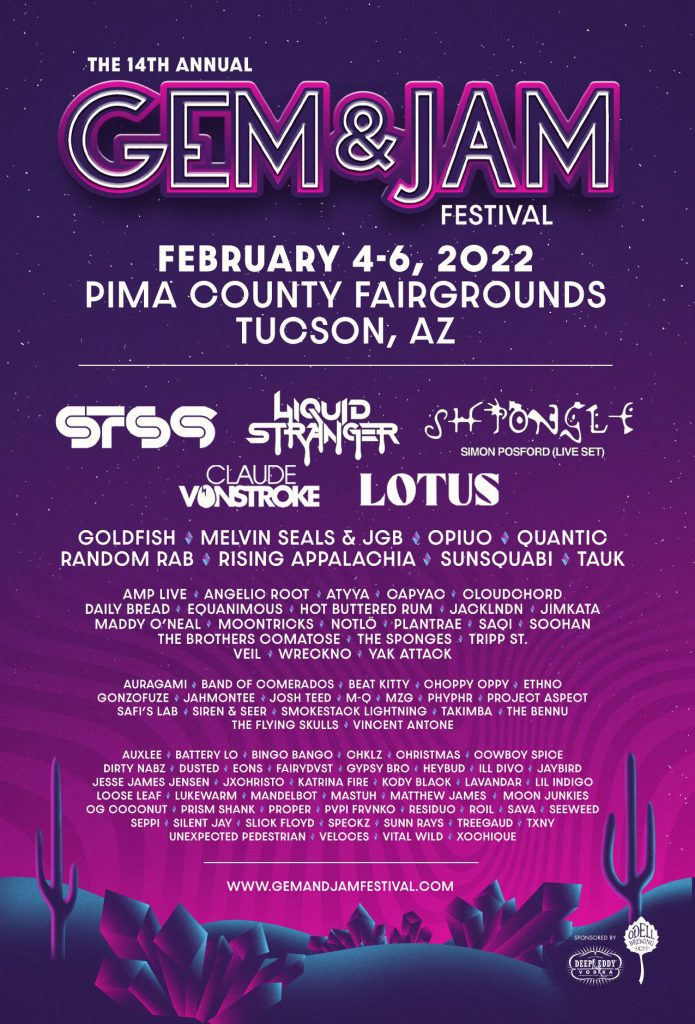 ---
Connect with Gem & Jam on Social Media:
Website | Facebook | Twitter | Instagram | SoundCloud