Far Out's aptly named EP Somewhere In Between blends elements of melodic dubstep, bass, and trance to artfully defy the bounds of genres.
---
Canadian DJ and producer Far Out has claimed his stake in the electronic dance music scene with his cinematic creations. With dynamic tracks and captivating, intergalactic imagery, Far Out takes listeners on a journey through sound, and as the leading voice in melodic bass, Ophelia Records is a match made in heaven for his music. Following his debut on the imprint with the Beyond The Horizon EP, he now returns with his second Somewhere In Between EP.
Out now, the four-track EP features the two previously released singles, "Waterfall" with RIOT and RUNN and "Ultraviolet" with Leonard A. Far Out shows off his ability to blend different genres by masterfully incorporating melodic bass, dubstep, and even psy-trance in this release, which also positions him as one to watch in 2022.
Listen to Far Out's Somewhere In Between EP on your favorite platform and keep reading for our thoughts on the tracks!
Stream Far Out – Somewhere In Between EP on Spotify:
---
The journey to Somewhere In Between begins with "Elevate," a collaboration with DVRKCLOUD.
Otherworldly synths glisten in the background as a cinematic piano brings itself to the forefront. Rock-leaning percussion gives way to synth triplets before a full melodic dubstep drop takes hold and plunges listeners into the ride. The track continues to rise with a heavier bass breakdown, comes back down to earth for a second, and then catapults back into space with a bouncy, psy-trance back end. "Elevate" is quite the introduction to the EP with three separate movements throughout. Each is distinctly different but works cohesively. The song feels like a looping rollercoaster with soaring heights and dramatic dives.
Joining Far Out on the next track, "Waterfall," are RIOT and RUNN. This tune quickly elicits imagery of water, fitting with the title, as RUNN's crisp vocals fill listeners' ears. As the build tightens, snares, trance pads, and an oscillating melody are introduced. The drop is more subdued than that of "Elevate" but still retains a full, melodic bass sound. The second drop takes a darker turn and goes full bass with distortion and glitches.
Somewhere In Between goes "Ultraviolet" as Far Out teams up with Leonard A for an uplifting trance-infused song.
Coming straight out of the gate with resounding, repeated chords and a four on the floor bassline, "Ultraviolet" immediately reminds me of the progressive sound in releases from Above & Beyond and their imprint, Anjunabeats. The same sound that fills venues and reverberates wall-to-wall is present in this track. Even in the softer, ambient moments, the washed-out backsound is still signature Far Out, but reminiscent of that style. The heart of the track is uplifting and really full, making this one of my favorites.
The journey through Somewhere In Between concludes with "Start Over" featuring Danni Carra. Beautifully melancholic and soft piano chords bring listeners home as Carra sings of new beginnings. We are enveloped in another cinematic, melodic bass drop with elements of future bass sprinkled throughout.
Somewhere In Between sits at the crossroads of multiple genres, which though they are different, live in the realm of fantastical dynamism fit for the big screen or for speakers in the most expansive spaces. The EP is bolstered by beautiful artwork that carries through themes of space and interstellar travel and we cannot wait to hear tracks off this release live.
---
Far Out – Somewhere In Between – Tracklist:
Elevate with DVRKCLOUD
Waterfall with RIOT feat. RUNN
Ultraviolet with Leonard A
Start Over feat. Danni Carra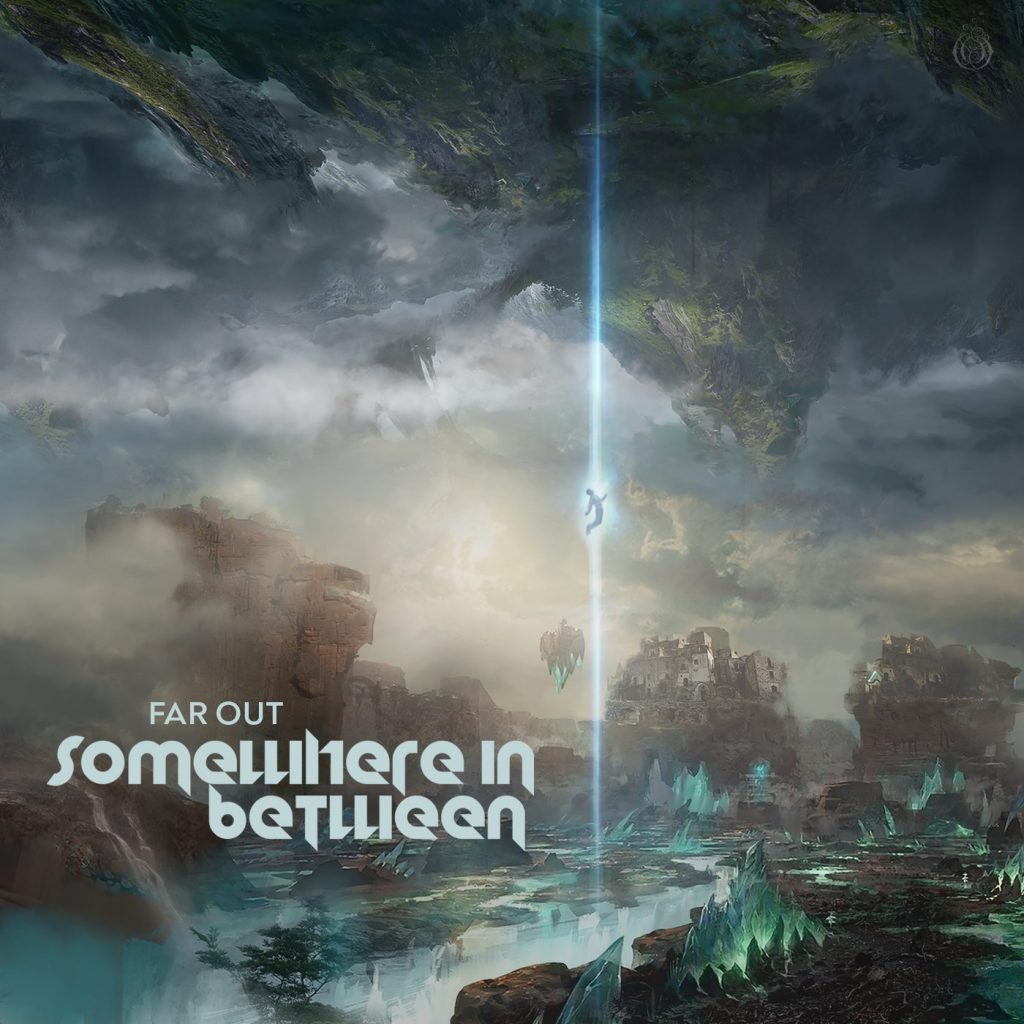 ---
Follow Far Out on Social Media:
Facebook | Twitter | Instagram | SoundCloud | YouTube