After releasing the Rose of Sharon EP on Circus Records, Blosso swung by to chat about its production, his origins, and plenty more!
---
Blosso has had a massive year and showcased his uplifting style of bass music to the entire world. This relative newcomer released a whopping eight singles and three whole EPs within this year alone. Tracks such as "Servant," "I have something to tell you," and "Complicated" infiltrated the ears of listeners worldwide and built an impressive buzz. Additionally, Blosso landed releases at labels such as Ophelia Records, Disciple Round Table, Welcome Records, Monstercat, Circus Records, and more. This is all a testament to his impressive production talents and ability to craft widely enjoyed tracks.
Ending the year with his second EP on Circus Records, Blosso brings us Rose of Sharon, a masterfully produced five-track project that pays homage to his home country of Korea. The EP showcases his distinct bass style with tracks like "So Small" and "Geisha" while also highlighting his ability to produce fiery drum and bass tracks like "You & Me" and "What You've Done." Overall, there is something for every bass lover on this release.
After the release of Rose of Sharon and witnessing Blosso have a spectacular year, we knew we had to chat with him on how this new EP came about, the dance music scene in Korea, and more. Check out the release on Spotify, download or stream it on your favorite platform, and read on for the conversation!
Stream Blosso – Rose of Sharon on Spotify:
---
Hey Blosso, thanks for chatting with us! Let's talk about your latest release Rose of Sharon EP, out now on Circus Records. This marks your second EP on Circus this year. What was the process behind this EP and did it differ from your previous releases?
Every year I try to progress my sound in a new direction. I love that classic UK dubstep style so I tried it out a lot last year. This year, I wanted to combine that style with color bass on my EP. I experiment with new sounds a lot, so my style might differ again next year!
One of my favorite tracks off the EP is "So Small." I loved the old-school dubstep sound you have on the track. Who are some of your influences when producing a track like this one?
I'm always inspired by my circumstances. For example, if I'm depressed, I might make a dark or heavy track. In this case, I wanted to overcome the depression, so it has somber lyrics with a powerful, melodic drop. When it comes to specific artists who influenced this song, I would say Franky Nuts, Chime, Oliverse, Ace Aura, and Sharks inspired me the most.
2021 was easily the year of Blosso as you had two EPs and countless singles released. How do you keep the creativity flowing in the studio?
I am always listening to lots of different kinds of music and feeling different emotions through it. I try my best to express my feelings through my tracks and hope listeners feel that. I think that's my main motivation for creating. 
Let's jump into the origins of the Blosso project. What got you creating dance music and specifically bass music?
Before I started producing, I loved listening to metal music – Rage Against the Machine was one of my favorite bands. That background made me really interested in making unique sounds using my guitar. Skrillex's "Scary Monsters and Nice Sprites" introduced me to electronic music, which led me down the path I'm on today.
Back in June of last year, you made a post on IG post in which you described the music scene in Korea being filled with jealousy. Can you elaborate on that post and has the scene in Korea gotten better since then?
I can't say things are much different than they were back then. I want to help make a peaceful and healthy EDM scene here. I believe that there are many talented producers in South Korea, but they don't need to be hostile to others to be successful. I had a difficult time with the local scene due to this issue, but I have overcome it and want to help create a more mature culture for the next generation of DJs here.
Later on in the year, you were a part of the World DJ Festival, which was the first festival back for Korea since the pandemic. How important is it for you to represent Korea within the dance music space, especially in bass music?
Even beyond bass music, what I hope to represent is the group of Korean DJs who produce all of their own music and focus on that over clever marketing. Surely marketing is an important component of success in this industry, but I think the scene tends to push artists with the most hype and visual appeal and ignores the artists who put more effort into their production. I hope I can be the one who breaks that wall and moves into the mainstream without putting all my attention into my brand.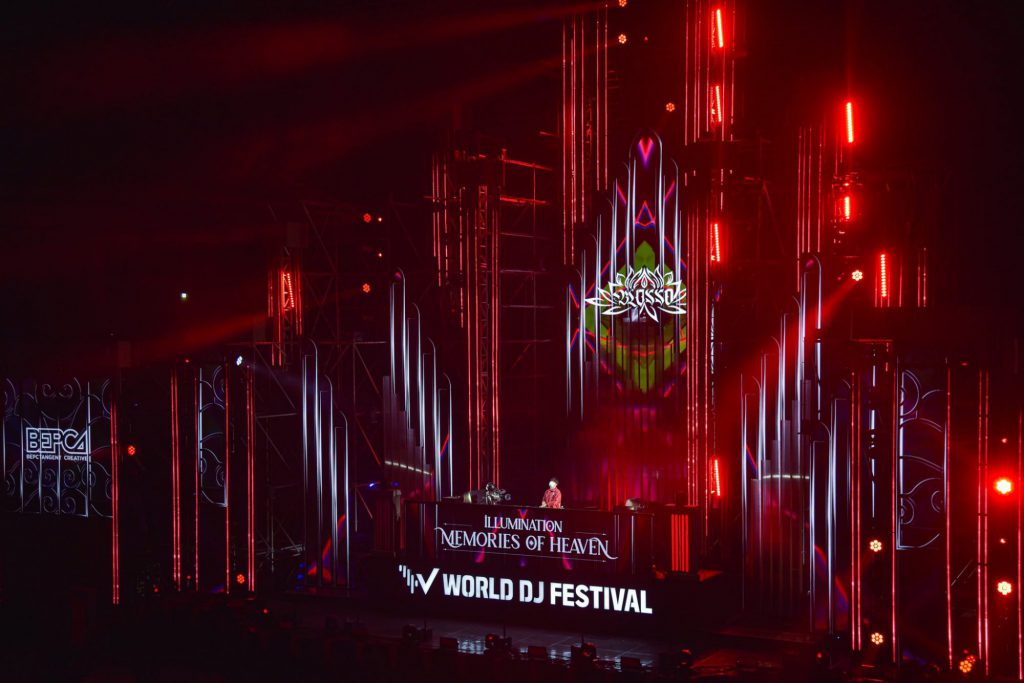 You recently took to Twitter to ask if now is a good time to begin making an album. Is a Blosso album something we can expect in 2022?
Yes, I'm working on it! Recently I've been trying to make music with more vocalists so that a wider range of listeners across the world can enjoy it. I think I finally found my own style with this album and hope everyone gets to hear it soon!
As we close out 2021, do you have any goals you would like to achieve in 2022 that you are already thinking about?
I feel like this year I already achieved most of what I set out to accomplish as an artist, but having a tour in the USA is my next big goal. I'm not sure whether it will happen in 2022 or not, but I will try my best. I really hope to see you all on stage soon!
---
Connect with Blosso on Social Media:
Facebook | Twitter | Instagram | SoundCloud