After the successful launch of DYEHARD Records, TYEGUYS sought out rising prospects in hard dance for the LIVE FAST DYE HARD compilation.
---
Back in April, TYEGUYS introduced the world to their label, DYEHARD Records, a brand new home for hard dance. While the past few years have seen an increased desire for the genre, there hasn't been a great place to release hard dance in America. As a result, this imprint was created to showcase up-and-coming artists and create a stable home for hard dance. The duo kicked off the label with a monstrous drum and bass and hardstyle hybrid that sparked a fire, and now they're riding that wave of momentum with their new compilation LIVE FAST DYE HARD.
For LIVE FAST DYE HARD, TYEGUYS recruited some of the rising prospects of hard dance music in North America and included just about everything hard dance from rolling hard psy triplets to energetic reverse bass to the forbidden hardcore tempo. New names like No Vision, CSNDZ, and Distortion Code are all introduced on this compilation alongside experienced producers eager to prove themselves once again like J. Slai, Inner Demonz, and tunes from the label heads themselves.
This compilation is quite the treat as it marks one of the first hard dance releases to feature such an abundance of North American producers, so listen to it below and read on to find out more about this dynamic collection of tunes.
Stream DYEHARD Records – LIVE FAST DYE HARD Vol. 1 on Spotify:
---
LIVE FAST DYE HARD begins with newcomer, CSNDZ, who is "TAKING OVER" the airwaves.
This tune from CSNDZ features meaningful lyrics alongside an uplifting melody, while the drop on "TAKING OVER" presents a new twist to the song by including rough kicks and drifting screeches. During both drops, he engages listeners by switching into half-time before returning to a four-on-the-floor beat. Canadian producer, No Vision follows that track up soon after with "FIGHT," a fun and bouncy track using donks, screeches, and a bit of reverse bass to get the party going.
Next comes one of my personal favorites because of the interesting, weird, and perfect genre mix. Bay Area local, J. Slai, brings a blend of speed house and hard dance to the table with "CRANK IT." The first drop makes this record feel like it belongs in a club, but then J. Slai punches you in the face with kicks and screeches. If that wasn't enough, he cranks up the tempo for a last fourth drop, faking out listeners with hard psy before transitioning into Frenchcore kicks. 2021 has been a promising year for J. Slai with every release getting better than the last, and this record continues the incredible hot streak he's been on.
After hardstyle, speed house, and hardcore, Distortion Code arrives with an absolute "NUCLEAR" bomb of a rawstyle tune. Immediately, listeners are put into what seems to be the brink of all-out war and there's a strong sense of urgency with the ominous horns in the background. The build-up creates the feeling of a big fight before unleashing pure chaos with deep, distorted kicks and monstrous screeches throughout every drop. Although Distortion Code is a new producer, he's become a force to be reckoned with as he channels the sounds of Europe more and more with every release.
Label heads, TYEGUYS, make their third appearance on the label with "BOOM," showcasing their harder side through their use of rawstyle kick drums.
"BOOM" is different from what we've heard so far from TYEGUYS on the label, but it shows that they're experimenting with the dark side of hard dance while still incorporating their fun, energetic twist into their records. Then, Inner Demonz returns from nearly a two-year hiatus with a brand new sound on his record, "BURN ME." Usually known for his hardcore sound, Inner Demonz surprises listeners with a reverse bass record at a slower-than-normal tempo with one of the most unique kick drums we've heard. Of course, Inner Demonz couldn't resist turning up the BPM as he returns to a more familiar tempo for one last hardcore drop.
Overall, LIVE FAST DYE HARD is a great listening experience because the tunes stray away from being cookie-cutter hard dance records.
American Hard Dance is all about adopting a genre and innovating to make it our own and this compilation does a great job of doing just that. There's no doubt that LIVE FAST DYE HARD will become a proving ground for the next generation of hard dance in North America and elsewhere on the planet. Make sure to stay tuned for what's next at DYEHARD Records, and stream Volume 1 of LIVE FAST DYE HARD so it makes a return in the future!
---
DYEHARD Records – LIVE FAST DYE HARD Vol. 1 – Tracklist:
CSNDZ – TAKING OVER
NO VISION – FIGHT
J. Slai – CRANK IT
Distortion Code – NUCLEAR
TYEGUYS – BOOM
Inner Demonz – Burn Me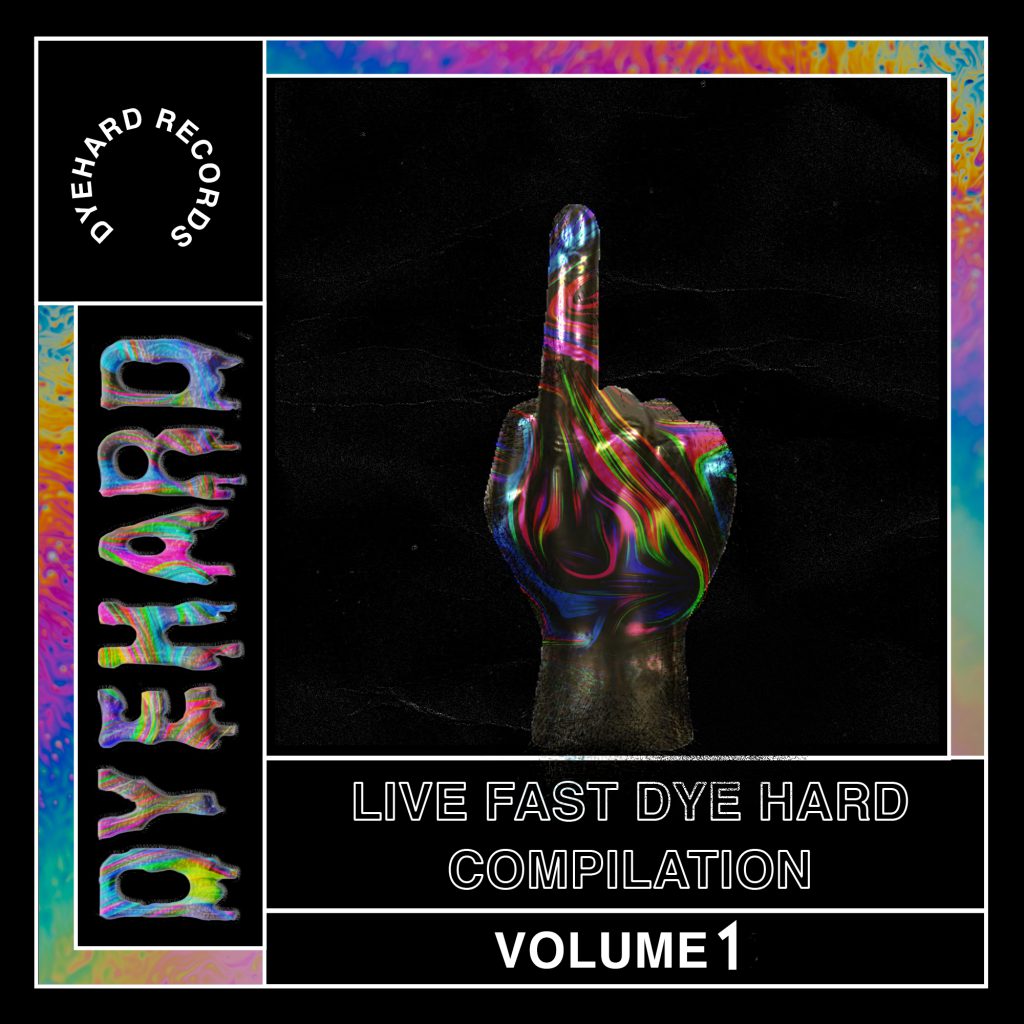 ---
Follow DYEHARD Records on Social Media:
Twitter | Instagram | SoundCloud
Follow TYEGUYS on Social Media:
Facebook | Twitter | Instagram | SoundCloud | Spotify