Above & Beyond's return to Red Rocks for two magical nights was the catharsis and hope for brighter days we needed.
---
Nearly two years ago, when we were first told to shelter in place, I didn't understand the gravity of what was happening. That a supposed two weeks would turn to two months, and that would turn to two years. We didn't understand that alongside the immense devastation caused by COVID, there would be quieter, unforeseen effects that would touch all of us.
Community and connection were stripped away. Many of us found ourselves isolated from our families and friends, without the outlets and escapes we relied on. This isolation for a lot of people would have rippling effects that we couldn't have predicted. The sadness and loss we were feeling with the pandemic were compounded by not being able to lean on our loved ones or the things we loved. For me, that was music – shows, dancing with friends – and suddenly it was just me at home alone.
The livestreams were fun for a bit but I missed sharing those memories with other people. So when Above & Beyond announced their Red Rocks shows on the Anjunafamily Reunion Tour, I booked a flight without hesitation. Seeing Above & Beyond at Red Rocks had become an annual occasion for my sister and I. In the throughs of the pandemic, we hadn't seen each other for a year and a half, so we couldn't wait for this night.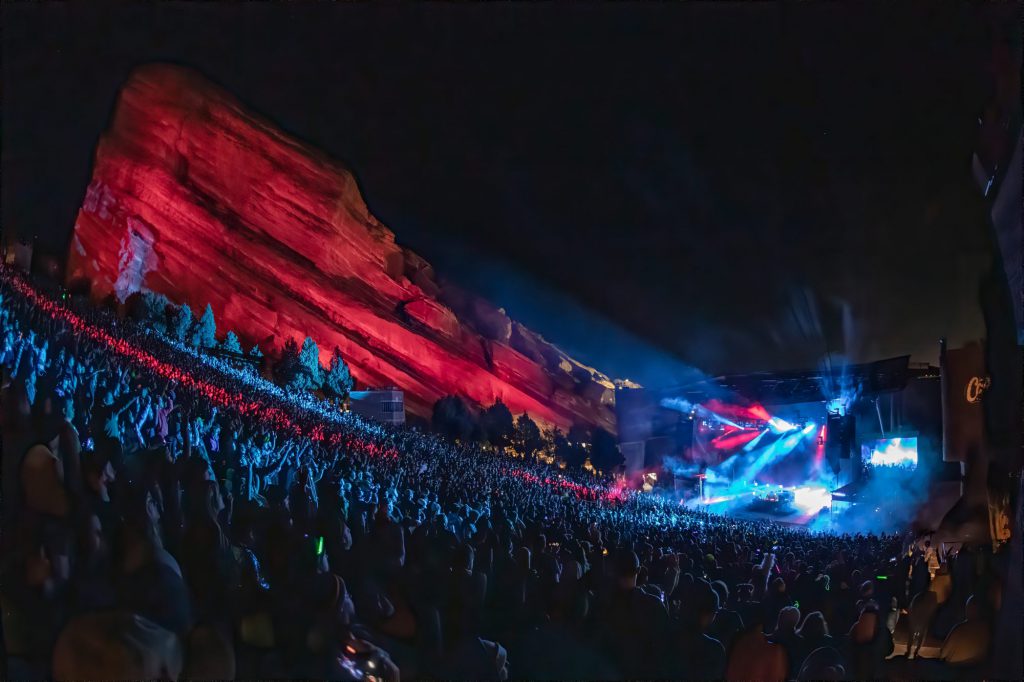 It felt exhilarating to be back home in Colorado and at one of the world's most beautiful venues.
My group arrived on Friday, October 22 just as night had fallen. As gardenstate's set captivated the audience, we spent time finding some of our friends in the crowd. Anjunafamily had come from across the country and it was wonderful seeing familiar faces in a sea of A&B or Anjuna merch.
We settled into our spots, six rows up from the stage, in time for Tony McGuinness and Jono Grant to be welcome with a roar from the crowd. Immediately they enraptured our hearts with "Counting Down the Days" and "Gratitude." For two glorious hours, we sang along to songs including "Reverie," their collaboration with Seven Lions "See The End," "Peace of Mind," and their newest with Justine Suissa, "Almost Home." Of course, the set was littered with other tracks from Anjuna heavyweights as well including Andrew Bayer, Arty, and Mat Zo to further add to the ambiance of the night.
There is nothing is quite like hearing Above & Beyond's "Red Rocks" at Red Rocks, and though the button push was notably missing, we still all belted our hearts out to "Sun & Moon." We laughed, we danced, we cried – it was the release I know many of us needed. A smile never left my face and my heart felt so full.
To be there with my sister, who first saw A&B at Red Rocks in 2017, and her boyfriend who was seeing them for the first time that night was a special moment. And then to be surrounded by friends we've met at shows all over the globe made it even more so. Though we're not out of the woods yet in this pandemic, being able to come together like this brings hope that one day we will be.
Tickets are on sale for the remaining dates of the Anjunafamily Reunion Tour. For more information and to purchase tickets, visit the tour website.
---
Follow Above & Beyond on Social Media:
Website | Facebook | Twitter | Instagram | SoundCloud | YouTube