Above & Beyond have returned to the US for the first time in two years with their 12-stop Anjunafamily Reunion Tour.
---
For over two decades, Above & Beyond have garnered a devoted fanbase, lovingly dubbed the Anjunafamily. This thriving community spans the globe with many fans traveling the world to catch their shows, seeing familiar faces both home and abroad. When COVID-19 brought the world to a halt, Anjunafamily members leaned on sharing stories of memories over the past two decades on social media and tuned into Anjuna's livestreams to get their fill.
After hosting a streamed event for ABGT400, Above & Beyond made their triumphant return to live events with ABGT450, leaving many fans anxiously awaiting their return to North America. Those wishes were answered with the announcement of the aptly named Anjunafamily Reunion Tour.
Related: Watch Above & Beyond's full live set from ABGT450.
The 12 stop tour kicked off on September 18 in Chicago and has made its way through Atlanta, Miami, and most recently, two nights at Stanford's Frost Amphitheater. Both nights at this venue were impressive and it was surreal to be surrounded by so many friends and the music that brought us together once again. In true Above & Beyond form, they played completely different sets featuring unreleased tracks that premiered at ABGT450 while also weaving in their classics as well. Those planning on attending more than one date are in for a unique experience, so don't sleep on catching them.
One thing to note is that both at ABGT450 and the recent shows was that the iconic "push the button" moment did not occur. This beloved moment for fans was removed from the show, presumably due to COVID precautions, but the energy of the sets made it almost unnoticeable. Above & Beyond delivered the heart-healing therapy we've all been longing for and those attending upcoming dates have so much to look forward to.
With remaining stops in Las Vegas, Minneapolis, and sold-out shows at Washington DC's Echostage and Red Rocks, there are still chances for Anjunafamily to see Above & Beyond for the first time since 2019. Tickets are on sale for the remaining dates. For more information and to purchase tickets, visit the Anjunafamily Reunion Tour website.
---
Anjunafamily Reunion Tour 2021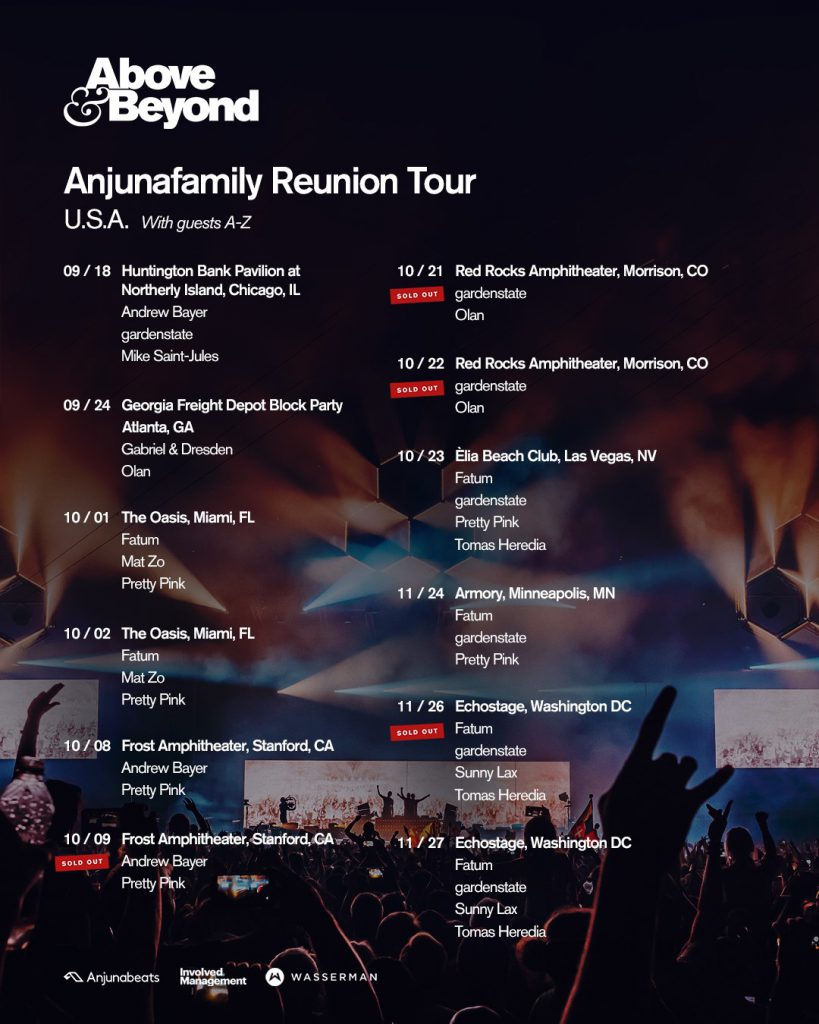 ---
Follow Above & Beyond on Social Media:
Website | Facebook | Twitter | Instagram | SoundCloud | YouTube