Big Gigantic looks back on their growth as artists in the scene, the creation of Leisure Season Vol. 1, Big Grizmatik, and more.
---
With such an inspiring reputation, it's no wonder Big Gigantic needs little introduction. This duo brings some of the most dynamic sounds to funky bass music, combining Dominic Lalli's jazz-trained saxophone skills with Jeremy Salken's limitless drumming capabilities. The result has seen them gain world-renowned status. They've also gone well beyond the norm by teaming up with fellow artists like GRiZ, Gramatik, and more to continue to evolve their sound and gift new treats for their fans.
Although the pandemic caused Big Gigantic to take a break from many of their ongoing projects, these two artists put their heads together in the meantime to continue their creative outlet in the studio. This brings us to their most recent release, Leisure Season Vol. 1, which combines the best of their creative touch with influences from hip hop and more. You'll have a hard time putting it on pause after getting a taste.
If this release indicates where Big Gigantic's music is going, fans will want to be along for the ride. Looking to get some added insight into the creation of Leisure Season and more, we caught up with this beloved duo for a chat – so read on for the whole conversation.
Stream Leisure Season Vol. 1 on Spotify:
---
Hi, Dominic and Jeremy. Thank you so much for taking the time to chat with us today! Your recent release, Leisure Season Vol. 1, was a masterpiece filled with bass, brass, drums, and more. With your last album release being a year ago, fans were captivated. Where and when did the idea for "Leisure Season" surface?
Thank you! The idea for Leisure Season came from really wanting to put more music out and get more music to our fans. The off-season, or leisure season, is just another way for us to keep putting out music that might not be a focus for an album.  
Although the entire EP was funky and moving, one tune in particular, "Keep It Low," really stood out and became my choice for indefinite replay. It was different from the other songs on the EP and made listeners gravitate towards the dancefloor. Can you share the production process and state of mind you were in when creating this song?
Well, this song sort of has two sides to it. The more chill 'low' style at the beginning/intro and then the more hyped section sounds a little fresher. I think I just wanted to use the vocal idea in two totally different ways and just have the song build into these really large sonic ideas. With a little hip-hop vibe behind the best, it makes the song perfect for the dance floor for sure!
Over the years, you two have successfully created a loyal fanbase and maintained an irrefutable reputation. While live instrumentation in dance music was fairly rare early on, it's now become far more common. What has it felt like seeing the growth of more dynamic live experiences in the dance music scene as a whole?
It's amazing to see! We love to see where people have taken the concept and love to see it keep growing!
You've come a long way over the years – from first selling your innovative sound to playing internationally. How have you dealt with your growth during this time, and what are some things you do for self-care (both physical and mental) while touring and performing?
Yeah, it's all quite interesting, no doubt. Being someone who is a very passionate person, there have certainly been all kinds of ups and downs along the way, and sometimes it can be a lot to carry on your back emotionally while trying to just normally navigate through all of the normal challenges of life. I think just having good people around you, meditating, and/or taking some time to yourself fairly often can help you feel rejuvenated throughout the ups and downs. First and foremost, we feel very grateful and fortunate to be in a position to have these problems, if they're even problems. [Laughs] It just comes with the territory, and we're just happy to be here!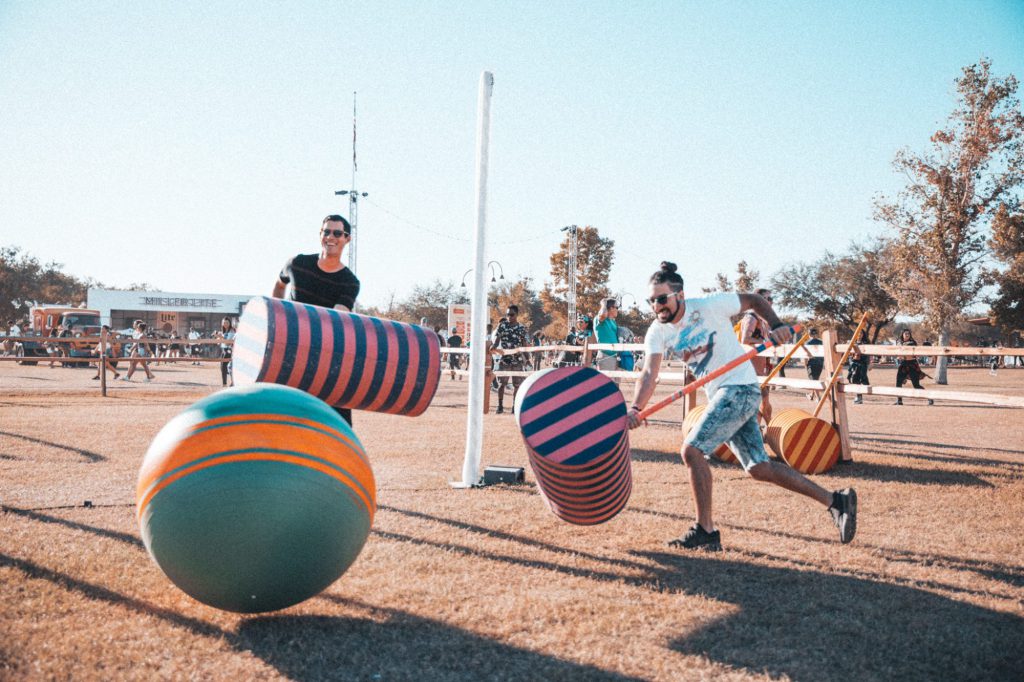 You two have also ventured out to collaborate with a wide range of artists, from GRiZ and Gramatik to Logic and Wocka Flocka Flame. How do you channel that range, and how does the collaboration process usually begin for you?
I just try to make music that I'm inspired by, I guess. And that is definitely a wide range of styles from funk to hip hop to EDM. With collabs, I usually just make demo songs and send them to people in hopes that they want to collab, and that's usually how the process starts!
Speaking of Griz and Gramatik, some might not know of the side project Big Grizmatik, you four created in 2013 and whose return has been teased over the years. So what is the true future of Big Grizmatik? Can we expect any future collaborations or performances?
I really don't know what the future holds for 'Big Grizmatik,' but we've had an incredible time performing together in the past, that is for sure! These guys are our brothers, and we're always trying to work on new music with these guys.
After the last two years of life sans-festivals or canceled festivals, they are finally returning to bring joy and music to our lives again. Which festivals can we expect to see Big Gigantic at, and what are you most looking forward to about returning to live performances?
All I can say is that we have an insane '22 planned! We're hammering out all the details now and getting everything ready. Until then, we have a couple more surprises before the year's end. Super happy to be getting (even more) back to normal next year!
Finally, as world-renowned artists always on the move, what is your go-to routine to decompress as you return home to life in Colorado? 
Just hang with family and friends and relax and make more music, of course!
---
Connect with Big Gigantic on Social Media:
Facebook | Twitter | Instagram | SoundCloud | Spotify