Breakaway Music Festival made its mark with an incredible edition in Charlotte, North Carolina, at the Motor Speedway.
---
Prime Social Group joined the ranks of growing events promoters when it debuted Breakaway Music Festival in 2013 in Columbus, Ohio. Since then, Breakaway Music Festival has grown to multiple cities, making stops beyond Ohio in Michigan, Tennessee, and North Carolina, and even as a destination festival in Cancun. One of Breakaway's greatest appeals is its diverse lineups, uniting artists and DJs on the same stage and giving attendees, who might otherwise have come for only a single artist, a glimpse into different genres.
With an empty weekend on my calendar, I impulse-purchased a Friday afterparty and Saturday ticket to Breakaway's Charlotte, North Carolina edition. I was looking forward to a sleepless weekend in Queen City. The following was my experience…
The official Friday afterparty with Wax Motif was the epitome of what an afterparty should be.
My Breakaway experience didn't actually begin with the festival on Friday, but with the afterparty. One thing to know about Charlotte is that the city has a huge music district. Typically, events are held in the same few venues in the center of the city, but it was beyond surprising to see that the Blackbox Theater, a venue tucked away, would be host to the afterparty.
Needless to say, because of the location, there was plenty of parking space and room to come and go without any issues. Entering the club was smooth – two minutes of waiting in line, and another three to get my ticket scanned and ID checked. Admittedly, security did not check for any proof of vaccination or require face masks to be worn inside despite the county-wide mandate. I found myself to be one of the few people, if not the only person, wearing a mask that night.
Despite being a small-to-medium-sized venue, the production and the location itself were impressive. The venue was split in half, where the front half was a lower "basement" ground, and the back was raised so that partiers away from the stage could easily get a full view.
I was lucky enough to have arrived at around 11:45 pm and made my way to the rail. I got a face full of lasers, strobe lights, and a view of even the photographers and videographers hyping up the crowd. Plus, I also witnessed Wax Motif and G Eazy, who had performed earlier at Breakaway, take a shot together. The sound was loud, and anyone planning to attend a show at Blackbox Theater should bring earplugs. Even with mine plugged in, a resounding ring followed me after the show.
The afterparty was exhilerating and re-confirmed my love for the scene.
Despite having gone to Electric Zoo earlier in September, I didn't fully feel as though electronic music moved me as much as it did prior to the pandemic. But, Wax Motif and the crowd at the Friday Breakaway afterparty reminded me why the live music scene is unrivaled.
Wax Motif threw out a healthy mix of disco, tech house, and bass house, playing classics like his remix of "Fly Kicks" and ending with his new single. It's always noticeable when a DJ is able to read a crowd and orchestrate us without entirely exhausting us. Wax Motif read the room as though he were one of us, delivering a perfect balance of exciting moments and ones to let us breathe.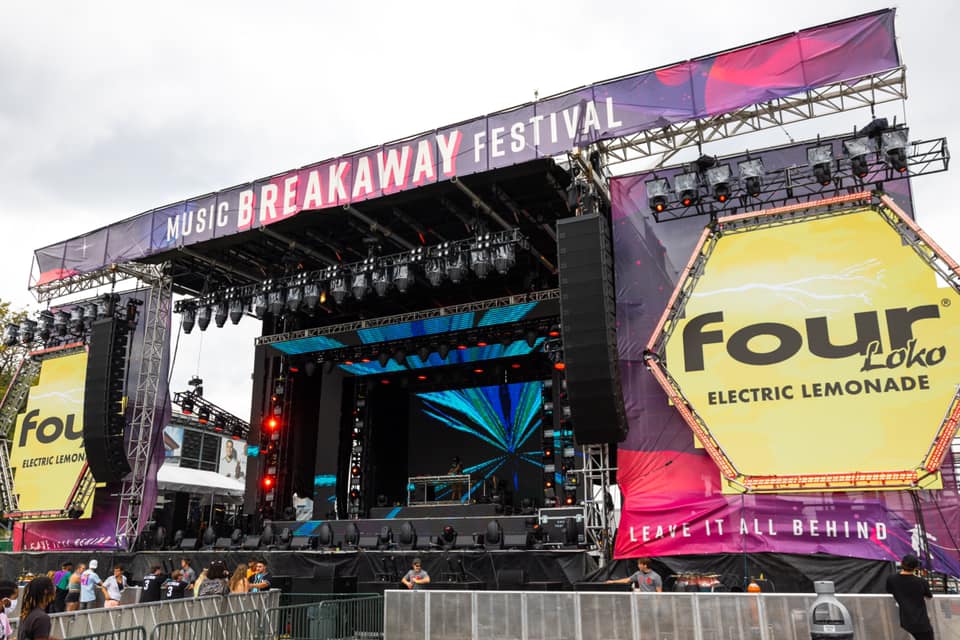 Breakaway Music Festival was surprisingly well-organized and a great experience for North Carolina attendees.
Admittedly, it has been a while since I've been able to attend shows until 2-3 am without needing a full day to recover. As a result, I showed up at Breakaway Music Festival on the later side at around 6:30 pm, still slightly sleepy following my evening nap. As a North Carolina native, I drove to the festival with my same group from the night before, and just like the previous night, parking was as smooth as butter.
Security quickly looked at our parking pass on my phone and directed us into a spot. I've attended festivals where parking is like The Hunger Games or Battle Royale, where cars skirts across the lot without order, but Breakaway's staff shuffled each car into a neat spot one after the other, guiding us to where we needed to be and preventing any kind of traffic jam. I was doubly impressed by the fact this was the first year Prime Social Group had held Breakaway at the Charlotte Motor Speedway, so being able to organize a complicated task like parking should be applauded.
My walk to the festival's gate took a lot longer than the actual process of going through security. Our group of four people was able to get through the security line in a total of three minutes. The speed at which everyone at the festival operated was incredible, and my wait in line for drinks only took another three minutes before I was handed a Monster energy drink.
Near the entrance was a silent disco, with local house DJs taking the stage. When I attended Breakaway the previous year, the silent disco area could barely be considered a stage, but the upgrade was miles better, with a big tent covering the dance floor and a massive screen behind the DJ. Seeing the long line at the entrance for the silent disco, I opted to continue exploring the festival.
The most notable part of the festival was a make-shift skating rink toward the back.
Attendees could rent roller skates and take to the rink while listening to booming sets. It was a fun setup, and nothing I have ever seen before, with checkered skating mats lining the rink. Plus, a massive shoutout to the two staff workers at the rink who somehow managed to breakdance while on roller skates. While it was a relatively small rink, it was still a unique offering that set the festival apart from even big named festivals.
A little further up ahead, a massive, colorful canopy housed a picnic area, with tables and benches for attendees to sit at and relax. Drink and food vendors lined up the sides of the festival nearly all the way up to the stage. Beyond the usual burgers and pizzas, other options included Greek, noodles, Philly cheesesteaks, and wraps, averaging at around the $12 mark.
On the right side of the festival was a second tier of vendors selling merchandise like t-shirts, Boho-styled attire, and the usual glowing rave gear. There was also a kandi-making station for attendees to make free bracelets. Notably, the only water station was situated at this second tier along with the porta-potties and real bathrooms.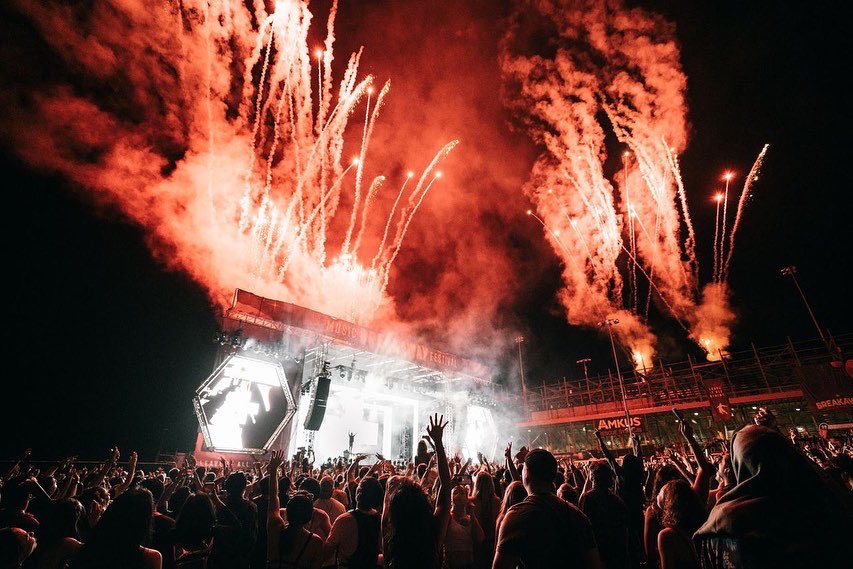 Lane 8, GRYFFIN, and The Chainsmokers led the end of the night.
Of course, the most important part of any music festival is the music itself. And boy, was the music incredible. Since I arrived late, I was only able to catch the very tail end of the performer before Lane 8, but Lane 8 himself delivered both a beautiful and riveting set, especially as the day began to wane. Having never seen him prior to Breakaway, I was worried that his deep house music wouldn't bring the energy I needed, but I was happily proven insanely wrong, especially after finding a group of shufflers called the Queen City Shufflers showing off their elaborate footwork alongside the stunning music.
Later on, I moved closer to the stage to witness GRYFFIN in all of his glory. The California-based DJ played a healthy mix of songs from his Gravity album and bangers that would give anyone whiplash. Going from crying one moment to headbanging the next was physically jarring, but worth the bodily pain the following day. With the crowd singing along to his music, GRYFFIN ramped up with a series of incredible songs and mixes, effortlessly swinging between sweet melodies to raging tracks.
The Chainsmokers closed out Saturday night at Breakaway. I took the opportunity to check back with the silent disco, only to find that staff members everywhere, including the food vendors, were packing up for the night. I was disappointed to have missed the opportunity to jam out to house, but made my way back to main/only stage.
The Chainsmokers were interesting to see. My high school self would have probably loved their set, but present me was largely unimpressed. While variety is something I can enjoy, their transition to different genres (rap, dubstep, psytrance, pop, melodic house, etc.) became too much. It felt like I was being bounced in several directions at once, with little cohesiveness bringing the entire set together. But, even I couldn't resist singing along to a few of their earlier songs that landed them on the radar.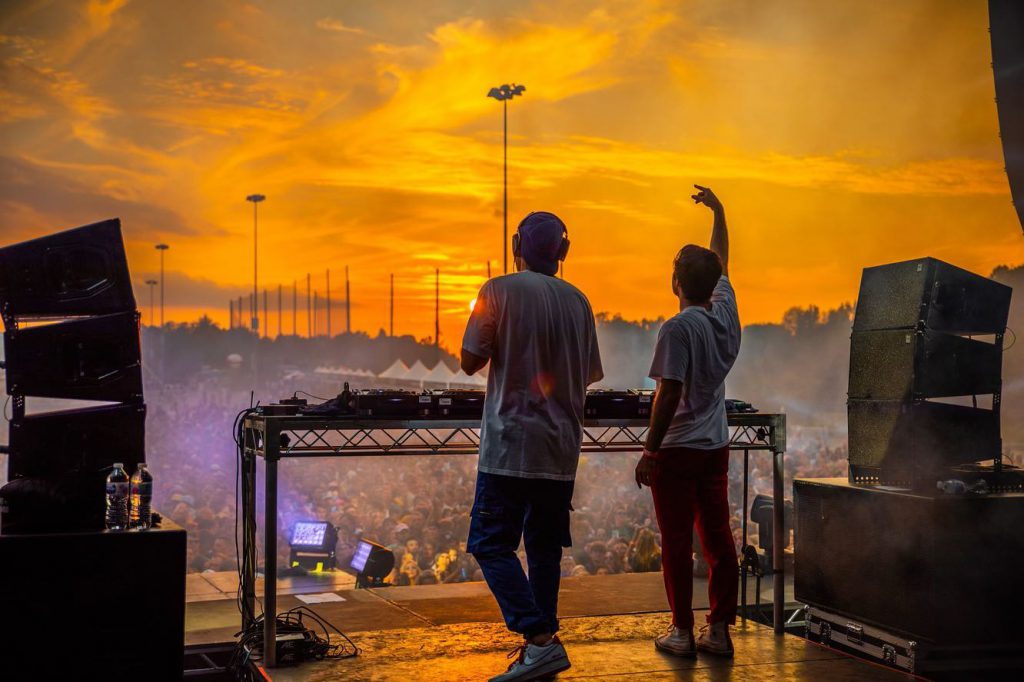 It's the little things that made Breakaway such an enjoyable experience.
Despite being a rather small festival, Breakaway truly proved itself worthy. Small things made it that much better, like having an entirely concrete venue, having indoor bathrooms, setting up a BMW giveaway on-site, and making it an all-ages festival for the younger music fans.
Prime Social Group stepped up their game from 2019's edition, making much-needed changes (such as the venue) and expanding on the things that make it a unique experience on the east coast. As the festival gains more attendees over the years, it'll be a worthwhile experience to see what comes next for the brand.
---
Follow Breakaway Music Festival on Social Media: