Rising hard dance producer WSHNGTN stopped by ahead of his EDC Las Vegas debut to chat about his career, the future of hard dance, and more.
---
If there's one artist you should have on your radar going into 2022, it's WSHNGTN. He's been carving his own space in the American Hard Dance scene and creating his own unique sound that always keeps listeners on their toes, which has landed him releases on Harsh Army, JAKD Recordings, and DYEHARD Records. Apart from the abundance of community support, WSHNGTN has also championed the sound of raw trap, becoming one half of "The Kings of Raw Trap" alongside GRAVEDGR.
Throughout the ups and downs of the past year and a half, WSHNGTN also made his name known by participating in many events including Basscon's House of Faith and Junkie Kid's PPH Vol. 2 album release party for Insomniac Events. Now, he's set to grace the wasteLAND stage this year at EDC Las Vegas with a B3B featuring two other homegrown artists, Blvckjesus and Crime Family. There's no stopping any time soon for him, and it's best to stay out of the way on his path of destruction.
Ahead of his biggest performance to date, we caught up with WSHNGTN to discuss his backstory, unique sound, and EDCLV. In order to celebrate the return of the festival, he also spun a brutal mix for us consisting of only WSHNGTN originals, collaborations, mashups, and tons of raw trap edits to fuel the fire. In addition, listeners get to hear exclusive records that are set to release on his latest EP, Nightmare on WSHNGTN St., starting with one of the scariest originals to date, "Last Words."
So get warmed up for the epic B3B among WSHNGTN, Blvckjesus, and Crime Family at EDCLV with this ferocious mix, and read on to take a peek into the mind of one of hard dance's most evil entities.
Stream EDMID Guest Mix 294 || WSHNGTN on SoundCloud:
---
Hey WSHNGTN, thanks for taking the time to chat with us. We really appreciate you stopping by. You've been in the hard dance scene for quite some time now, so I wanted to turn back time a little bit. How did you get involved in the scene? Who were some of your earliest influences?
Hey guys! I appreciate you having me. It's quite an honor. I first got into the scene by trying to connect myself with people I looked up to. To be honest, a lot of those people were just like me trying to climb their way through the scene. Those people are now some of my best friends, and I love seeing how far we've come and what the future holds for all of us. Some of those friends are people who really influenced me to go harder and take music seriously. TYEGUYS, Blvckjesus, and GRAVEDGR are my true influences just to name a few.
You've incorporated a lot of horror into your brand including cover art, vocals, and your eerie melodies. Why is horror such a big theme in the WSHNGTN project?
[Ever] since I was a kid, I've always loved horror movies. Friday the 13th [is] one of my all-time favorites. As cheesy as it is, I love it. I knew when I started the WSHNGTN project, I had to incorporate horror themes into my brand.
In the past you also ran your own label for a number of years called Breakdown Records, which had a stellar run featuring the best of the underground. Do you have any plans to revive and continue to offer releases on the label?
Breakdown Records was definitely a fun time but unfortunately, the other founder and I have laid that chapter to rest and we're both focusing on future endeavors. No bad blood though! 
Aside from your solo tracks, you've teamed up with other artists such as Blvckjesus for some insane collaborations that are always different from the last. Can you dive into the production process between you two and the roles you take on when collaborating?
When it comes to working with Blvck[jesus], it's so natural and easy. Every collaboration we've made was done within days. It's like we just click and know exactly which direction to take the track. I swear we should've been a duo. As far as the production process goes, he'll either send an idea or I will, and literally within a couple of days one of us will send it back complete in its entirety. It's always fun working with him.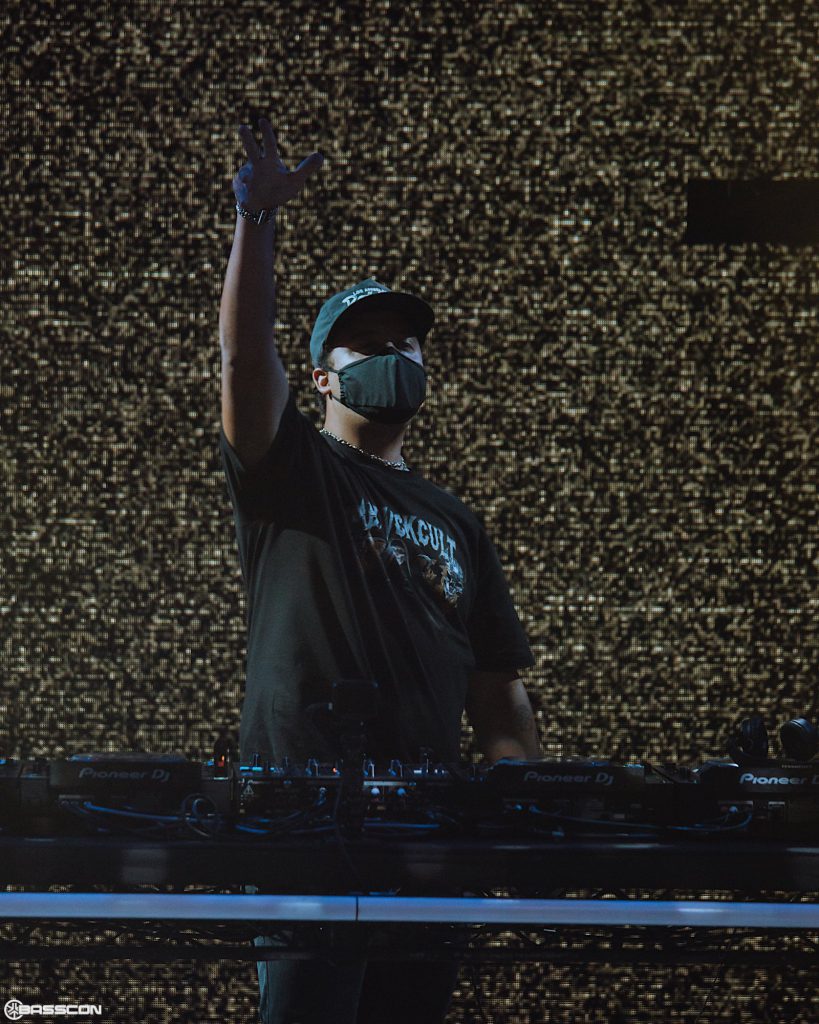 EDC Las Vegas is on the horizon and you're set to play a B3B alongside Blvckjesus and Crime Family. Can you share what sort of emotions are running through you with this massive set coming up on the horizon? Are there any surprises in store?
I'm so excited for EDC. I've actually never been to EDC at all. I've always told myself I wasn't going to go until I was booked to play. I used it as motivation. The fellas and I are so ready to put on a great show. I'm just so happy to share one of the biggest stages in the world with two of my best friends. As far as surprises go, we are showing absolutely no mercy when we step on that stage. That's all I'll say.
As a pioneer in the American Hard Dance scene, you're championing the raw trap sound and blurring the lines of hybrid genres, so what does it mean for you to be able to represent this music on such a big stage?
It honestly means a lot. The fact that people are finally starting to catch onto the evolution of hard dance is huge. I can't take all the credit for pioneering the raw trap sound, though. GRAVEDGR and I have definitely been trying to push this sound, and I'm truly happy that people are rocking with it.
Where do you see the American Hard Dance scene heading in the future, as a whole?
As I said before, I think the American hard dance scene is evolving. I think we're creating our own lane in the scene that separates us from the European hard dance scene. I will always respect and appreciate what Europe has done for hard dance, but I think if the scene is going to grow here in the States, we have to make it our own. Take LIL TEXAS for example. He made his own style of hardcore which is awesome.
Finally, with the last months of 2021 upon us and 2022 on the horizon, what's next for WSHNGTN in the near future?
That's a loaded question! I do have a new EP dropping before the end of 2021. I'll exclusively announce here that it will be called Nightmare on WSHNGTN St. I'm honestly really happy with this EP. It showcases all the different subgenres of hard dance and I'm excited for everyone to hear it. I'm just going to keep making the music I love and keep on pushing the sound of hard dance here in the states. I appreciate you guys for having me. It's been a true honor!
---
Connect with WSHNGTN on Social Media:
Facebook | Twitter | Instagram | SoundCloud | Spotify