Blvckjesus swung by to chat about his career and the future of his project, and cranks up the volume with a brand new, fiery mix!
---
Throughout the ups and downs of 2020, Blvckjesus remained as one of the artists that continued to grow with every release and virtual performance. The Los Angeles native is no stranger to the hard dance scene as he's climbed the ranks becoming a pioneer of the sound here in the US. From the early stages of his career up until the present, he's stayed true to his artistic vision and brings his versatile sound along with him wherever he takes the stage.
If there's one thing for certain, it's that the future is bright for Blvckjesus, and he won't stop any time soon. Despite his inclination towards all kinds of hard dance, he's also had a stellar run of releases that blend elements of pop-punk, rap, and trap, while also collaborating with other artists like WSHNGTN, Mikey Barreneche, and FREAKY. Just this past month, he also dropped a heater of a tune dubbed "SQUIRT" that saw him team up with Mikey Caesar as well.
Blvckjesus also recently took the stage for a sold-out show at 1720 in Los Angeles for his first show back and it's clear that more will be coming from this rising star in the scene in the future. As a testament to his rise in the scene, he even earned a spot at the upcoming edition of EDC Las Vegas with a B3B with WSHNGTN and Crime Family.
Riding the wave of this massive announcement, we caught up with Blvckjesus to pick his brain and explore the backstory of his dynamic style. And to help celebrate the return of shows this summer, he's spun up a fiery mix filled with high-octane hard dance and other genres including bass, trap, and even some speed house. So turn up the volume on his latest mix and make sure to read on to gain some insight into one of Los Angeles' greatest future stars.
Stream EDMID Guest Mix 275 || Blvckjesus on SoundCloud:
---
Hey Blvckjesus, thanks for taking the time to chat with us, we really appreciate it and hope you've been having a great first half of the year.
Thank you. I really appreciate you guys having me.
Throughout the past year and a half, you've been gaining quite a bit of momentum with arguably the best records you've put out including your debut EP, Ruin MY Life. This record was very different from what you had released in the past, so can you tell us about your creative process that went on during the making of this EP?
As many of us know, 2020 was a really hard year for the music industry with everything being canceled or postponed indefinitely. My mind was in a dark place and I needed to find a way to channel my energy and thoughts into a new way of reaching my audience.
After doing some soul searching, I slowly started making music again. I met my good friend Bobby (Ireadsouls), and we began making music together. I had been wanting to put together a pop-punk/alternative album for some time, but Bobby was the one who encouraged me to begin the Ruin My Life project. The idea for Ruin My Life came from my 2020 summer experience and how I overcame the craziness of that year. Seeing the positive response to a project that is completely different from the music I normally put out is amazing!
You also recently released "SQUIRT" with Mikey Caesar as well. What brought you together with Mikey for this tune, and did you approach it in a different way than your solo releases?
I met Mikey Caesar and many other talented artists during the height of the BLM movement last year. We would meet up and share our music with each other and when I showed the group my track, Mikey clicked with it immediately. Shortly after I had sent him the song, Mikey wrote up some vocals, and "SQUIRT" was born. This project allowed me to step out of my comfort zone since I wanted to fuse two styles of music together while keeping the vibe fun and fresh.
Your discography has a little bit of everything that hard dance has to offer from hard psy, hard trap, hardcore, raw trap, rawstyle, and more. So let's turn back the clock really quickly. How did you first get into the scene and begin producing it?
The way I was introduced to the scene was through my old mentor, DJ Chin. He was the very first person who taught me how to DJ and helped me with my first gig. From there, I played small venues throughout LA and started to build my name. I started producing in 2018 and took time off from playing shows to really focus on learning music production. Doing this really helped me step my game up as an artist cause I was able to create my own sound. From there, I would send my music to artists like Swage, Jayceeoh, and SAYMYNAME, who were some of the first people to support my music. I value the help and support from everyone who believed in my journey as Blvckjesus more than anything.
Among all of your hard dance releases, you've given us some gems in other genres including pop punk and even a rap record with Armanni Reign. With all of your musical diversity, what's your vision moving forward with the Blvckjesus project?
My vision going forward is to dip my feet into as many genres as possible. I am a huge music lover and just love the process of creating whatever genre comes to me. It's difficult to expand your creativity when you feel like you're limited to one sound. A lot of artists today are stepping out of their comfort zones and are creating new styles of music. Hard Dance will always be a huge influence on my life, but I am also excited to explore other worlds.
As someone who has been a part of American hard dance scene for a number of years now with releases on Harsh Records and Breakdown Records, you're no stranger to pushing the limits of genre. What's your opinion on the hybrid hard dance scene growing in America?
I think it's amazing to see the hard dance scene growing in America! The kids today are always looking for new sounds which is why I love pushing the limits of the genre. I am very excited to see what the future holds for the hard dance movement as a whole.
On social media, you've been very vocal about your opinions on what the hard dance scene needs to do to thrive and grow. For those that don't know, what do you think needs to happen in America in order to get hard dance music the recognition it deserves?
The best way for American hard dance to grow here in the states is through innovation and cross collaboration. A lot of hard dance artists are afraid to step out of their comfort zone and it causes them to become stagnant in an industry that is constantly changing and growing. Us producers need to push the boundaries of the genre and subgenres of hard dance in order to expand and get the recognition it deserves.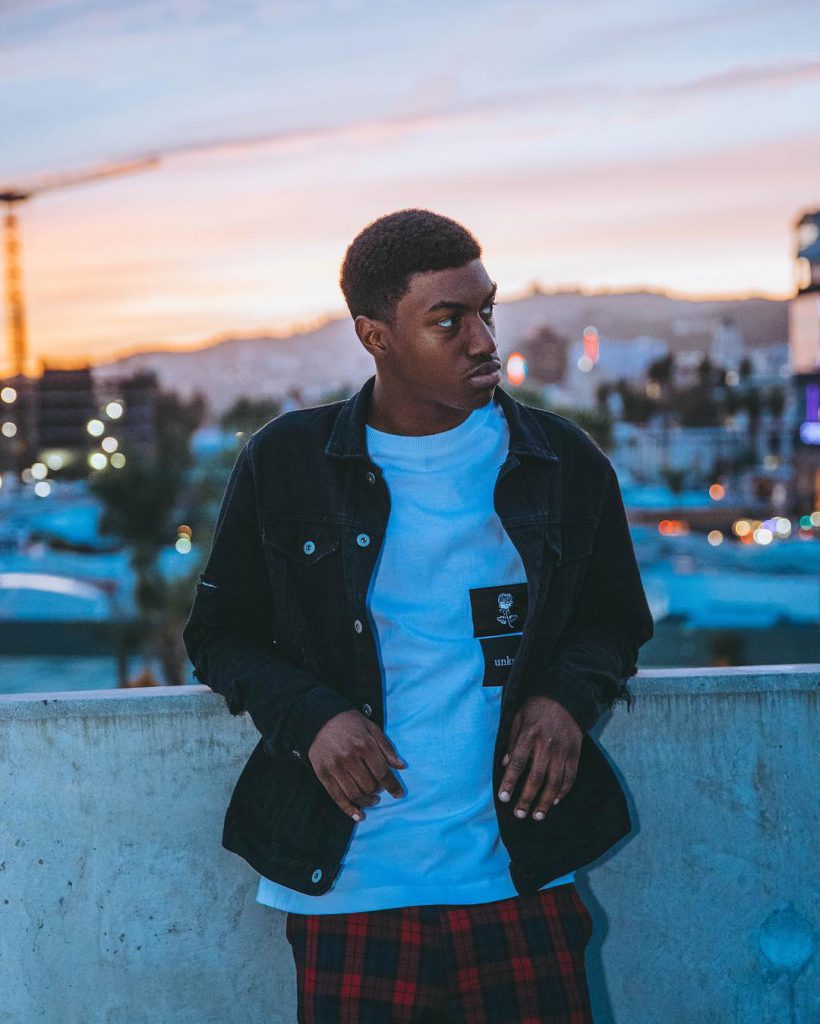 You recently made your return to live shows with a sold-out event at 1720 in Los Angeles and I can imagine how great that must have been. Based on that show, what do you think is in store for the future of live music after the pandemic?
Being able to play in person after being forced to take a break from live shows for over a year was amazing. The future of live music as a whole is extremely bright, especially with all the new talent that has been surfacing. I expect to see a ton of new names on lineups in the upcoming months and I feel that a lot of good things are on the horizon. I am extremely excited for what the future holds.
You tend to have a strong influence from the punk scene in your art, whether it be your fashion style, music, or cover art. Can you give us more insight into why these inspirations are so prevalent in your artistic style?
Rock music as a whole has always been a huge influence in my life ever since I was a kid. I grew up listening to a lot of rock, alternative, punk, and hardcore music, so naturally, those genres have influenced my music and style today. One of my goals is to collaborate with more hardcore and punk bands in the future to push the boundaries of hybrid genres. I am currently in talks with Senses Fail for a collaboration which I hope to release later this year. I grew up listening to them. Playing their song "Can't Be Saved" on Guitar Hero helped shape me into the person and artist I am today.
Finally, what's one of your favorite moments in your career so far, and what's something you are still looking to accomplish in the future?
My favorite moment of my career so far has been working with my new management team, NoFavors. Only two months have passed since we've officially been a team, and it's crazy to see how much we have accomplished in that short period. They've put so much work and effort into this project and I can't imagine doing this without them. New music, tours, and headlining festivals are what the future holds for Blvckjesus!
---
Connect with Blvckjesus on Social Media:
Website | Facebook | Twitter | Instagram | SoundCloud | TikTok | Spotify