ZHU played two nights at Los Angeles' Greek Theater, bringing us on a journey into the heart of Dreamland.
---
ZHU has always been full of mystery. When he first emerged, his house tracks ranged from dark and deep, to progressive with some even incorporating elements of bass and electro. After his release of The Nightday in 2014, which contained favorites like "Faded," "Superfriends," and "Cocaine Model," ZHU's popularity started to climb but so did the mystery. With the following releases of Genesis and Generation Why, the electronic dance community was buzzing with intrigue for this producer who had entered the scene with so many unique, vibey tracks. By the time Ringos Desert was released in 2018, ZHU had become a household name.
Over the years, ZHU has been unveiling more parts of story and identity through his music. This brings us to his latest album, DREAMLAND 2021 and its accompanying DREAMLAND Tour, which I was able to attend October 10 at the historic Greek Theater in Los Angeles.
---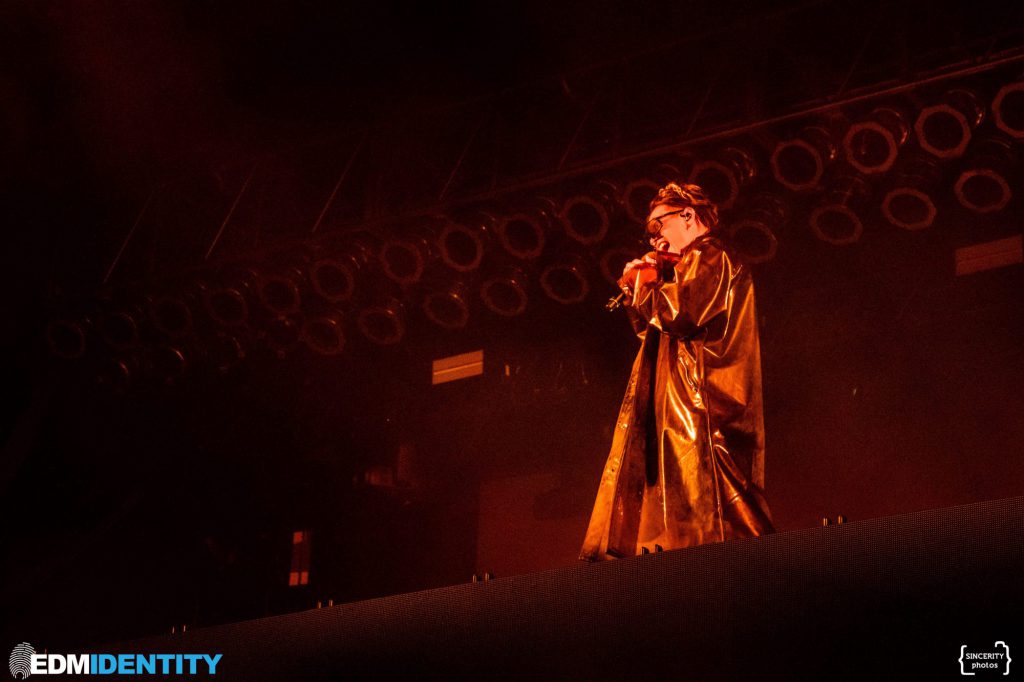 ---
I was ready to experience my first ZHU show since 2018!
When we first got into the venue, we decided to check out the merch. ZHU's was top tier in both design and quality. Two furry bags with contrasting embroidery and straps with the ZHU logo caught my eye. There were Dreamland 2021 hoodies and long sleeve shirts designed in a dark brown camo. There were also the classic ZHU logo shirts, hats, and bandanas. I'm not usually one for artist merch, but for his I could make an exception. Every piece of merchandise looked incredible.
When we got to our seats, Shiba San had just started. His house beats filled the open air and most people were already dancing. The theater wrapped around the main stage where Shiba San played on a small table. A large curtain behind him clearly hid something but we couldn't quite see what yet. Before we knew it Shiba San's set was ending and as he walked off the stage, in came a giant construction LED sign along with construction workers laying down orange cones. The sign alternated between saying "Welcome to Dreamland" and "Expect Delays."
The anticipation was mounting, but we knew we had some time to grab food. The food selection ranged from wings to nachos and burgers, including an Impossible burger with truffle fries. We decided on a grilled cheese and returned to our seats. All around us, people were talking about how excited they were. With many of them seeing him for the first time, the energy and magic was definitely in the air.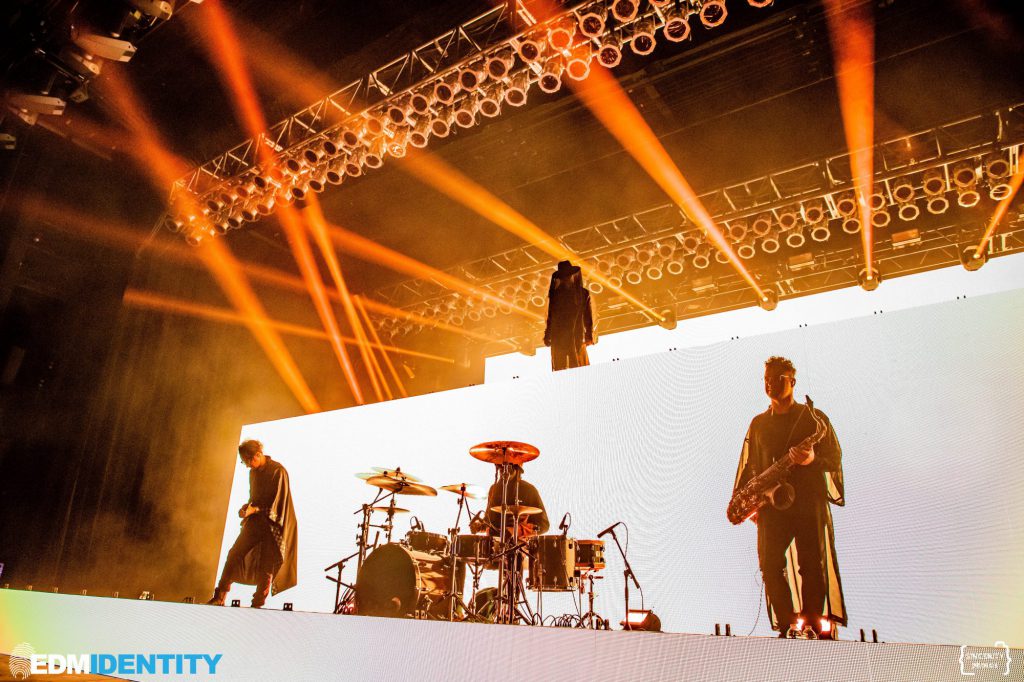 ZHU seemed to rise out of the LED screen, microphone in hand welcoming all of Los Angeles.
His outfit was striking and definitely made an impact. His entire body was shrouded in black mesh cascading from the large black, rimmed hat he wore. His long trench coat covered a fully black outfit – a collared shirt and pants – all made of a flowy material. Sunglasses were the finishing touch to his simple yet elegant look.
He opened with "Distant Lights" and I was in awe as he sang out to the audience. His incredible ability to sustain a pitch in falsetto is pure talent. As the song ended, smoke rolled on to the stage, the lower lights went down, and out walked three musicians – an electric guitarist, a drummer, and bass saxophonist. As they started playing the music became more elevated. The way they expertly blended with each other really showcased their experience and collaborative flow.
After leaving the photo pit, I returned to my seat to enjoy the rest of the show. By now he was playing, "Cocaine Model" and I overheard a guy behind us say"Oh, this is the OG ZHU, you'll love this," to his friends. He wasn't wrong. Within a few minutes after the drop one of his friends was screaming. The whole crowd was alive with this collective energy. Our shared experience and love of the music fueled so many smiles.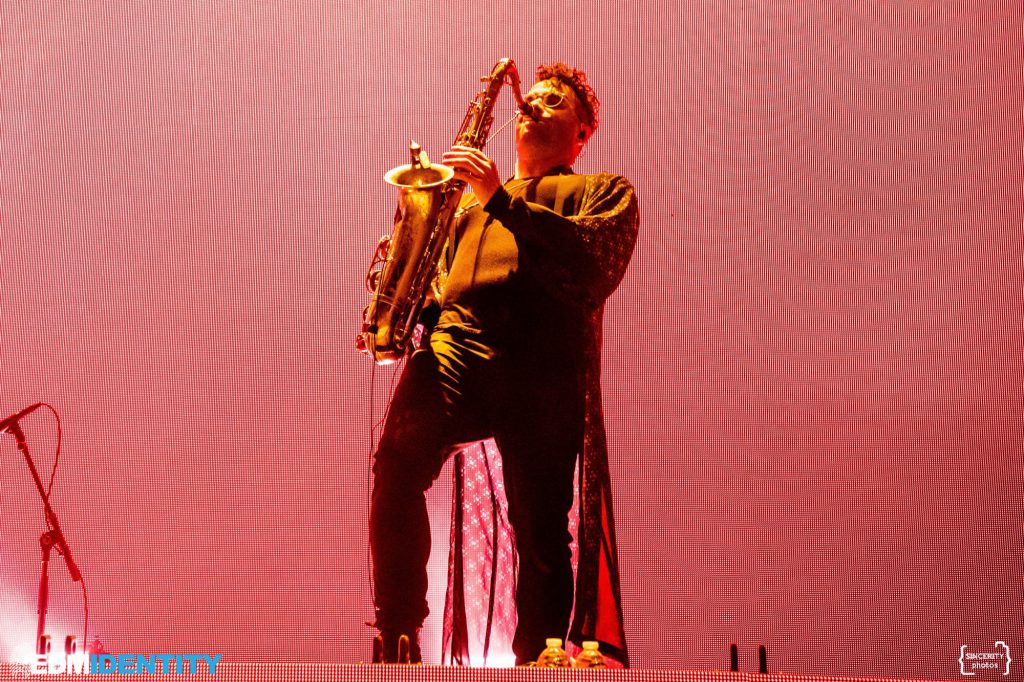 ZHU's set list was masterfully crafted and creatively flowed between tracks.
His set incorporated transition tracks like Britney Spears' "Hit Me Baby One More Time" (to which the whole crowd yelled "Free Britney"), and Coldplay's "Fix You." My all-time favorite track of ZHU's is "Hometown Girl" and from my previous experiences seeing him, it's usually played toward the end of his sets and so I knew our journey in Dreamland was coming to a close when it came on. He closed the show with "My Life," which really made my night.
Throughout the set, ZHU floated between the back of the stage and the top of the platform, which brought a dynamic feel in the fairly small space. The lights alternated between red, orange, blue, and white while screens displayed a variety of avant garde scenes and occasionally lyrics to his songs. As the smoke rolled in to create the illusion of his disappearance, the lights faded and the music dissipated into the night air. The LED screen had one final message, announcing the end of Dreamland on December 31.
Having my first experience at the historic Greek Theater be a ZHU show will always be a special memory.
ZHU's melodic blend and smooth lyrics paired with heavy bass lines and live instruments is wonderfully unique. Add on his fashion sense and vocal performance and it makes his shows outstanding. It is easy to see that he curates his performance in a way that not only highlights his skills as a singer but his style and brand as well.
He's the type of artist who inspires fans to introduce his music to others. Over the last year and a half, we've all longed for a Dreamland, a connection with one another. ZHU really delivered this in a community re-energizing night. I would highly recommend catching this tour before it ends on New Year's Eve. Tickets are still on sale for the remaining dates so make sure to get yours now!
---
Follow ZHU on Social Media:
Website | Facebook | Twitter | Instagram | SoundCloud | YouTube