Of The Trees, Supertask, Potions and Huxley Anne are set to join CharlestheFirst at The Caverns in Tennessee this December.
---
As the seasons change and the year coming to an end, it's time to pause and take a moment to reflect on the triumphs and challenges that we've encountered and overcome. And what better way to do that than with artists that connect with you deeply in a mystical cave secluded from the outer world? Look no further, because CharlestheFirst has just the escape for you on December 11 at The Caverns in Pelham, Tennessee.
Already riding the wave of an impressive festival in Wyoming, the debut of Lab Group, and the announcement of a New Year's Eve show that is shaping up to be fantastic as well, it's safe to say CharlestheFirst has been busy building his well-deserved empire in 2021. This show at The Caverns will only further cement his status both in the scene and in the hearts of his dedicated fanbase.
While the performance from CharlestheFirst is sure to be remarkable, the beloved artist has also curated a stacked lineup of talented artists to join him including Of The Trees and Supertask. These two have made massive waves in the scene with new music and recent tours, but that's not all that's in store. Adding to the night we have Potions and Huxley Anne bringing their own sexy flair to the underground cave setting that you won't want to miss.
Surrounded only by music and like-minded souls, this breath of fresh air in the subterranean space could be just what you need to give thanks to the past and prepare yourself for the new adventures that await you in 2022. The pre-sale is happening now (use code: CTFCAVERNS), with the general on sale for this epic event beginning today at 1pm CT, so don't snooze on getting your tickets! Grab them while you can via Eventbrite or through the tour link on CharlestheFirst's website. Who will we be seeing there? Let us know in the comments below!
---
CharlestheFirst at The Caverns 2021 Lineup: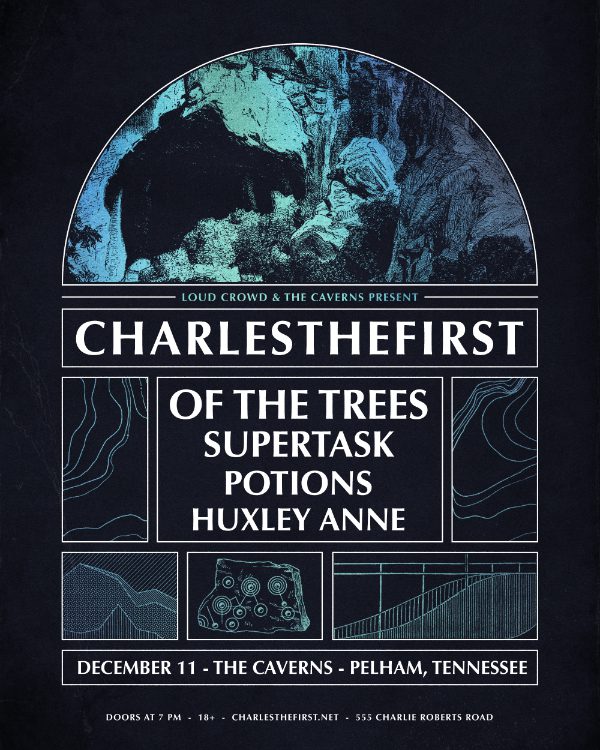 ---
CharlestheFirst at The Caverns 2021 – Lineup By Artist:
CharlestheFirst
Of The Trees
Supertask
Potions
Huxley Anne
---
Follow CharlestheFirst on Social Media:
Website | Facebook | Twitter | Instagram | SoundCloud | YouTube