Explore the depths of your own soul with the help of Black Wolf Sound by listening to his latest body of work, Chapter Three: DIVE DEEP.
---
Denver-based producer John Hohnhorst loves to take listeners on a musical and spiritual journey with his creations as Black Wolf Sound. He set off on a mission to craft cinematic adventures with widespread musical styles while searching for his own truth, and the result are soundscapes that are diverse and filled with love. Beyond that, the creations from Black Wolf Sound invite individuals to explore their own cosmos with the help of a personal guide.
Past works, such as Chapter One: The Big Bang and Chapter Two: REIGNITED, saw Black Wolf Sound put what he likes to call life "chapters" on display. He incorporated his own human experience within the reflected sounds throughout those two releases. Today, the latest chapter of his life has surfaced, which sees him DIVE DEEP both into who he is and what message he wants to spread. It urges listeners to look deep inside themselves and take a melodic soul search.
Listen to Black Wolf Sound's Chapter Three: DIVE DEEP on Spotify or your preferred platform and read on for a track by track take as you listen along!
Stream Black Wolf Sound – Chapter Three: DIVE DEEP on Spotify:
---
Prepare for a deeper connection when you press play on Chapter Three: DIVE DEEP.
Close your eyes and take a few deep breaths as "Trippn On The Strings" transports you to new dimensions. Futuristic sound waves blended in with tasty bass greet you into this new space, you feel intrigued and ready to explore the depths of sounds to come.
Bringing you the power to overcome inner battles, "Push Through" is here to help you soar to new heights with angelic vocals guiding you through your journey. You will feel like you are soaring amongst the clouds from start to finish, as the track gives you the sense of ability to push through anything in your path.
The third track, "Deep Diver," will leave listeners feeling rid of self-doubt and leaving their past troubles behind with lyrics ringing through their head that say "Look inside, you're divine, please never hide your shine. Let go of the past it won't last, time to let it all go." Along with a catchy rap verse to close the song out, this one is sure to have you beaming with a smile on your face.
"Keep On Going," because growth awaits you.
With lyrics easy to connect to, "Keep On Going" promotes well-deserved self-fulfillment. With your soul journey guide by your side and the lyrics "Only thing stopping you is you, any moment you could breakthrough" guiding you along. The out-of-this-world soundscape will help anyone continue to get lost further within their self-exploration.
To keep you awake and ready to show the love "TPL CCW" comes in with upbeat energy exploding through its runtime. The words, "The power of love could change the world if it wanted to," serve as encouragement, leaving you ready to go hug a stranger purely just out of love for them and their existence.
Black Wolf Sound then brings you back to your inner work with "Working Through It" and reminds you that you're still on a soul journey. With a flute serenading you with tribal flare this track will have you in a meditative state ready to take on the remainder of the chapter.
The haunting truth of past trauma and its power over us is exposed on "Generational Hand Me Down," which takes listeners down a shadow side route and tries to help them come to terms with it. With deeper bass influence and mesmerizing guitar riffs, you are guaranteed to be in your feelings. This song is a good way to help remind listeners that we all have traumas that are out of our control, yet we need to find comfort in the notion that we're all experiencing similar aspects of life together.
"Only You" is inspiring and showcases the importance of self-love.
"Only You" starts off making you think that this will be another typical love song, but nope! This song takes a 180 turn to leave you looking at yourself in the mirror. The uplifting lyrics that promote the importance of self-love that we all need to be reminded of from time to time make this tune stand tall.
The next track, "I Can't Find My Voice" lightens the mood with several silly, goofy samples. Add that with wonky texturized elements and this song will have listeners giggling with a playful smile on their faces. The feeling expressed in this song is a great release to have amongst all the more serious soul searching we have encountered so far – laughter heals all wounds, after all.
To close out this journey, "Shadows" comes in with its melodic tones to bring you down to a more mellow state. Guiding himself to appreciate the reflection looking back at him, Black Wolf Sound shows us that deep dives within are needed to appreciate the reflections we see when gazing back at ourselves.
Chapter Three: DIVE DEEP is a beautiful journey of growth. From uplifting inner work to the harsher truths of our shadow sides, it will have you feeling all the feelings that when put together are what we call the human experience. Join Black Wolf Sound on this soulful journey and let us know what you think in the comments below!
---
Black Wolf Sound – Chapter Three: DIVE DEEP – Tracklist:
Trippn On The Strings
Push Through
Deep Diver
Keep Going
TPL CCW
Working Through It
Generational Hand Me Down
Only You
I Can't Find My Voice
Shadows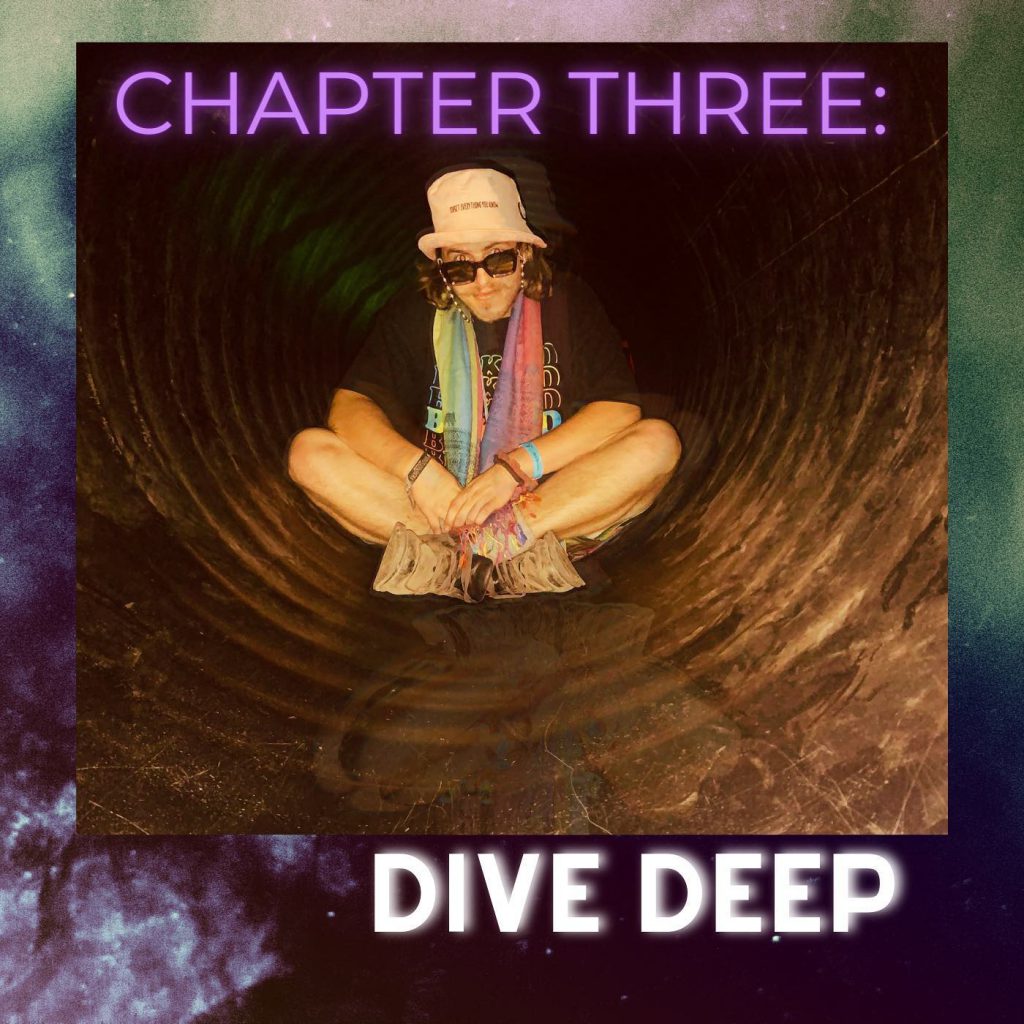 ---
Follow Black Wolf Sound on Social Media:
Website | Facebook | Twitter | Instagram | SoundCloud