After throwing down a massive set at Lost Lands, G-REX sat down with us to discuss his Fusion EP with Sully, his rider, and so much more!
---
In the past three years, G-REX has taken the bass scene by storm with his eclectic production prowess in tow. Though the artist's humble beginnings can be traced back to 2013, his unmistakable sound absolutely dominated 2018 with "Babatunde," a collaboration with friend PEEKABOO. The track was rinsed by headlining acts and up-and-comers alike, and thus G-REX became a household name in heavy bass with a freeform edge.
Strapped with a smorgasbord of standout self-releases in addition to landing on WAKAAN and Deadbeats countless times, G-REX is nothing short of a powerful force to be reckoned with. The producer has seen a massive uptick in support from industry heavyweights as well as his dedicated fanbase, and his hard-hitting discography is the only explanation needed as to why. Oozing swagger with each release, G-REX fuses haunting soundscapes with gritty basslines – a sound combination that few can resist.
Hot off the release of the collaborative Fusion EP with Sully, G-REX has no intentions of letting up. The EP kicks off with the pair's show-stopping fan favorite, "Back It Up" and leads into four subterranean bass heaters. Crunchy synths, diabolical wobbles, and punchy bass are the name of Fusion's game, and with such an incendiary release on deck, we jumped at the opportunity to sit down and chat with G-REX.
We had the pleasure of witnessing G-REX slaughter Wompy Woods at Lost Lands this year, which affirmed what we already knew – this guy gets it. Following up after his incendiary set and dropping Fusion, we spoke with the artist about the inspiration behind his sound, his favorite memories of Lost Lands 2021, and the must-haves on his rider. Check out Fusion on your preferred platform and read on for an in-depth chat with G-REX!
Stream G-REX & Sully – Fusion EP on Spotify:
---
Hi G-REX, thank you so much for taking the time to chat today! How are you doing?
Doing great, thank you for having me!
Of course! So let's jump right into it with the first question I knew I had to ask you: What is the inspiration behind the trademark horse sound you use?
The horse sound was originally just something that I threw in one of my older tracks "Wook Blaster" and really did not think much of it. Since then it has really grown into part of my brand with the death horse. It's the pale horse from the book of Revelations, one of the four horsemen of the apocalypse.
That's awesome. Since you're a big fan of horror, do you have any favorite scary movies that might influence your style?
House of 1000 Corpses is one of my favorites for sure. I use clips from a lot of different horror movies to work into my tracks to give them that ominous sound.
Let's talk about your latest collab EP with Sully, Fusion. First off – congratulations on such an incredible release! You and Sully have worked on quite a few tracks together at this point, so what is it about his sound that initially drew you to want to create with him?
Thank you so much! We have been friends for a long time and go way back to college when we both went to Western Michigan. Both of our sounds have definitely developed a lot over time. The first time we worked together on our track "Clique" it went super smooth and we had talked about writing more down the line. Being in the pandemic and both being in Michigan seemed like the perfect opportunity.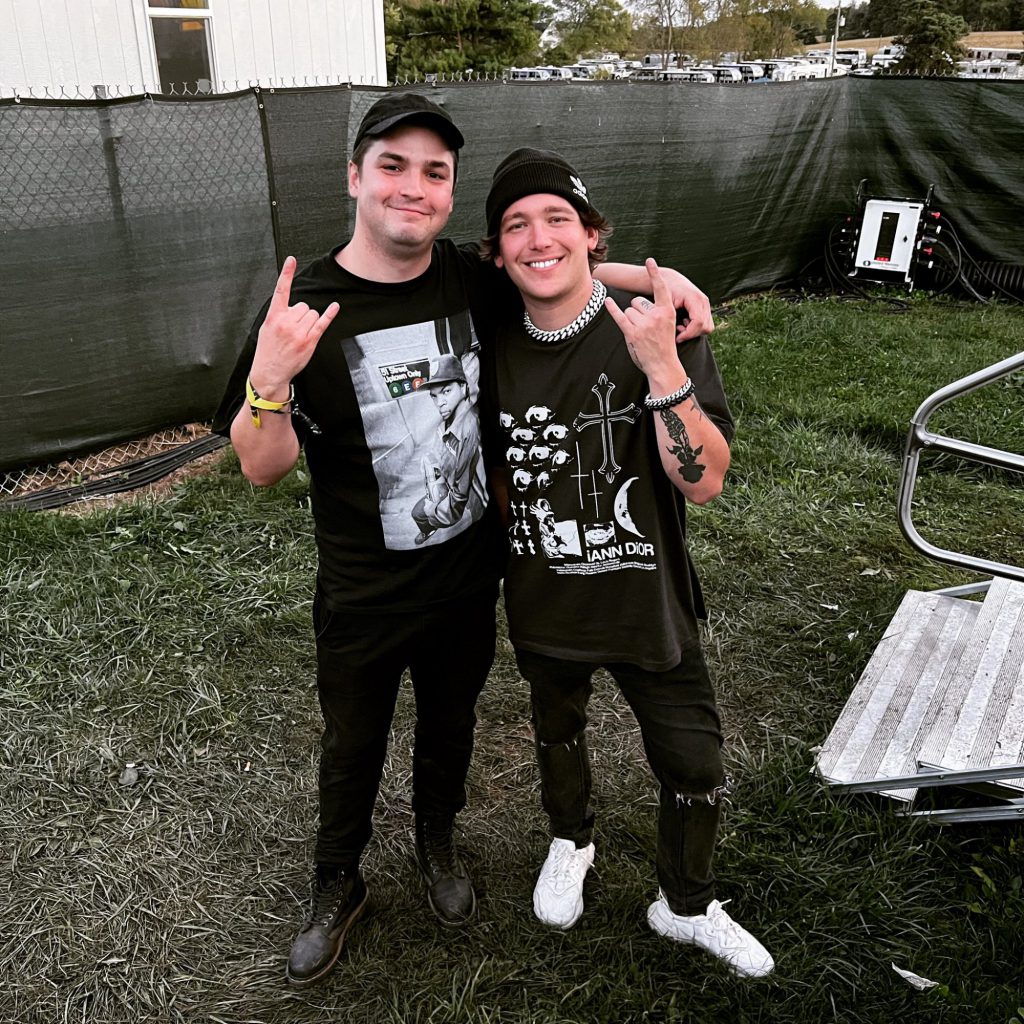 I can definitely tell you guys have some insane artistic chemistry – it shows on every track! On "How Much Further" you worked with The Arcturians as well. What does the production process look like working with several other artists on one track versus solo? Would you say it's easier or more difficult to work with others?
For that track, Sully and I finished it and sent them the demo and they literally had the vocals back in a day and they sounded amazing, so that was a super easy process. I really love working with other artists, especially close friends of mine because it's just fun to bounce ideas back and forth and create. I've definitely had some collabs in the past that have been a little more of a struggle working on, mostly because we are using different programs.
When I went to Lost Lands in 2019, your set Saturday at Wompy Woods was one of my favorites and I couldn't have been happier to see you take the same stage on the same day this year. Congratulations on another awesome set! Did you have any favorite moments during your set this year?
Thank you! Lost Lands was great this year, so much had changed since 2019 like the stages and production, but I also had my slot moved up from where it was Saturday in 2019, which was awesome. As far as some of my favorite moments, bringing Jiqui on stage was great. At one point I turned around and saw Liquid Stranger standing there watching my set, and he's done so much for me so that was an awesome moment as well. I also got to just hang out in the crowd and watch some sets, and that was really cool.
Do you normally get any time to see other people's sets at the events you play at – whether it's a large-scale festival or a club show – or do you just have to show up and do your thing?
So if it's a one-off show then I'm kind of limited to just playing my set, not really a lot of time to go into the crowd to hang out. But at festivals, I try to stay for the entire fest and even hop into the GA crowds. Like at Lost Lands, I was in the crowd a lot and it's pretty much always a good time.
So whose sets did you get to see at Lost Lands this year, and who were your favorites?
I saw all of Liquid's set, saw MIZE, I also went to the WAKAAN takeover with Hydraulix, LUZCID, DMVU, VEIL… I was kinda bummed my slot was conflicting with Kompany's because he and I are really good friends. I saw Dr. Fresch too, which was such a cool set.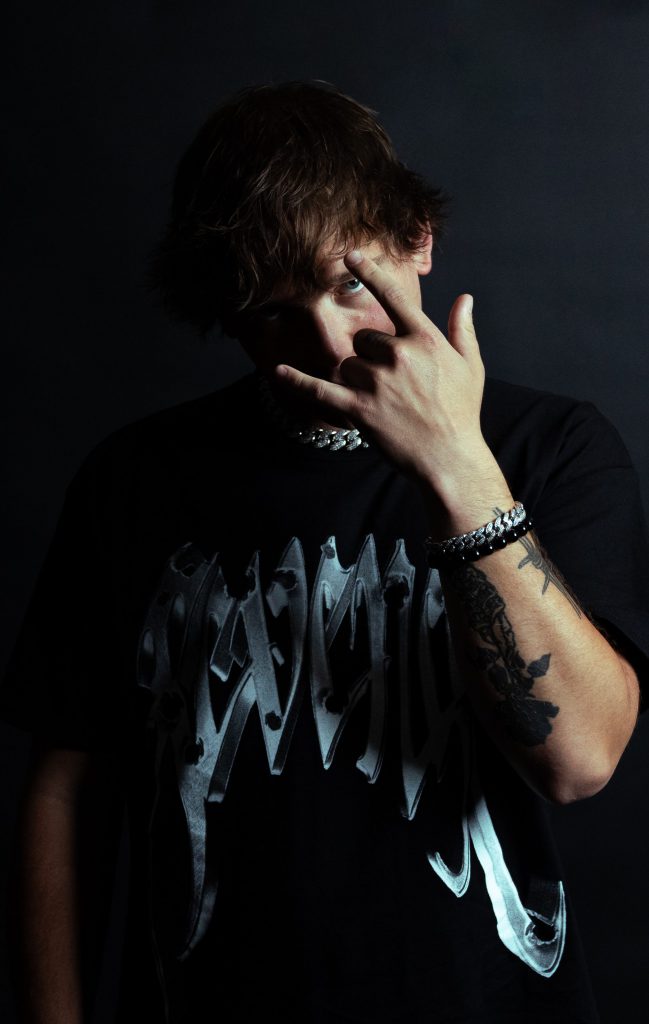 I'll definitely have to catch him some time. So I'm wondering, do you have any pre-set rituals? If so, do your festival rituals differ from a regular club setting ritual?
Not really, honestly, I just drink a couple of beers and go for it. [Laughs] I don't really have anything different I do for festivals versus smaller shows. I guess sometimes my mood can affect the set I play, so if I've been angry then my sets will reflect that super heavy, hard music, but usually, my sets are a mix of everything. I want to get to the point of doing all-original sets but I also like to play other people's music and get a good mix of different sounds. Typically my sound is more cinematic and story-telling, and I like to throw in some hip-hop influence too.
Speaking of pre-show rituals – What would you say is the most interesting item on your rider?
Honestly, my rider is pretty boring, I usually get a pack of Natty Lights, water… I love those habañero BBQ almonds, they're my favorite snack so I get a bunch of those, and then my house is just filled with almonds, all the time.
[Laughs] So Natty Light is your first preference, eh?
Haha, yeah I mean it's easy, it goes down like water so it gets the job done!
Honestly, I can't judge, my choice of drink is Miller High Life.
Miller is another good one. [Laughs]
Well, it's been an absolute pleasure to speak with you, you're one of my all-time favorite artists so thank you so much! To wrap up, I've got one last question: Do you have any advice for your fellow peers who are just starting to play festivals and events again, or even those who are starting to play for their first time this year?
Thank you for having me, that means a lot! As far as advice goes: Enjoy it! Playing in those kinds of environments are some of the shows you remember the most!
---
Follow G-REX on Social Media:
Website | Facebook | Twitter | Instagram | SoundCloud