Madeon will be landing in cities such as New York, Austin, Houston, Indianapolis, and more on the GOOD FAITH FOREVER TOUR this fall.
---
Ahead of the release of his most recent album GOOD FAITH back in 2019, Madeon embarked on a tour of epic proportions to showcase the sounds that would be found within its tracklist. From September to December that year, his GOOD FAITH LIVE show was brought to cities like London, Los Angeles, Atlanta, Brooklyn, and more to the delight of his fans near and far. But soon after that run of dates ended, a global lockdown ensued as the pandemic took hold, dashing plans for Madeon to continue his run into 2020.
Now that brighter days are on the horizon with the return of live music events, Madeon is looking to spread some GOOD FAITH once again in cities across the United States. Today, he dropped the details for GOOD FAITH FOREVER, the continuation of his 2019 tour that will see him take the stage at venues ranging from Terminal 5 in New York to The Sylvee in Madison, Wisconsin. Of course, there are also a smattering of already announced festivals he's set to play as well, including Imagine Music Festival, Second Sky, Firefly, Spring Awakening, and Austin City Limits, all of which will feature the live sets.
Related: Want to get a taste of what the GOOD FAITH experience is like? Check out our take on the show in LA to get a glimpse at what Madeon has in store.
Check out the teaser for GOOD FAITH FOREVER TOUR on YouTube, grab tickets to the available shows via his website (pre-sale begins on Wednesday, July 14 for the new dates), and let us know if you plan to attend in the comments!
---
Madeon's GOOD FAITH FOREVER TOUR 2021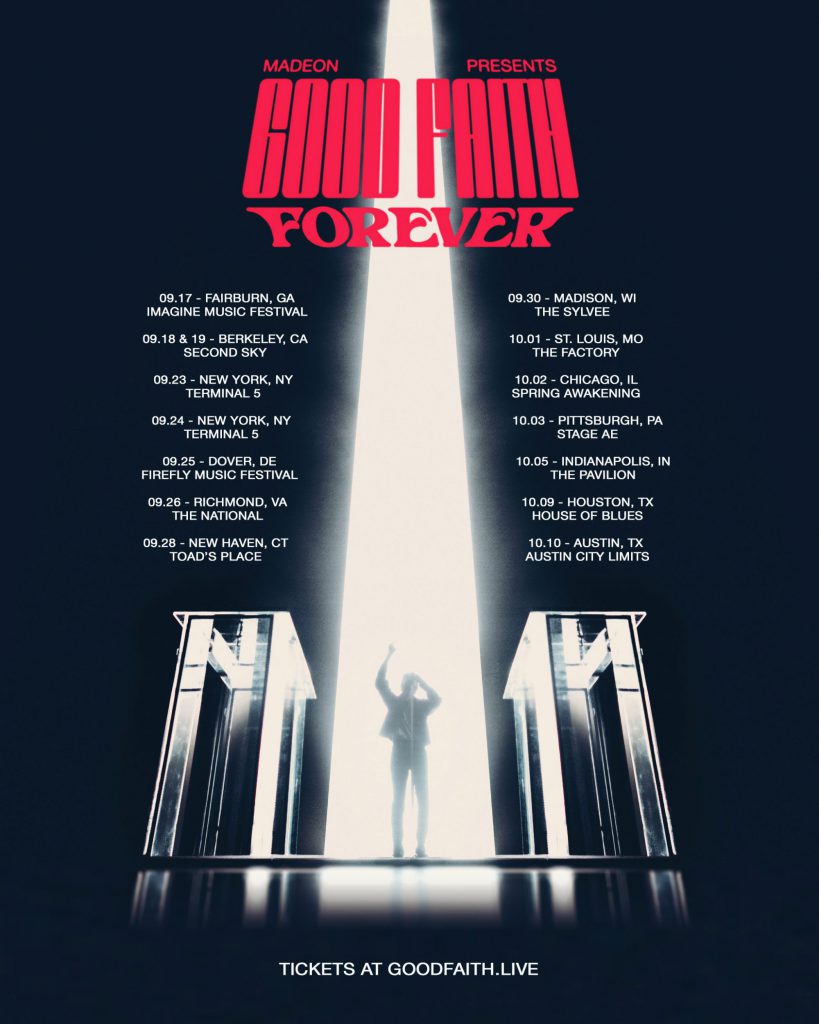 ---
Madeon – GOOD FAITH FOREVER TOUR – Dates & Venues:
September 17 – Imagine Music Festival – Fairburn, GA
September 18 – Second Sky – Berkeley, CA
September 19 – Second Sky – Berkeley, CA
September 23 – Terminal 5 – New York, NY
September 24 – Terminal 5 – New York, NY
September 25 – Firefly Music Festival – Dover, DE
September 26 – The National – Richmond, VA
September 28 – Toad's Place – New Haven, CT
September 30 – The Sylvee – Madison, WI
October 1 – The Factory – St. Louis, MO
October 2 – Spring Awakening – Chicago, IL
October 3 – Stage AE – Pittsburgh, PA
October 5 – The Pavilion – Indianapolis, IN
October 9 – House of Blues – Houston, TX
October 10 – Austin City Limits – Austin, TX
---
Follow Madeon on Social Media:
Website | Facebook | Twitter | Instagram | SoundCloud | YouTube