Sink your teeth into the dynamic lineup of Porter Robinson's Second Sky Music Festival with our favorite hits from the artists.
---
After patiently waiting two years since the debut edition of Second Sky Music Festival, fans of Porter Robinson can rest easy as the date for its return is finally right around the corner. Already impressing with a second virtual edition earlier this year, the live event's return is slated to officially take place on September 18-19 at the Oakland Arena Grounds after changing venues.
Second Sky Music Festival will feature Porter Robinson's debut of Nurture live as a kick-off to the official tour, along with a number of curated artists as well. This includes his good friend Madeon, who is set to bring his Good Faith Forever performance to the festival, along with Jai Wolf, Toro y Moi, Wavedash, Jon Hopkins, and more.
Ahead of this magical experience which is approaching closer on the horizon by the day, we've put together a playlist highlightings some of the standout tracks from each artist on the lineup. So be sure to save the playlist and groove away when you hit the road and head to the Bay Area this year for the festival.
There is a limited amount of GA and VIP tickets for Saturday and Sunday available. You can get your tickets on the official Second Sky website now!
Stream the Second Sky Music Festival 2021 Playlist on Spotify:
---
Tracklist:
Porter Robinson – Look at the Sky
Porter Robinson – Get Your Wish
Porter Robinson – Something Comforting
Porter Robinson, Madeon – Shelter
Jai Wolf – Indian Summer (2020 Encore Mix)
Jai Wolf – Hikiomori (Demo)
HAIM, Toro y Moi – 3 AM (Toro y Moi Remix)
Toro y Moi – Freelance
Toro y Moi – Ordinary Pleasure
Madeon – The Prince
Madeon – Heavy With Hoping
Madeon – No Fear No More
Madeon, Earthgang – No Fear No More (Remix)
Wavedash, Noon – Lemon Nades
Wavedash – By Any Means
KNOWER – The Government Knows
KNOWER – Lose My Mind
KNOWER – Cry Tomorrow, Laugh Today
JYOCHO – my rule
JYOCHO – ユークリッド
Jacob Collier, Mahalia, Ty Dolla $ign – All I Need
Jacob Collier, Daniel Caesar – Time Alone With You
Jacob Collier, Tori Kelly – Running Outta Love
Jon Hopkins – Immunity
Jon Hopkins, Ram Dass, East Forest – Sit Around The Fire
Jai Wolf, Wrabel – Moon Rider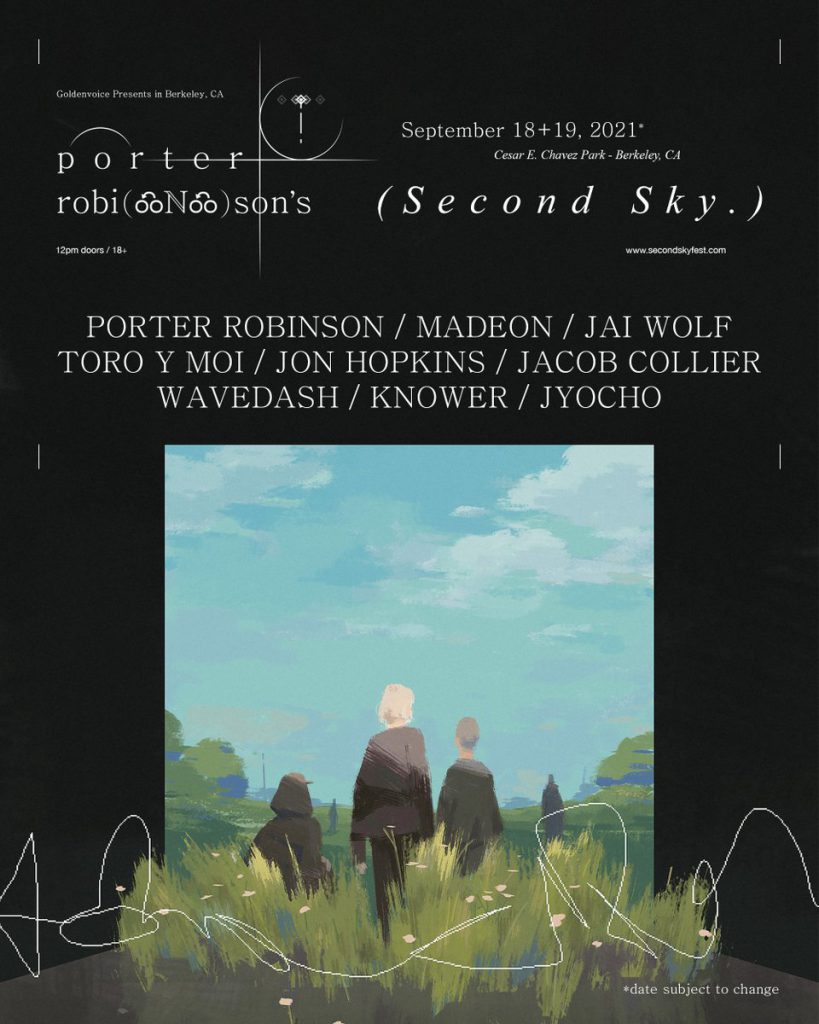 ---
Connect with Porter Robinson:
Website | Facebook | Twitter | Instagram | SoundCloud
Connect with Second Sky Music Festival on Social Media: