Life is Beautiful returned to Downtown Las Vegas this month and provided a much-needed oasis for music and art lovers.
---
After a tumultuous year, music festivals have surely been missed. The joy they bring to people's lives is irreplaceable and with some events being sidelined due to weather and other causes, there always seems to be a looming cloud of uncertainty over any fall festival. As September came closer, Life is Beautiful and its producers continued to grind things out on the back end to ensure the weekend would go off without a hitch despite some changes compared to previous editions.
Of course, due to the pandemic, Life is Beautiful needed to follow certain protocols to make sure its attendees would remain safe. Using CLEAR allowed for them to easily check for proof of vaccination or a negative COVID test within 72-hours, and while that process was seamless there was a slight hiccup that I experienced in getting the proper wristband. Unfortunately, that led to me missing out on Remi Wolf at the Bacardi Stage, but I wasn't going to let that slow down the rest of the weekend ahead.
Friday's lineup was stacked with a variety of incredible artists including Midnight Kids, Jamm Jam feat. Jacob Collier, Glass Animals, CloZee, and Tame Impala.
I definitely got my steps in on Friday as there was no shortage of music to see. The first set I truly was able to enjoy was Midnight Kids at the Fremont Stage. The giant hangar-like structure was home to a majority of the electronic music over the weekend and Midnight Kids opened it up with a high-energy and uplifting set. Their alt/indie-infused electronica was the perfect way to get my dancing legs warm for the rest of the day. Throughout the set, they weaved in their own productions like "Monsters" and "Those Were The Days" that got the crowd vibing and singing.
On the same stage later in the day was Jamm Jam feat. Jacob Collier alongside a revolving cast of musicians. I haven't seen so much talent on one stage, probably ever, as Jacob Collier recruited artists like Haywyre, T-Pain, JoJo, Steve Vai, Justin Lee-Schultz, Sarah Thawer, and Bryn Bliska to name a few. As Jacob led the ensemble, it was spectacular to see him in his element. He effortlessly went from playing the piano to shredding the drums, bass, tambourine, talkbox, and whatever other instruments were on stage. There is a fluency for him when it comes to music that is unparalleled and it was a real treat to catch him and all the artists perform this, probably, once in a lifetime show.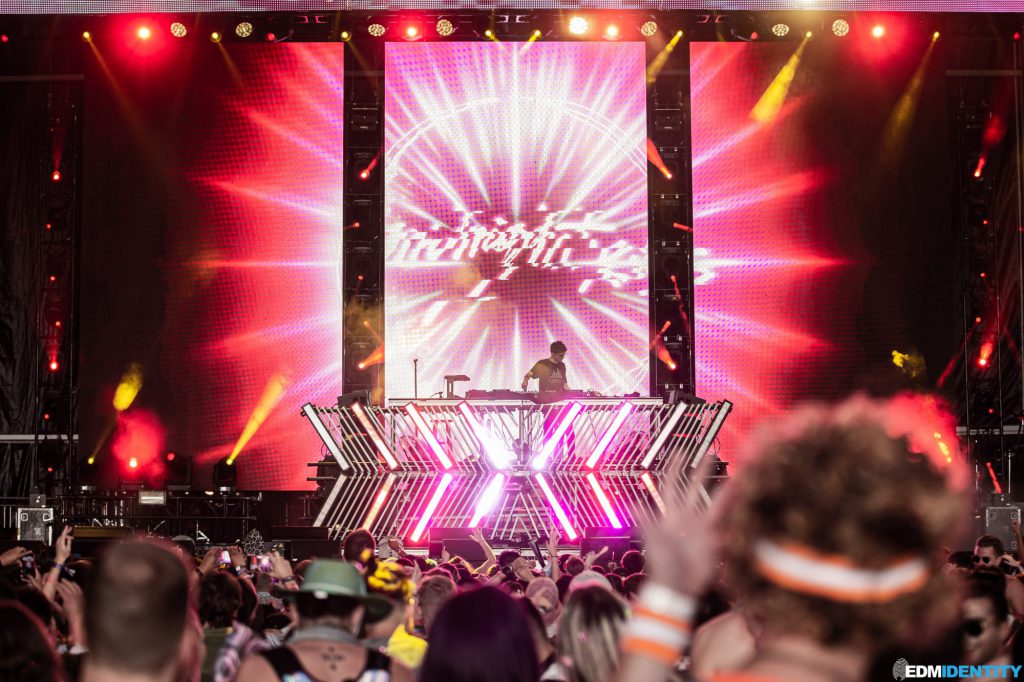 As the sun went down, up came my most highly-anticipated sets of the weekend!
I was so excited for Glass Animals and Tame Impala and they did not disappoint. Glass Animals adorned their stage with palm trees and a pool aesthetic while Tame Impala brought their psychedelic halo and artillery of lights and lasers. Glass Animals, led by their charismatic lead singer Wavey Davey, commanded the crowd and played through a large portion of their music catalog including tracks from their newest album Dreamland as well as their beloved debut album ZABA.
Tame Impala, led by the brilliant Kevin Parker, closed the main stage on Friday with a set that I will never forget. Thousands of fans gathered in front of the main stage while a friend and I enjoyed the show from the vendors in the back. Tame Impala has one of those dreamy sets that will put you in a trance so sitting down was a nice feeling after a long day of mobbing around the festival. The sound did not waiver though, as festival producers tactically placed speakers throughout the crowd so that even if you were farther away you could still hear the music. They also had large LED screens on each side of the stage so you could see what was going on during the performance.
One thing that was dearly missed from the festival experience were the pool parties at the Downtown Grand.
Staying at the Downtown Grand during the last two years has been such a great experience. It's a hotel close enough to utilize the ins-and-outs the festival provides and it is at the heart of Fremont Street which puts you smack dab in the middle of the party. In previous years, attendees could RSVP for free shows at the pool of the Downtown Grand that were more intimate, and at times, crazier than the actual festival performances. Although the pool was open and had a DJ playing, the sets from the artists playing the festival were definitely missed. I imagine the pool parties will come back when the world isn't still navigating a pandemic.
Another thing I really missed this year was the art gallery located next to the Fremont Stage. It was the perfect place to take a siesta amidst the madness, check out tons of cool art up close, and grab a beverage. This year they turned it into a Western Country Club and well, personally, I'm not a huge fan of country. I could tell a lot of people were having fun so maybe it was the right call to explore a new experience; however, besides the art installations scattered throughout the festival grounds, I wish there was more space dedicated to art.
Even the Art Motel, which was presented by Bacardi, felt a bit lackluster. Bacardi basically turned the Art Motel into a bar and influencer photo station; whereas, in past years they had interactive rooms and larger-than-life installations from renowned artists like Bordalo. Previously you could get lost in the Art Motel for hours and this year it was a much quicker experience. Not to say there wasn't stunning art covering the walls, it's just that the Bacardi sponsorship made it a little more commercial and unappealing.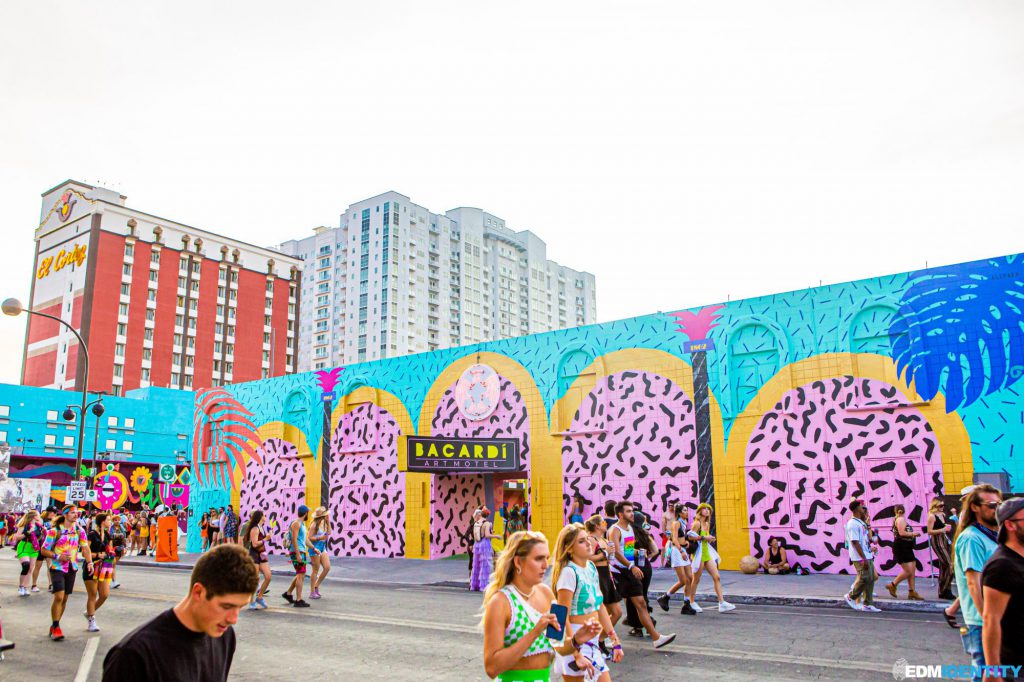 Sunday was the day I wandered the festival with friends and got into some sets and experiences I would have otherwise not have gotten into.
The first thing we did was head to The Kicker for some comedy which, in retrospect, was not a good decision. I ended up missing EVAN GIIA and LSDREAM, two of my top electronic artists to see over the weekend, for Jackie Schimmel's "The Bitch Bible." I partly went into The Kicker because I thought it would be a short show, and I could sit for a bit, but it ended up being way longer than anticipated and not that funny. By the time we got out of The Kicker, it was dark, and both EVAN GIIA and LSDREAM had ended because I could hear everyone talking about how good the sets were. At festivals, you have to experience new things and sometimes they're good, and sometimes they don't hit right.
After The Kicker, we made our way to the Bacardi Stage to hit the bar and get some good spots for Fisher and A$AP ROCKY. As much as I talk smack on Fisher at times, I also know that he always puts on a fun show. He opened with Chris Lake and Grimes' unreleased tune "Love Is Just A Drug From God" which is a certified banger and got the crowd properly amped. He continued to play through most of his catalog before finally ending his set with the renowned hit "Losing It."
I was torn if I wanted to stay for A$AP ROCKY or take my chances at Billie Eilish. I have actually become a fan of Billie Eilish over the years, but I knew her crowd would be absolutely bonkers and decided to stay for A$AP. Admittedly, I'm not a huge fan of A$AP and his set didn't win me over either. This could also partially be due to my considerable lack of sleep and the low energy in my legs come Sunday evening. I was pretty ready to call it halfway through A$AP's set. That was okay with me though, and I feel like I had a successful weekend regardless of a few misses.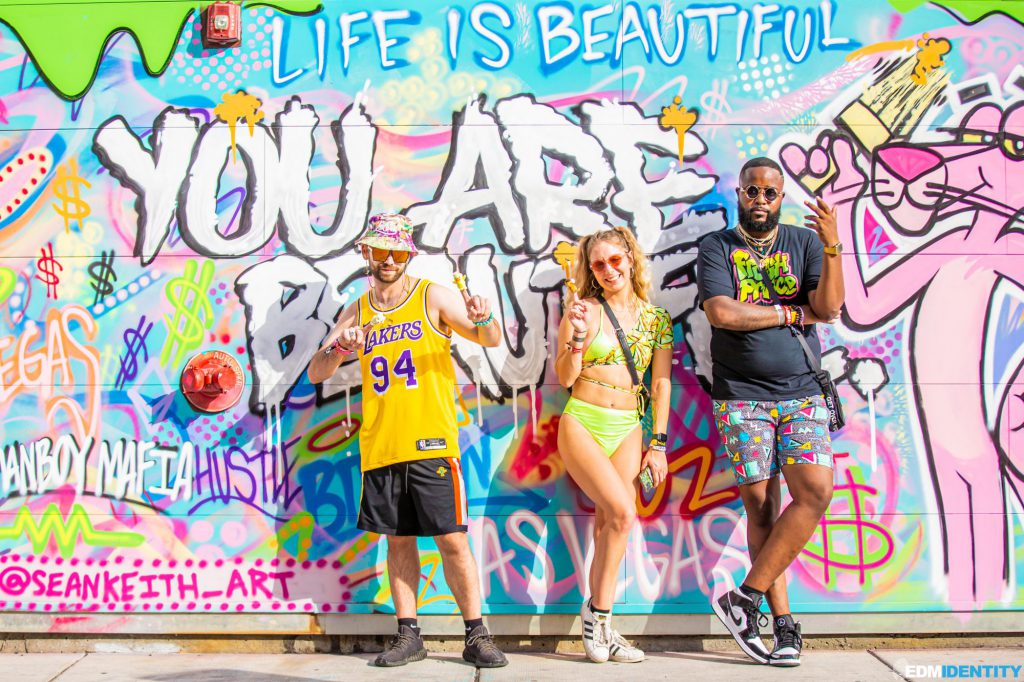 When all is said and done, Life is Beautiful still remains one of my favorite festivals to attend because of the music, the Vegas vibe, and the people.
As one of the first major festivals back after the pandemic, I commend Life is Beautiful for creating such a safe and enjoyable environment for attendees. I understand there is so much to be done behind the scenes, that when we as attendees get to solely enjoy the fruits of their labor it is not something to be taken for granted.
The festival's producers were able to book a fantastic multi-genre lineup, bring new experiences to the streets of Downtown Las Vegas, and give artists of all mediums a canvas to create and display their passion. Life is Beautiful will always hold a special place in my heart and to share the experience with so many friends, old and new – it really makes me look forward to future editions.
---
Follow Life Is Beautiful on Social Media: