LSDREAM invades minds with his latest album, PEACE LOVE & WUBZ, but brings along plenty of good vibes to send you off to another dimension.
---
LSDREAM has built up plenty of hype for his album PEACE LOVE & WUBZ since 2020. Back in November of last year, he teamed up with Taylr Renee on "FOLLOW THE VIBE," to give everyone a sneak peek into what he had in the works and left fans craving more of his wubs. This year LSDREAM continued on his path by dropping even more singles including "HIGH VIBRATIONS" and "PEACE LOVE & WUBZ" with CoJaxx, before adding "POTIONS" with Liquid Stranger into the mix as well.
As his performance at Lost Lands neared on the horizon, LSDREAM had another surprise in store for fans as PEACE LOVE & WUBZ officially dropped on the Friday of the festival with an additional seven songs for everyone to feast on. This bass music masterpiece features 11 tracks in total that are filled with frequency modulations that will take you to another dimension for an out-of-this-world experience.
Falling in line with the collaborative nature of the previous singles, LSDREAM teamed up with artists such as MeSo, Karra, Z-Trip, Buku, LIGHTCODE, and Elephant Heart, all of whom bring their sound to the album all in their unique ways. The album as a whole collectively takes you on a journey through the connection of music and your mind. Each artist put a lot of thought, love, emotion, and energy into these tracks, as usual, to really try and reach their audience with emotional synths and wonky wubs that vibrate you to the core.
Listen to the PEACE LOVE & WUBZ album on Spotify or your preferred streaming platform and follow along the journey by following him on socials.
Stream LSDREAM – PEACE LOVE & WUBZ on Spotify:
---
PEACE LOVE & WUBZ pulls listeners in from the start and takes them on a deeper, meaningful journey.
Songs on the album such as "HIGH VIBRATIONS," "WILD ORCHIDS," "MOON LEGS," and "FOUR OF SWORDS" stand out for their own reasons. When "HIGH VIBRATIONS" was first released, LSDREAM posted on social media about how he "Went wild in the sonic jungle gym on this one and didn't hold back," and further stated that he "put all my heart's desires into this one. I wanted each word of the lyrics to inspire some part of the track." Which really shines given the instrumental range put into the almost five-minute song.
The track "WILD ORCHIDS" with Karra relates to how he seems to be currently feeling. This song starts off with the sound of birds beautifully chirping and opens with the lyrics "Wild Orchids in my DNA bloom in supernatural frequencies." Your ears are soothed soon after with the upbeat chill vibe that builds to an explosion of wubs and synths that will make you stop and smell the flowers.
Thn, you'll want to strap in for the space mission and get ready to move your "MOON LEGS." This song with Z-Trip gives off psychedelic space expedition vibes. You feel like you're at an alien party with its very new-age psychedelic, funky bass synth that will still blow your speakers with the highest of vibrations. It's a fantastic follow-up to the previous collaboration between LSDREAM and Z-Trip, "SPACE FUNK," that dropped in 2020 and we can't wait to see these two team up again in the future.
The last song on the album "FOUR OF SWORDS" is LSDREAMand LIGHTCODE (his newly-minted alias). This new moniker allows for him to expand with his psychedelic bass audience and introduce them to a softer, more intuitive self-awareness he is personally experiencing and wants to share. LIGHTCODE moves listeners through grounding frequencies in its downtempo bass style and touches on varying tones of chakral alignment. After listening to this one, one thing is certain – LSDREAM is onto big things.
---
LSDREAM – PEACE LOVE & WUBZ – Tracklist:
LOVE ROCKET ft. MeSo, Elephant Heart
PEACE LOVE & WUBZ ft. CoJaxx
HIGH VIBRATIONS
WILD ORCHIDS ft. Karra
POTIONS ft. Liquid Stranger
MOON LEGS ft. Z-Trip
POLARIS ft. Buku
FOLLOW THE VIBE ft. Taylr Renee
COTTON CANDY SKY ft. Taylr Renee
ILY
FOUR OF SWORDS ft. LIGHTCODE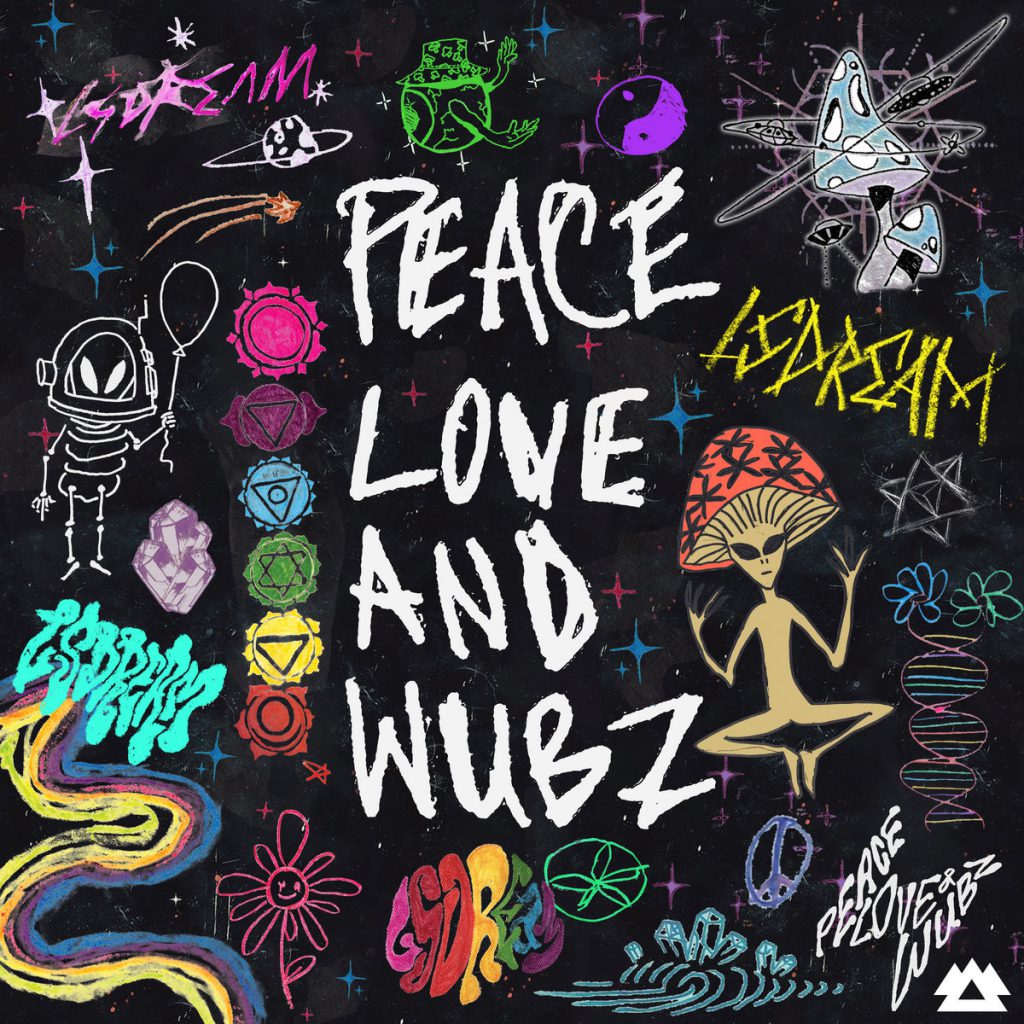 ---
Follow LSDREAM on Social Media:
Website | Twitter | Instagram | SoundCloud | YouTube | Twitch