Porter Robinson's Second Sky Music Festival made its triumphant return and was a dream with its diverse lineup and immersive experiences.
---
After the inaugural edition of Second Sky Music Festival in 2019, my sister and I vowed we would go every year. For a smaller, artist-curated festival, it was so thoughtful and such a wonderful experience you could see the care Porter Robinson and his team put into everything. So it goes without saying that after the year we all just experienced, we were so excited to make our return to festivals with Second Sky.
One of the most impressive aspects of the festival in 2019 was the shuttle service provided from an Oakland BART station to the festival. It was efficient, quick, and easy without crazy lines. Since this year would be at the Oakland Arena Grounds, we initially decided to take BART and make the quick walk over. Luckily we checked the schedule and saw that trains would be stopping at 9:30 PM. This was 10 minutes before the show was supposed to end so we called an audible to drive instead since parking was free. The city's decision to stop BART service after a large event, leaving many people possibly stranded in a not-so-safe area was baffling to me. But this is where my gripes end because our amazing adventure was just starting.
As we drove up to the gates a sign overhead said "Entering Second Sky."
The weather was perfect without a cloud in the sky and the excitement was already tangible. We arrived around 1:30 PM and didn't run into any lines at the health checkpoint or security. We got through almost too easily, as no one checked our bags and we were waved through. Once inside, we decided to hit the merch booth first. The line moved quickly there as well with 48 check-out stalls, and even though the shirt I wanted to buy was sold out I was still happy with the one I ended up with.
Our group decided to take some photos, then grab drinks and food with Jacob Collier's beautiful vocals in the background. Several immersive installations were dispersed across the grounds for the perfect photo op including the Potaro Temple, Second Sky letters, and the Crystals. They really brought us into the world of Second Sky. Turf had been laid over most of the grounds as well, which provided respite and a place to sit.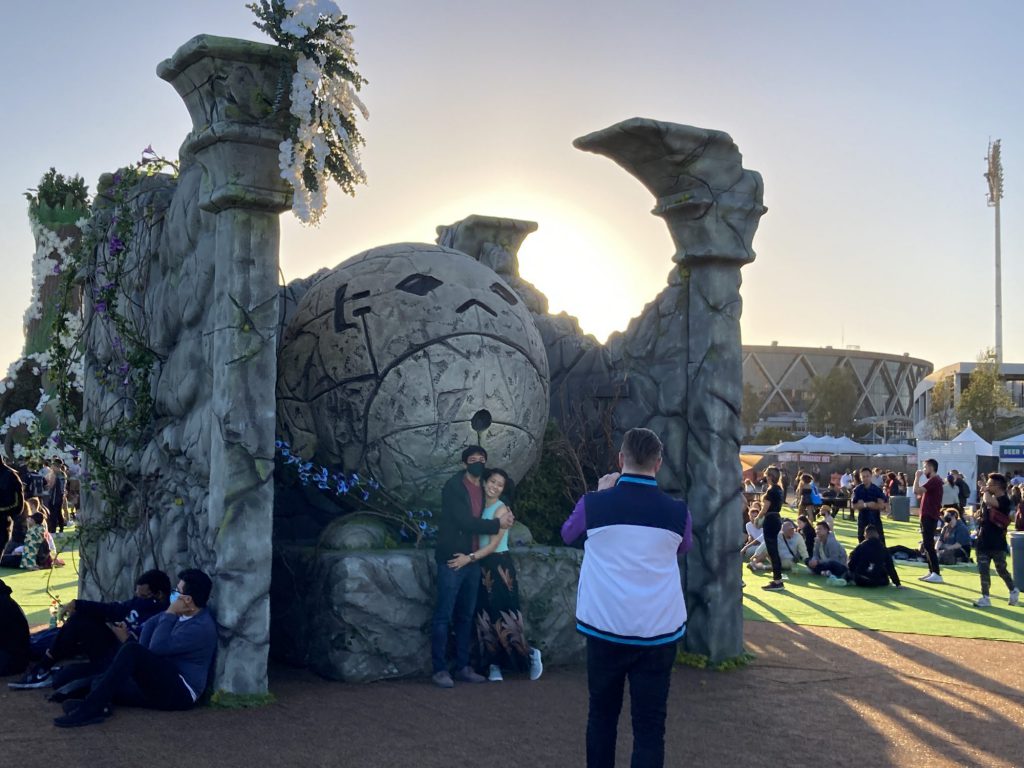 I was really excited about the food vendors, some of which had special themed items on their menus.
The Potaro Taro boba must've been really good because that was the longest line we'd see all day. At the bar, I ordered the Penguin Punch cocktail. The bartender asked if I wanted a double, I said sure why not! I shouldn't have been surprised, but a double was literally double the price. After tip, it came out to $40. I later found out the same drink was $12 in the artist area, but hey, this was my first festival back and worse mistakes could have been made.
Near the Robinson Malawi Fund tent, we chatted with Porter Robinson's dad. Both he and his wife were wearing safety vests that said "I'm Porter's Dad/Mom! Say 'Hi!'" I thought this was so cute. Mr. Robinson shared that Porter had always been creative and that they let him flourish in that creativity. "This is all him," he said, adding that Porter's honesty toward his fans was what drew all of us there, together. From our short conversation, I felt the love and pride radiating from his dad.
It was then time to head back to the artist area to get ready for our interview with Madeon. I was already soaking in the sun, feeling grateful to be there, but getting to chat with him was the icing on the cake. During our interview, which will be live soon so stay tuned, he delved into his Good Faith Forever show and more. It was inspiring to hear his thought process and what went into making the show come to life.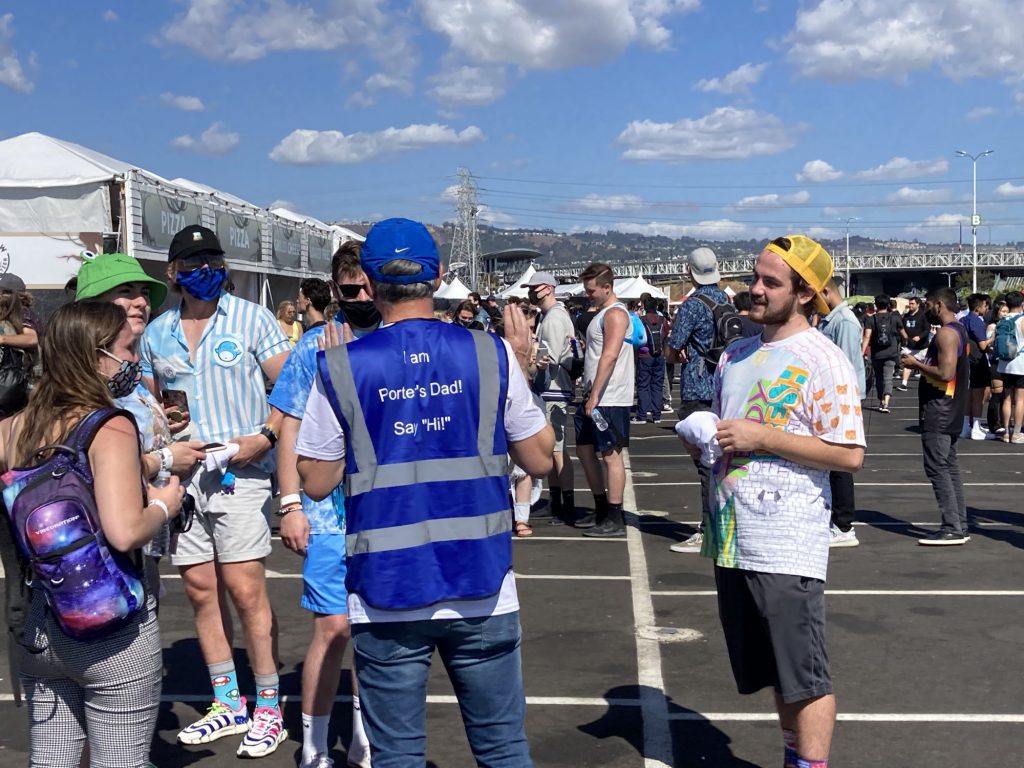 When it came to the music, Porter brought a diverse lineup that came together and just made sense.
Jacob Collier had a whole array of live instruments and accompanists in his set that switched up the tempo while the sun was still high in the sky. I was most intrigued by Jon Hopkins, who brought his psychedelic therapy to life with a rhythmic electronic set and captivating visuals. Toro Y Moi was so fun and kept us dancing the whole time with a nostalgic set soaked in synthwave-y goodness I love.
Jai Wolf completely blew me away with The Cure to Loneliness live. It felt euphoric hearing not only the songs off his album but also his remix of Odesza's "Say My Name" and newer releases like "Moon Rider." With the sun still shining, he told us to close our eyes and feel the music which is when "Starlight" came on with Mr. Gabriel there to provide live vocals. Jai Wolf created a magical moment for a song that is usually performed in darkness.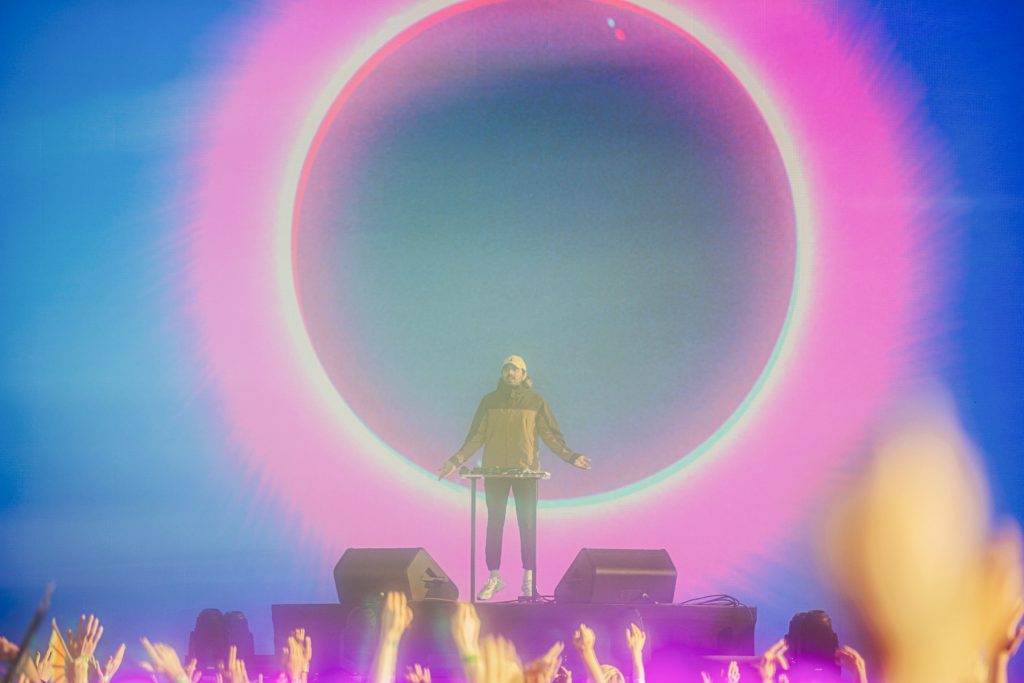 Then came the audiovisual masterpiece that was Madeon's Good Faith Forever.
I followed along with the story he had shared with us earlier and tried to catch nuances here and there. But it was impossible to not just be swept up in the breathtaking, vibrantly colorful visuals that often cast him in silhouette, and to not get excited as my favorites from Good Faith and Adventure interplayed. He'd told us we'd get to hear "Shelter" twice with him and Porter playing their own versions, and I was overcome with emotion when it came on.
Porter Robinson closed the festival with the debut of his Nuture Live set, most of which featured him singing live and playing a piano on stage.
The floor was also a screen that extended the backdrop that pulled the visuals into another level. During Divinity, the stage became a giant MacBook that zoomed into a Google Map of the Arena, showed theneedledrop's Worlds review (hilarious), and then activated the webcam on the actual MacBook Porter was holding as he spun and showed the crowd. Though I could go on forever, some of my favorite moments were hearing the crowd sing along to "Look at the Sky," watching fireworks light up the night in time to the music, and the movingly beautiful piano interlude of "Wind Tempos."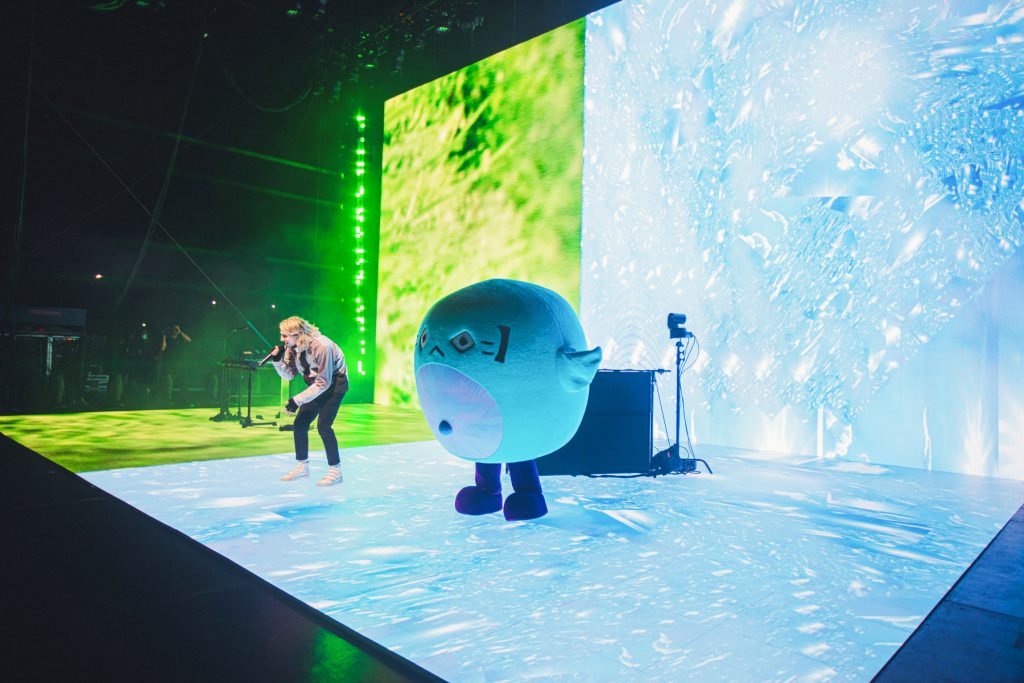 Second Sky was magic and brought so much happiness to me.
I had missed the energy of being at a festival, bonding with strangers over the love of a song, the chance run-ins with old friends. Second Sky provided all of that set against a wonderland backdrop with the perfect soundtrack. Because of this, my rose-colored glasses made it easy to overlook some of the inconveniences that did come up.
Porter, Madeon, and Jai Wolf are taking what we saw on tour and I can't emphasize enough how much you need to see these shows. It's safe to say I will be attending the next Second Sky and beyond if I'm able to and could not recommend a festival more. I hope it inspires more artist-driven and curated festivals as well!
---
Connect with Porter Robinson:
Website | Facebook | Twitter | Instagram | SoundCloud
Connect with Second Sky Music Festival on Social Media: