Elephante swung by to chat about "High Water" and "Holy Ghosts," his forthcoming album, and what's in store for the remainder of 2021!
---
Over the past year, so many producers have showcased their ability to influence listeners with outstanding tunes – and Elephante has proven to be one of them. Bringing tear-jerking tracks perfect for the post-pandemic life to life, this LA-based DJ and producer intends to elevate the scene in more ways than one and is doing so in stunning fashion.
Known for his dynamic style, this legend in the making delivered fans with two fiery tracks off his forthcoming album Heavy Glow showcasing his versatile production and authenticity. Earlier this summer, Elephante released "High Water" in hopes to shine a light on society's struggle with addiction, especially after the struggles during the pandemic. He took this emotional track to the next level by bringing to life a visual element, a sentimental music video that ultimately acted as one of his most masterfully crafted releases to date.
His creativity didn't stop there, Elephante unfolded his skills as a songwriter with his next release, "Holy Ghosts" where fans were graced with a track that puts his emotions on full display. Naturally captivating listeners with elements of warm sounds, electric synths, and emotive vocals, this track consumes every inch of your soul as you dive deeper into each bassline. Now, we see him pushing his boundaries into the second half of this year as he works hard to birth his first full-length album.
After the release of "Holy Ghosts," Elephante had some time to chat and we jumped at the opportunity. So listen to his two latest tunes below (or on your preferred platform) and read on to find out more about his production process, the forthcoming album, and his plans as a songwriter and producer for the remainder of the year!
Stream Elepante's "Holy Ghosts" and "High Water" on Spotify:
---
Hi Elephante! Thanks so much for joining us today—I know we had the chance to catch up with you a few years ago and we are excited to pick up where we left off! Obviously, the world has changed significantly since then, so how have you been doing overall?
I'm doing alright. Things got pretty dark at the start of lockdown, which I was able to use as creative fuel, so at least it was productive. During the peaks of the pandemic, I'd drive to the grocery store and it'd be a ghost town- and living in LA where traffic is a part of life, it had a pretty apocalyptic feel. I actually missed LA traffic. But now with things opening back up, getting shows back on the calendar, gearing up for my album release is all exciting and motivating.
Let's talk about one of your recent releases, "High Water." You took your production to the next level by influencing a track that showcases the struggle of addiction to opioids. What inspired you to create a track surrounding this topic? What kind of creative thoughts went into producing this kind of track?
I just wanted to tell my experience, and writing about the darkest times in my life is like therapy and helps me process them. I think the hardest part of any mental or emotional struggle is feeling like you're alone, so I just wanted to bring one of my struggles into the light. I hope that it'll remind people going through similar struggles that they don't have to be ashamed of what they're going through.
And like so many people, I struggled emotionally through the pandemic, and the thing that really saved me was leaning into the music I loved as a kid – alt-rock and singer-songwriters. The return to basics and nostalgia helped me- singing, playing guitar, and writing songs, every day. I realized that I wanted more of these elements as part of my overall sound. Creating something organic and heartfelt that tells my personal story and connects my past and my present was the route I wanted to take.
You also just released "Holy Ghosts" which is another solid tune we've been vibing out to. Can you share what the production process was like for this one?
"Holy Ghosts" was actually the first song I wrote during the pandemic, as I was emerging from the deep, dark hole that I was in. I realized how much I was living in the past and wanting and needing things to go back to the way they were pre-pandemic. Those memories were haunting me, and making it really difficult to try to accept the situation, move on, and make the best of it.
The phrase "Holy Ghosts" popped out and just felt like a perfect, if even a slightly blasphemous, way to describe how I was feeling. The production followed my typical creative process of starting at the piano and going from there. I knew I wanted that guitar riff, and then a synth doing the same melody.
We noticed the majority of your tracks are vocal-focused and emotionally driven. Do you carefully handpick vocalists to feature on your tracks? You've had the chance to work with outstanding vocalists like Nevve, Deb's Daughter, and more. What was it like working with these artists?
Vocals have always been the biggest part of a song to me – I grew up as a singer-songwriter, so the big test for any of my music is if it still works when you strip away all the production, and it's just vocals and acoustic guitar or piano. All the vocalists and writers I've worked with have been a pleasure – recently though, I've been focusing more on my own vocals. It's been a process figuring out how to make it work sonically and also overcome all the insecurity I had with it, but ultimately it's been much more gratifying.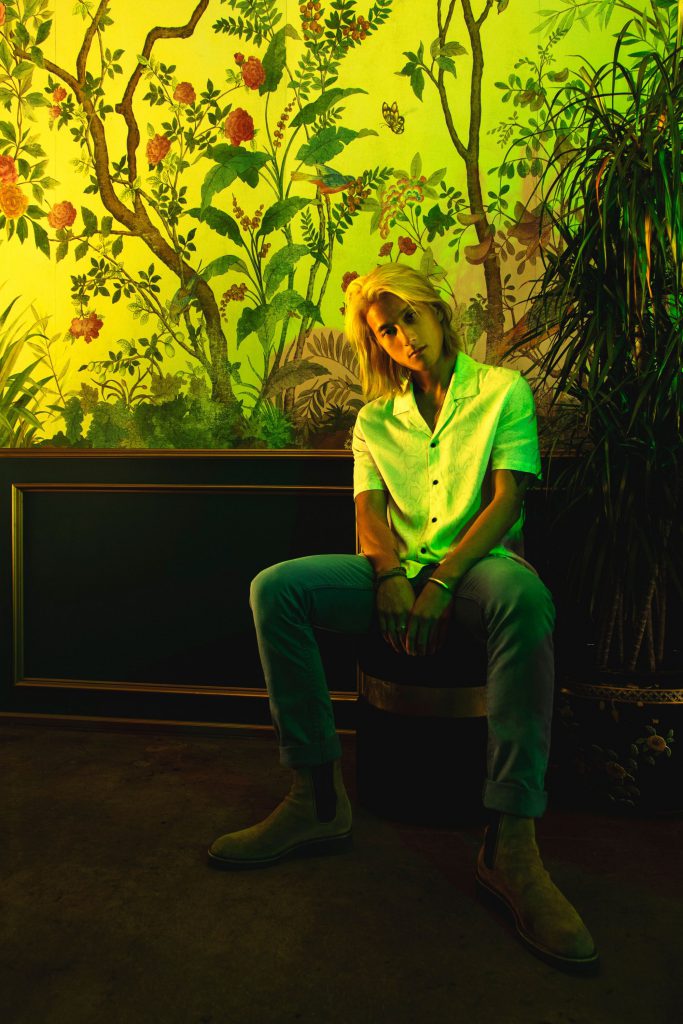 Can we expect to see more tracks like this on your forthcoming album, Heavy Glow? Now that we have you talking about your upcoming release—can you tell us a little bit more about what to expect from it?
Yes, definitely. Thematically, the album is about the darker parts of our lives that can weigh us down, but at the same time define us, and finding a light in them. This record has been a long time coming, but I promise it really is actually coming. "Holy Ghosts" will definitely be on it, as well as the first single "High Water". We've got a couple more singles coming, and the album will be out this fall. So you'll just have to wait a little longer to find out!
When comparing your earlier tunes found in Glass Mansion to your most recent release, what would you say has changed your production style? Do you still have the same vision when it comes to curating tracks or has your vibe changed over the last few years?
Glass Mansion was me dipping my toes into a lot of things that I've been excited about for my new music. It was the beginning of me singing and playing guitar on tracks, and experimenting with analog gear and keyboards. The ultimate goal is still the same though – create something that moves people. And the new music is made with all the toys that I've learned along the way.
After the release of your two previous albums, you brought remix packages to life featuring an array of artists. Do you have any plans for any remixes for your forthcoming album as well?
Absolutely – I'm in a place in my career where I just try to make the best song possible and don't think about how it would work or not work on the dance floor. Remixes are a great way to showcase a different side of the song while giving me some freedom to explore some different styles.
Prior to COVID, you had the chance to grace fans on stage during your Diamond Days Tour. Under the circumstances, we know your other shows were forced to be postponed. What was it like when you first found out all shows had to pause for the time being?
It was pretty surreal – I had just finished a big spring tour, selling out one of my dream venues- Webster Hall in NYC, so I actually felt fortunate that the timing had worked out for me. But as it dragged on, it just felt like it was never going to end, so I really began to question whether it was ever going to come back.
Finally, while we know it's on your radar to keep the music flowing throughout the rest of this year, we are anxiously excited for what's to come! Do you have any exciting news to share with fans about what your future may hold?
I just feel like the world is at my fingertips. Shooting the "High Water" music video really broke through any preconceptions on what I thought was possible creatively. So be on the lookout for more visuals to come with the album.
I'm also beyond excited to be playing shows for live humans again. I played my first show back in San Francisco, and it was honestly crazy and reminded me how much I missed it and how grateful I am that I get to do what I do. I have EDC Las Vegas, EDC Orlando, 88 rising's Head In The Clouds, and a few more that will announce soon!
---
Follow Elephante on Social Media:
Website | Facebook | Twitter | Instagram | SoundCloud | YouTube | Twitch