Are you ready for a new experience in Palm Springs? Desert Air is set to arrive this December with Dixon, DJ Koze, Peggy Gou, and more.
---
The desert oasis known as Palm Springs has played host to countless artists and socialites looking to escape the hustle and bustle of cities like Los Angeles for decades. Over the past two decades, however, it has also become a valued home for one of the world's most iconic festivals, Coachella, while also featuring smaller events like Splash House during the heat of the summer. Now, the two minds that have brought you those jaw-droppingly fun events, Goldenvoice and Splash House, have something fresh up their sleeves: Desert Air.
Desert Air is a new, two-day experience that is set to take flight from the Palm Springs Air Museum on December 10-11 and looks to create some magic in the Mojave Desert for those who love dance music. Those who have attended Splash House in the past will know this venue well as it has been the home for their renowned after-parties that always feature top-tier artists – but this 21+ festival will transform it further.
Soundtracking the inaugural flight from the desert oasis is a laundry list of amazing artists in the house and techno scene including headliners Dixon, DJ Koze, The Martinez Brothers, and Peggy Gou. Also set to play Desert Air are a flurry of other unique DJs and producers to further enhance the trip ranging from Channel Tres and Mason Collective to Moodymann and TSHA.
Those planning to book their flight on Desert Air can do so by snagging GA or VIP tickets, or by booking a table that gains access to the VIP hangar as well. GA Tickets start at $130+fees, with VIP at $230+fees. Hotel packages will also available with stays at the Renaissance and The Saguaro that begin at $750 for two people and $1050 for four, all of which will grant access to the festival as well. And don't forget that to attend the debut edition of Desert Air you MUST be fully vaccinated. For more details, please visit Goldenvoice's Health Policy page.
Tickets for the debut edition of Splash House and Goldenvoice's Desert Air go on sale Friday, September 24 at 11am PT. Head over to their website to book your flight and let us know if you plan to attend in the comments!
---
Desert Air 2021 Lineup: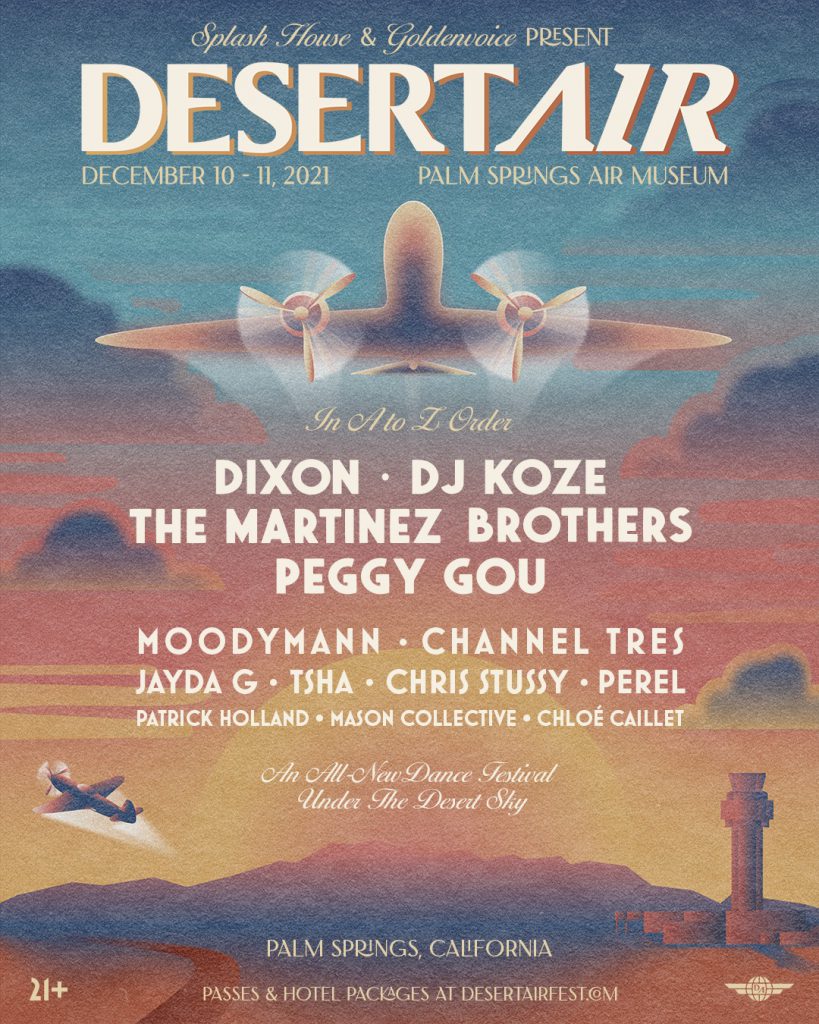 ---
Desert Air 2021 – Lineup By Artist:
Dixon
DJ Koze
The Martinez Brothers
Moodymann
Channel Tres
Jayda G
TSHA
Chris Stussy
Perel
Patrick Holland
Mason Collective
Chloé Caillet
---
Follow Desert Air on Social Media: