Move over Coachella and step aside Stagecoach, Splash House August was the hottest party to hit Palm Springs during festival season this year!
---
When I think of music festivals in Palm Springs, my mind immediately goes one of two places. The first being the fringe-adorned Instagram models prancing about the Polo Fields aka Coachella and the second full of cowboy hats, beer, and denim shorts galore otherwise known as Stagecoach. Since its inception, though, Splash House has made major waves in the desert oasis and claimed summertime as its own, attracting thousands of music-loving partygoers to this otherwise quiet oasis for retirees and golf fanatics twice during the season.
After kicking off the summer back in June, Splash House returned last weekend for its August edition. This time, they were armed with a star-studded lineup comprised of some of the hottest acts in the scene to turn up the notch and take their pool party vibes to another level. From Claude Vonstroke and Lane 8 to Keys N Krates and Toro Y Moi, there was something to satisfy all types of electronic music lovers at Splash House.
Whether you're a fist-pumping trap aficionado or a fan of all things house, pretty much anyone could be content with simply bobbing their heads along to the beat from the comfort of their own floaties. And you'd definitely want to be poolside too because during the day temperatures peaked into the triple digits.
As a first-time Splash House attendee, I'll admit I was a bit wary about the festival.
In general, I'm not the biggest fan of communal pools, let alone communal pools filled with festival-goers who had also spent the majority of their day sweating and drinking. In the spirit of Splash House, however, I decided to shed any prior inhibitions and go into the weekend open-minded with my trusty floatie in hand!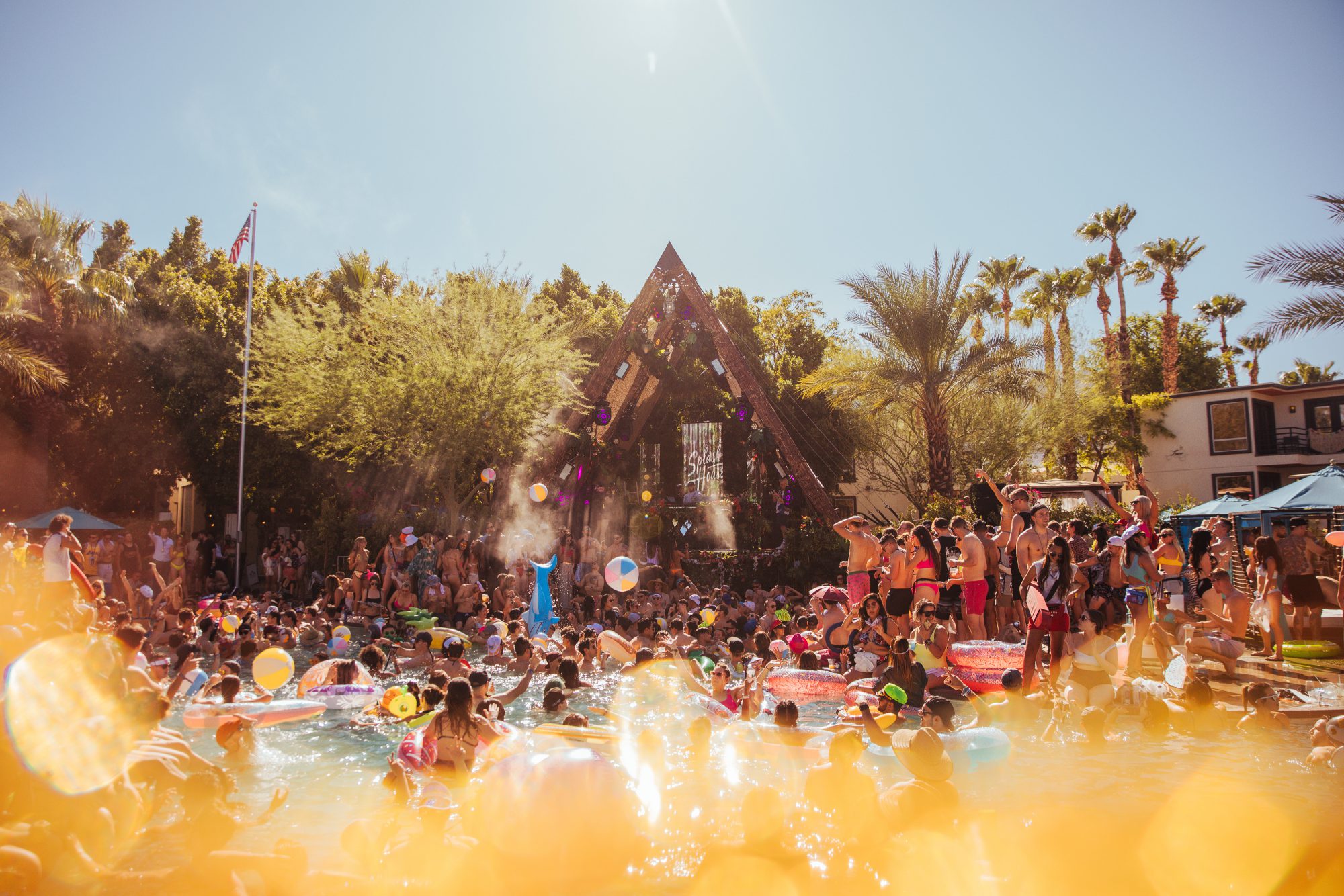 Before the pool parties kicked off, the weekend started with the After Hours show on Friday.
Hosted at the Palm Springs Air Museum, it was the perfect way to warm the weekend up and get in the groove. Adorned by vintage aircraft spread across the tarmac, the late-night space was lit up from 9PM – 2AM with beats courtesy of Sohmi, Kimiaz, and even a live performance by duo Phantoms, who expertly played the drums in accompaniment with their set.
Later on, house music authorities Walker & Royce kept the party going by hitting on all their most popular tracks, including their most recent banger "Bodies Do The Talking", which had the entire crowd doing their best to do exactly that. Hot Since 82 closed out the night in proper hours fashion: with deep techno beats that excellently paired with the museum's retro rave vibe.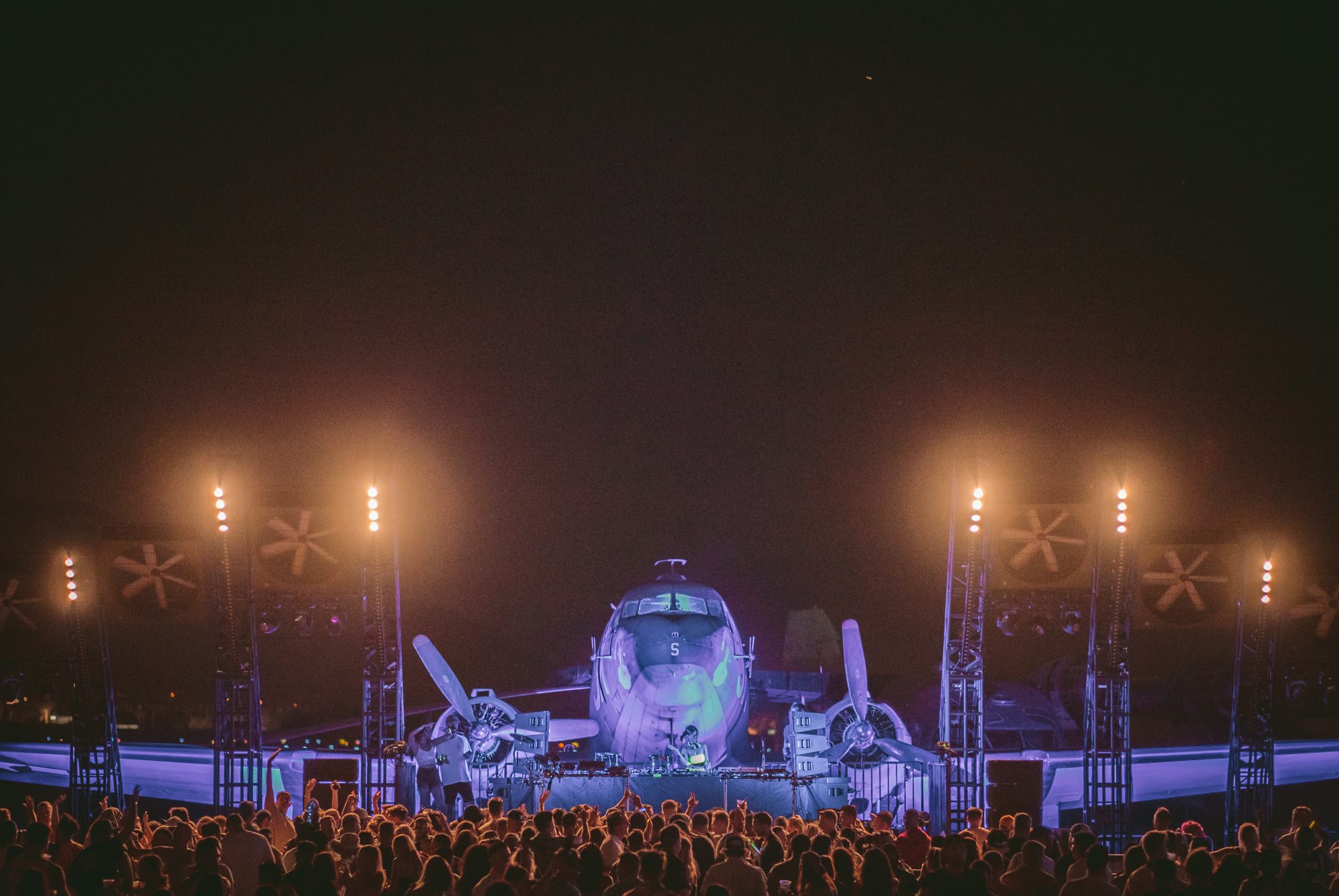 After nowhere near enough sleep and a venti cold brew later, I was ready for the pool parties to start on Saturday.
Once I took a look at the monstrous line that snaked from the entry of the Renaissance all the way to the parking lot, we opted to kick off our weekend at one of the other venues, the Riviera. Thanks to Splash House's complimentary shuttle service, shuffling from one hotel to another was relatively painless, although at times it could be time-consuming.
We only had to wait in an actual line twice for the shuttles, but even when you were able to immediately hop on, you still had to figure in the time it took to get from one hotel to another when bouncing between venues. Still, the whole shuttle and multiple venue ordeal were significantly easier to navigate than I'd initially anticipated all weekend long.
In no more than 15 minutes we were happily heading into the Riviera where we spent nearly the entire first day. We had plenty of fun splashing along to energetic sets by Taska Black, Tourist, and Louis Futon before heading over to the Renaissance to catch Snakehips' closing set.
That evening, getting into the Renaissance was surprisingly quick, as we'd been warned of pool caps and the long lines that had often plagued closing sets in the past. We were able to easily snag a spot smack in the middle of the dancefloor where we proceeded to dance away the first day to Snakehips' signature funky beats and pop-infused anthems.
After a much-needed break, we kept the night going by heading to the second After Hours and made it just in time to catch Diplo tear up the tarmac.
As someone who's seen my fair share of Diplo sets, I can personally attest to the fact that they're always a good time. Despite my utter exhaustion from spending in the heat all day, I somehow found it in myself to bounce around to his hits like "Electricity" and "Make It Hot" before finally heading home to prepare for the day ahead.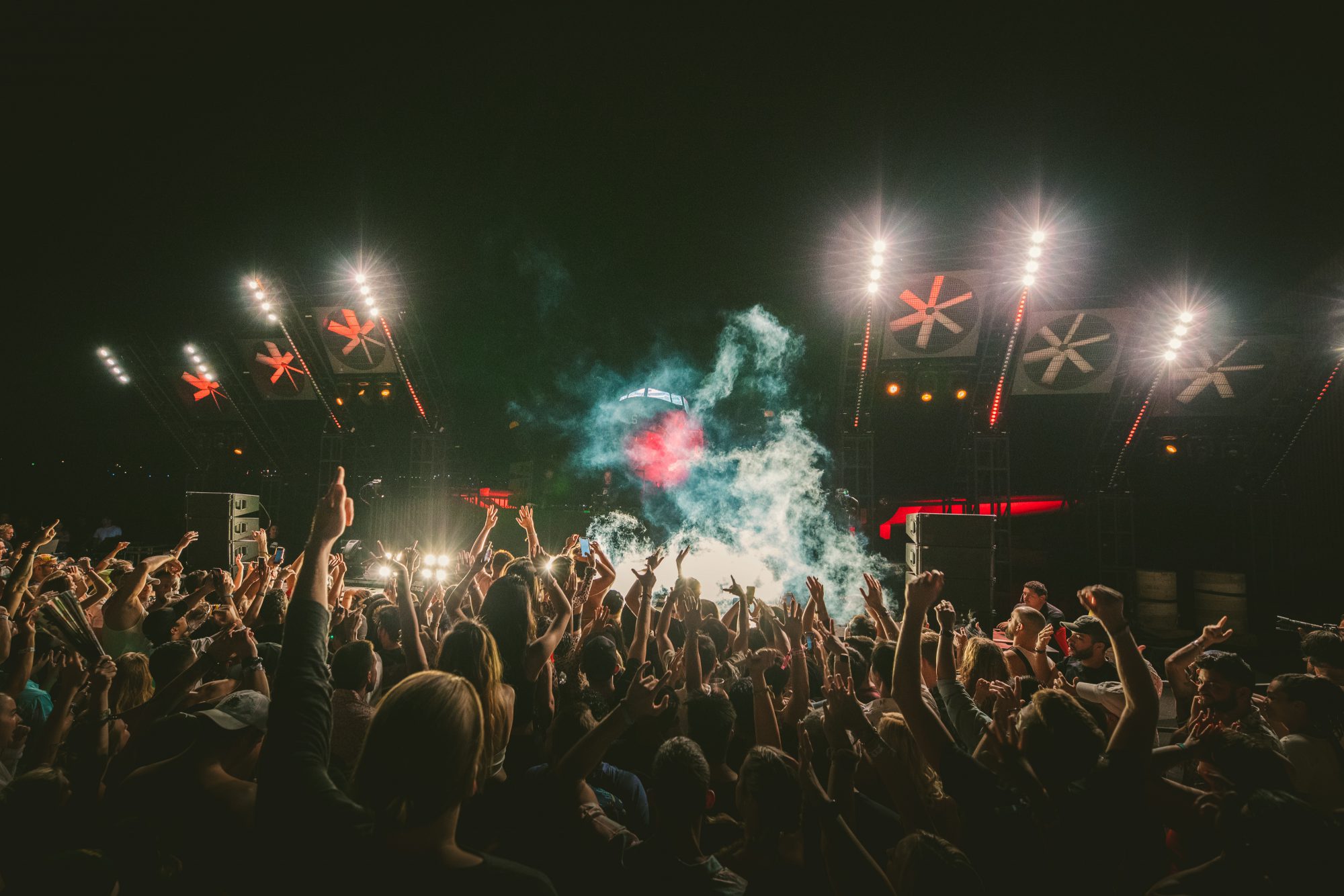 Sunday brought the second helping of Splash House's powerhouse lineup, so it was time for another iced coffee. 
The lineup for Sunday-funday included sets from artists like Lane 8 and of course, Dirtybird granddaddy Claude VonStroke himself. This time, we decided to check out the only hotel we hadn't been to yet, the Saguaro, before heading back over to the Renaissance where we knew that we'd be spending the remainder of our Splash House.
Although the Renaissance hotel is the biggest of the three and arguably functioned as the "main stage" throughout the weekend, the Saguaro stood out to me with its rainbow-painted balconies lining the pool and overall retro vibe. Plus, Splash House's Bitchin' Balconies tradition carried on in full force, prompting lucky attendees with poolside hotel views to dress their balconies in everything from festive tiki streamers to vinyl ballons repping their squad names and room numbers.
We knew that we wanted to get a good spot for Lane 8 and didn't want to risk not getting into the hotel in time for his set.
After soaking up ample Saguaro time we decided to brave the shuttles once more and head over to the last two sets of Splash House. Of course, Lane 8 and Claude did not disappoint, both leading crowds into a state of house music bliss and keeping the entire Renaissance grooving along until the very end of the festival when the music stopped at 9PM. Both sets were an undeniable way to end the weekend and two of my favorites that I had seen in a while.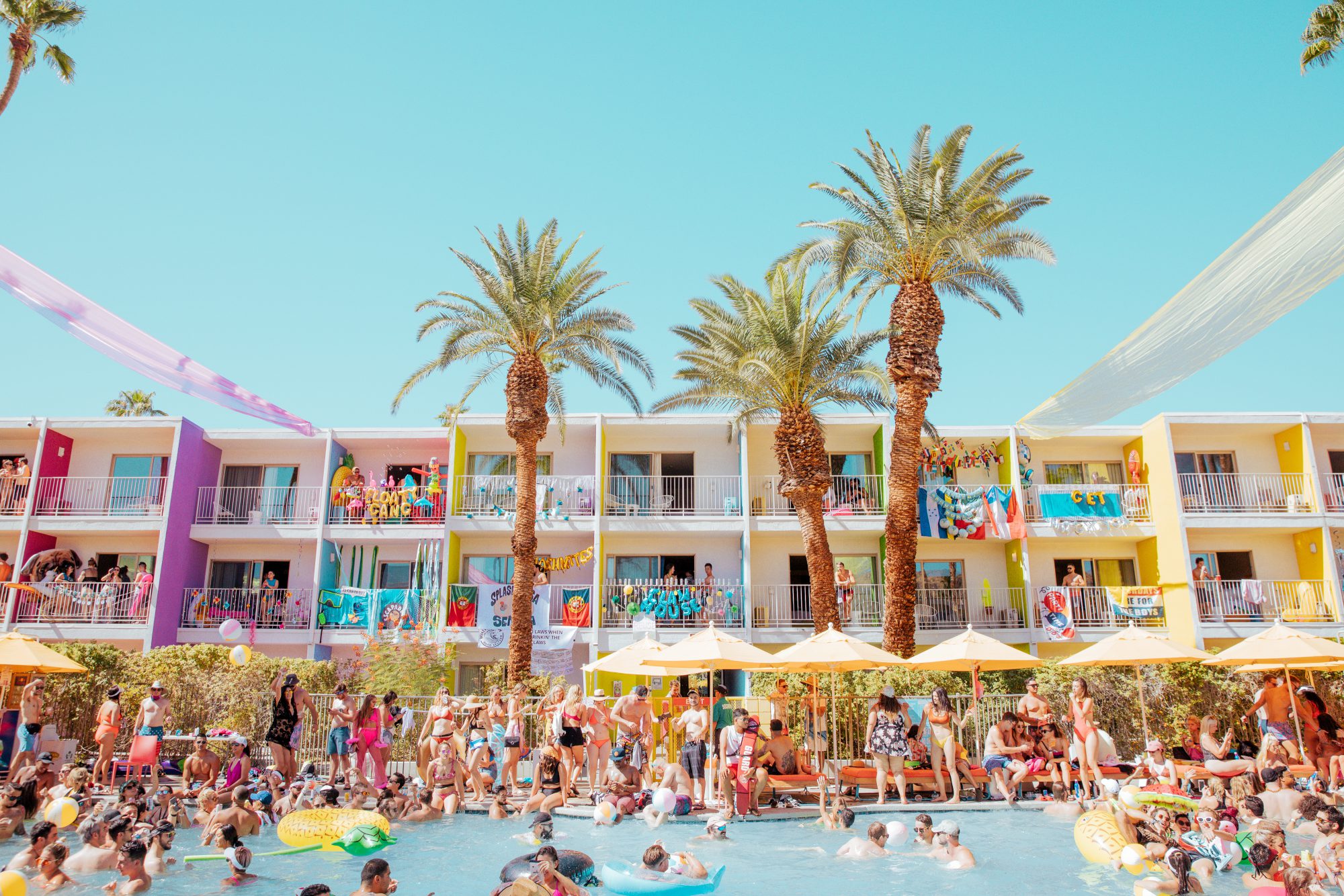 Overall, my first Splash House was an unforgettable one filled with bumping beats, impressive stage production, and new friends!
Despite existing nearly the entire time trying to cool off in the pools, the stage production at Splash House blew me away for the space they fit. From fog machines to full LED screens, it felt as though the Sahara tent at Coachella had been transported to my backyard pool. If my backyard pool was also hosting hundreds of fellow partygoers, that is.
Additionally, I loved how each individual venue was unique in its aesthetic and setup, which aside from the lineup, offered an additional incentive for making a point to visit each one. While the Saguaro conjured up retro 70's movie vibes, the Riviera was more upscale and the Renaissance had the biggest dance floor, perfect for keeping the party going even after the sun began to set.
Any doubts I had going into my first Splash House proved to be unwarranted as it turns out that it is possible to be simultaneously successful as both a pool party and a festival! I honestly have nothing but good memories from this festival and can't wait to be back next summer, perhaps this time with a waterproof phone case.
---
Follow Splash House on Social Media: