Subset spun up a highly-curated mix ahead of Dirtybird Campout to help everyone get in a groove and shake their tailfeather.
---
The upcoming edition of Dirtybird Campout is arriving ever closer on the horizon and it's safe to say that members of the flock are getting hyped with each passing day. After dropping a fantastic lineup filled with some dynamic artists in the house, techno, and bass realm, the Dirtybird crew is getting everyone in a groove with their mix series ahead of the party on October 15-17. Earlier this month saw artists including Choopsie, Arnold & Lane, and Steve Darko spin something special up for the devout Dirtybird followers, and now Subset is taking the reins of the mix series.
Those who have been to past editions of Dirtybird Campout or set sail on editions of Holy Ship know that Subset is a skilled DJ who always brings the party along with him. Known for his dynamic track selection that explores everything from bass to house along with touches of hip-hop and rock, he's truly come into his own with a funky, soulful sound. Last year saw Subset explode even more in popularity as he used his time during the pandemic to dominate the livestreaming realm with his 40 Hour Work Week showcases and marathon sets that would go on for hours.
While Subset's livestreams kept everyone dancing to the beat he's begun to take the stage once again to ignite a fire in the feet of crowds around the country. This has included appearances at Dirtybird CampINN as well as the Higher Ground showcase in Seattle earlier this summer, while also curating some Noise Complaint shows to feature other artists as well. Next month he'll be returning to Dirtybird Campout for a set you simply won't want to miss. To give everyone a taste of what's in store at the festival he's spun up a mix filled with tunes from artists including Junktion, Fouk, Dan Shake, Soulwax, The Chemical Brothers, and more.
Listen to Subset's mix on SoundCloud and don't sleep on his set at Dirtybird Campout this year. Tickets are on sale now if you haven't yet made the jump to attend.
Stream Dirtybird Campout 2021 Mix Series: Subset on SoundCloud:
---
Tracklist:
Johnny Guitar Watson – Love That Will Not Die (Ancient Deep Edit)
Gentle Penetration – Little Love (V's Edit)
Rhyze – Just How Sweet Is Your Love (Walker & Royce Touch)
Junktion – Smokes
Art Of Tones – Where The One Is
Fouk – Organ Freeman
Fouk & Rebiere – Blue Steel
Recloos – Dust ft. Joe Dukie
Dan Shake – Buy Yourself Friends
Fouk – Winner Winner
Dan Shake – Freak
Zach Witness – Frankie & Levan
The Chemical Brothers – Eve Of Destruction
Diplo & Damian Lazarus – Don't Be Afraid ft. Jungle (Soulwax Remix)
Samuele Scelfo, Rulers – RawFunk
Psychemagik – Mink & Shoes ft. Navid Izadi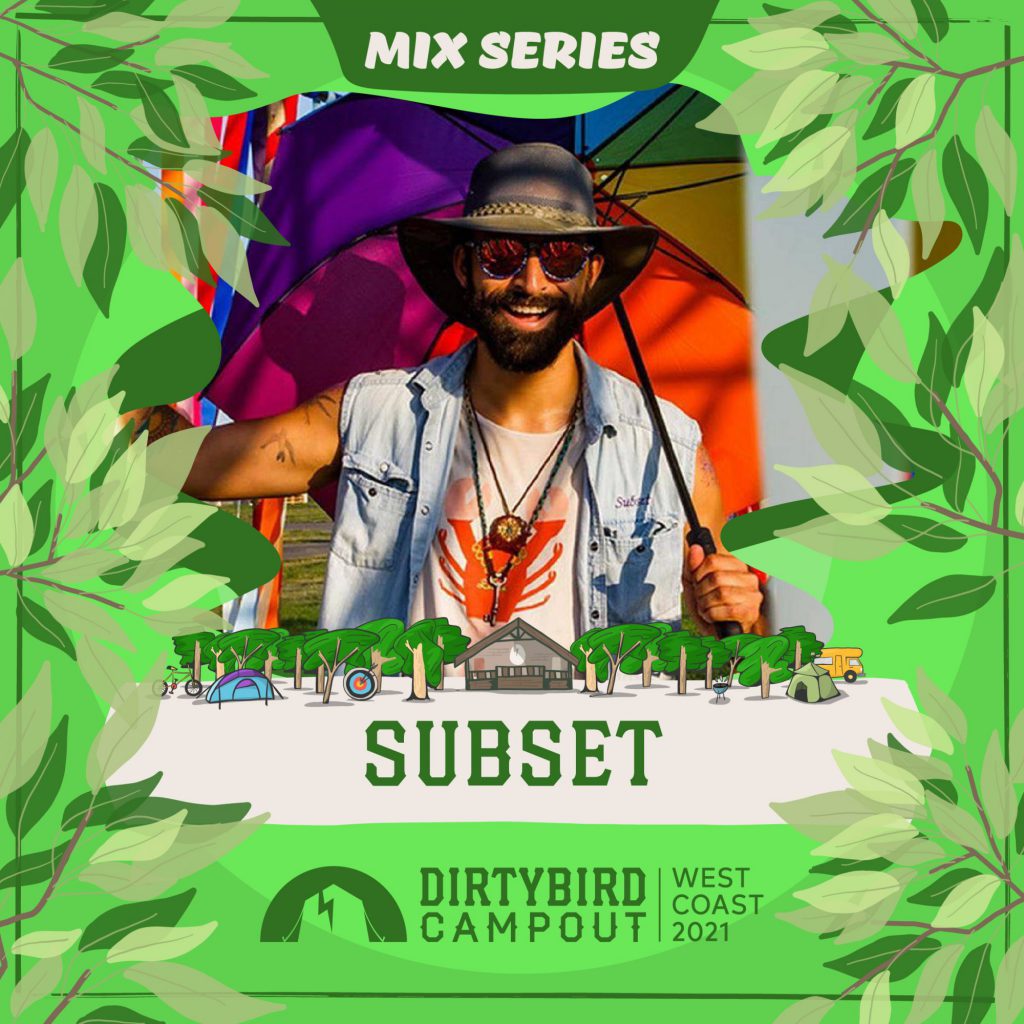 ---
Follow Subset on Social Media:
Facebook | Twitter | Instagram | SoundCloud | Twitch