Lost Lands is almost here Headbangers, so make sure you're ready for the weekend by checking out all the essential info!
---
In just a few short days, thousands of dedicated headbangers will flock to Legend Valley for the latest edition of Lost Lands. While previous editions blew away bass music lovers this year is shaping up to be one of the best yet with brand new stages, interactive art installations, and even MORE dinosaurs. is bound to be the best one yet.
Whether you're planning to get down to the sounds from Black Tiger Sex Machine, Delta Heavy, and G Jones, catch some rising stars like JEANIE, G-REX, and Lizzy Jane, or lose your mind during the performances from Getter, GRiZ, and 12th Planet, there's plenty to get ready for. And you won't want to sleep on that All Excision Throwback Set on Sunday, it's sure to be a true treat.
Related: Three days of bass music is hard on the body, so be sure to check out Jayce's tips on taking care of your body at Lost Lands!
To help make your bass adventure to Lost Lands run smoothly, we've compiled a list of the essential information you need to know before you go. So read on for the set times, the festival map, the rules regarding COVID, and more – and if you're thinking of making a last-minute trip to Legend Valley head over to their website to make your purchase!
---
Lost Lands 2021 Essential Info:
Dates: September 24-26, 2021
Venue Address: Legend Valley, Thornville, OH 43076
Tickets: Purchase HERE
Facebook Event Page: RSVP HERE
Acceptable Forms of Identification for Entry
Government-issued photo ID (passport, driver's license, or a state-issued photo ID)
Unacceptable Forms of Identification for Entry
School ID
Birth certificate
Social Security card
COVID-19 Policy
Lost Lands requires either proof of full Covid-19 vaccination or a negative test result within 72 hours before first entering the festival in order to attend. Photos or printed copies of your proof of vaccination or negative COVID test are preferred, and it's important to note that at-home tests will NOT be accepted. More details, including specifics on how to get approved for entry, can be found on the Lost Lands website.
---
Lost Lands 2021 Set Times:
Download the Lost Lands app for iOS or Android to view set times for each day and plan out your schedule! Sound camp set times/locations are also available on the app.
---
Lost Lands 2021 Festival and Camping Maps: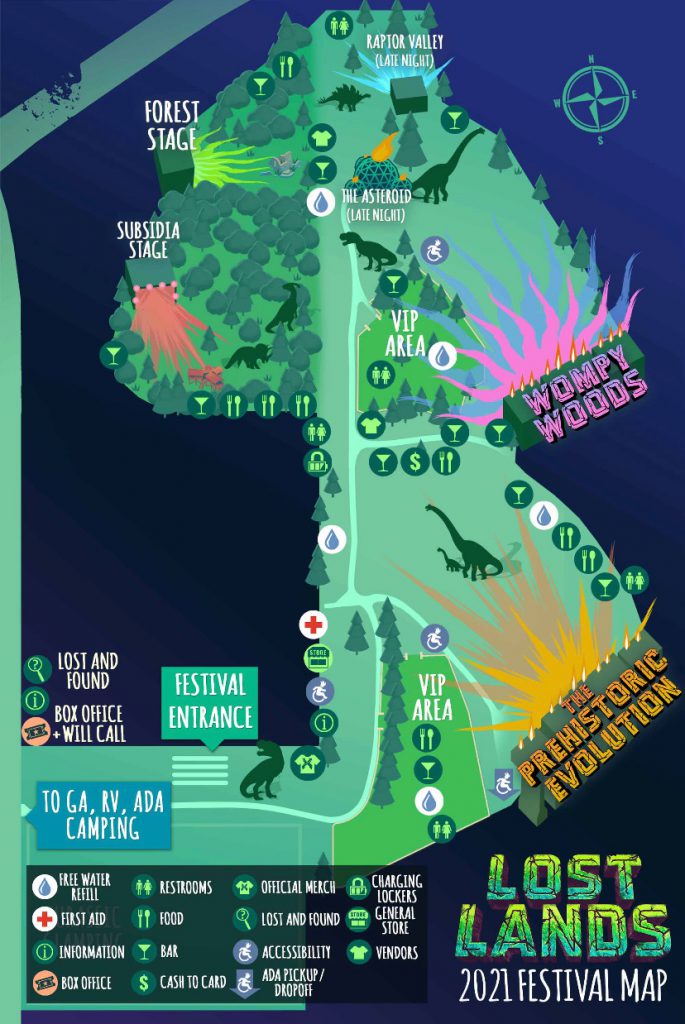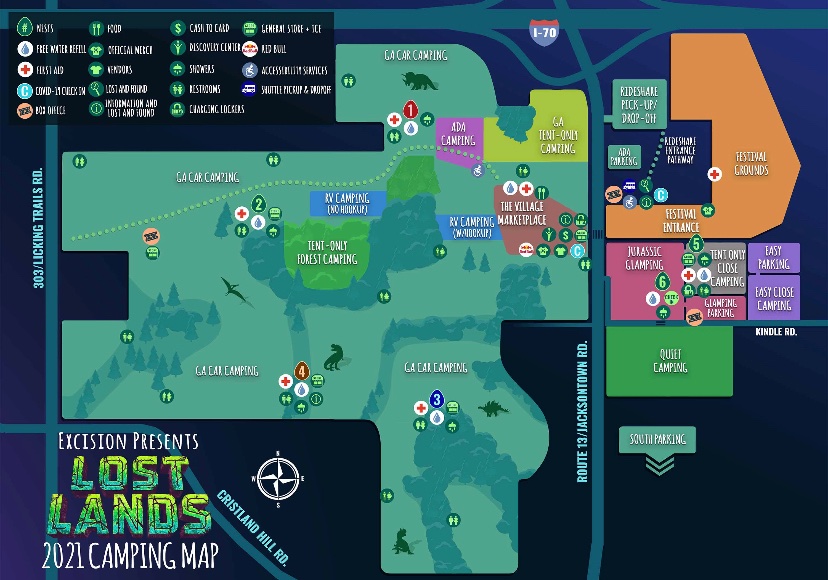 ---
Reminder To Mind Your Belongings:
Unfortunately, many people have reported pickpockets, bag slashings, and theft of wallets, smartphones, purses and other valuables during this festival season. While this small number of bad apples in the bunch doesn't define an entire crowd, there are opportunistic people who come to these events to take advantage of unsuspecting partygoers and it's important to be mindful of your valuables while at Lost Lands.
Looking for tips to keep your belongings safe? Check our post highlighting some ideas!
---
Lost Lands 2021 Do's & Don'ts:
Prohibited Items
Illegal substances or paraphernalia
Liquor. Only beer and boxed wine permitted. See Alcohol FAQ below for more info about alcohol in the campgrounds.
Glass of any kind except handheld mirrors under 12″x12″. No standup mirrors.
Glass vape juice bottles, plastic only.
Glass lighting (plastic tipped Christmas-style lights OK)
Large speaker systems (if neighbors ask you to turn it down please respect their wishes)
Weapons
Knives (including cooking and steak knives)
Pepper Spray or Mace
Generators (RV onboard generators OK, no external)
Selfie Sticks
Tanks of compressed air, helium, nitrous, etc.
Aerosol products/cans (sunscreen and bug spray OK)
Bonfires
Fireworks or any kind of explosives
Full sized propane grill, charcoal, butane or fires of any kind (small propane grill OK)
Tiki Torches
Sky Lanterns
Animals of any kind (if a service animal is required, please email [email protected])
Binoculars
Laser Pointers
Drones
Golf carts, dune buggies, segways, off-road motorcycles
Large metal key chains
Stuffed animals
Spray paint
Paint markers
Stickers
Flyers
Strollers/skateboards/bicycles/OneWheels
Unauthorized vending or selling of any products
Logo-wrapped canopy tents
Milk crates
Permitted Items
Reusable water bottles (Empty)
Hydration Packs / Camelbaks (Empty)
Single-compartment backpacks (maximum 12" x 12")
Purses (maximum 12" x 12")
Gum
Ear Plugs
Fanny packs
Makeup
Hand Sanitizer
Chapstick and lip balm
Lotion/Sunblock
Sealed Tampons
Eye drops
Wet Wipes
Cigarette Packs (Sealed)
Lighters
E-cig/Tobacco Vapes and Mods
Vape Juice in Plastic Bottles (Sealed)
Cameras (anything but pro equipment – GoPros OK)
Disposable cameras
Mobile Phones, external batteries and chargers
Walkie Talkies
Festival Totems (see Totem Rules below)
Kandi
LED Lights
Flow arts like hula hooping, poi, gloving, orbiting
Costumes are encouraged! Full face masks must be removed when going through security.
Totem & Flag Rules:
Maximum height including pole: 6 feet. Combining multiple poles to create extra long totems will result in security asking you to return it to your campsite or surrender it.
Poles must be less than 1-inch diameter
No extendable poles
No extra poles
No wood, aluminum or metal (use something light like PVC)
No Inflatables
Nothing that can poke, stab or fall causing injury
NO hate speech, negativity or illegal activities. Security reserves the right to deny entry to totems they deem unacceptable.
Totem Heads: Decoration: Totem heads will be limited to 2′ measured diagonally. Must have artwork on all sides. Highly creative totem heads will be more flexible on size, but please keep it reasonable. Originality is encouraged!
Flags may be 3'x5' or no more than 4' measured diagonally.
---
Connect with Lost Lands on Social Media:
Website | Facebook | Twitter | Instagram | SoundCloud | YouTube | Twitch