Duke Dumont made Los Angeles dance endlessly for two nights at The Shrine with dreamy tunes, good vibes, and impeccable stage design.
---
Duke Dumont is in a league of his own. He's a rare breed that continues to grace us with incredible music. Whether it's spicy club bangers, house classics, or soulful melodic tunes, anything he touches turns to gold. His debut album Duality is a timeless classic that you can play from start to finish without skipping around. In fact, it's one of my favorite albums of 2020.
When Duke Dumont announced his live show at The Shrine in Los Angeles, everyone went bananas. The show sold out instantly, and he added a second show for folks who missed out on the original date. As expected, he sold out the second night as well. But, unfortunately, like many events, the pandemic halted all the things that brought us joy. And for 15 months, Dumont stans, including myself, waited patiently for our time to come together and enjoy the blissful sounds of Adam George Dyment.
Related: Check out our full photo gallery from Duke Dumont at The Shrine on Facebook!
It felt surreal walking up to The Shrine for my first indoor show since the pandemic, I couldn't silence the butterflies in my stomach or the adrenaline pumping through my veins.
As small crowds of people gathered to get inside, you could feel the intense wave of excitement amongst everyone. Overall, security was painless and efficient, and they didn't fumble the ball on checking for proof of vaccination or negative test results. In addition, I noticed that The Shrine is offering rapid tests near the box office. It's unclear how much the rapid test cost, but it's good to know that it's available for attendees, which is generous. Because security was so thorough with checking our status, my pandemic nerves dissipated as I entered the venue.
Jacques Greene, Classixx, and Hayden James successfully warmed up the crowd as each set increased in tempo and pace.
Both Jacques Greene and Classixx kept things nice and smooth during their sets. But things heated up when Hayden James entered the chat. James dropped some delicious, deep house gems as the bass was pumping heavily through the speakers. The crowd was super responsive, and the vibes were top-tier all around.
The crowd felt more mature and as if it were a 21 and over show. People were pretty friendly and respectful of my space which I appreciated. I even enjoyed mingling and chatting with folks around me. Unfortunately, the lines for the bars were insane. The minimum wait time to get any kind of drink was 40 minutes, so I stocked up on both waters and cocktails to avoid having to go back the rest of the night.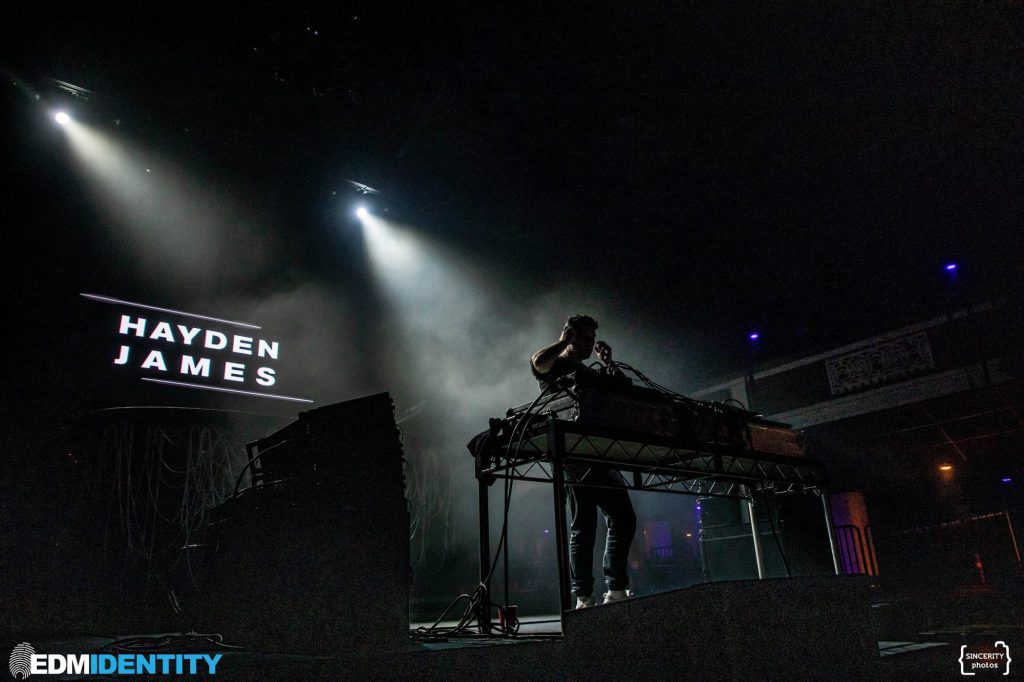 Before we knew it was time for the GOAT himself, Duke Dumont.
Duke Dumont's introduction was indescribable. He came out swinging hard, and none of us were prepared for it. I still get chills whenever I think about it. He opened with "Red Light Green Light" with Shaun Ross, and the crowd went into a frenzy. Between the light work, insane visuals, and his setup, my eyes couldn't keep up with the instant stimulation – and his transitions were smooth like butter, utter perfection.
The stage design was superb. I was enamored by the stunning light work and visuals. Duke Dumont's visuals were crisp, clear, and bold. You could tell that he and his team perfected every detail to create a wholesome experience for us all. And the best spot in the house was the back center because of the comprehensive view. However, the sound was muffled from the bass, so I moved towards the front for better sound quality. 
Duke Dumont dropped gem after gem after gem throughout his set and the pacing was spot on.
From "Red Light Green Light," Duke Dumont transitioned into "Obey" with Roland Clark, followed by "The Power" with Zak Abel, the holy trinity of club bangers. Then he transitioned into "Alter Ego" with Channel Tres, and I was drenched in sweat within 15 minutes. One minute we were getting jiggy to "Runway" with Shaun Ross, and the next, we were sucked into the soulful sounds of "Therapy." He slowed things down for a bit when he dropped "Melt," a dreamy classic that makes you feel like you're in heaven. Other tracks he dropped included "Fear" with Niia, "Need U (100%)" with A*M*E, and "I GOT U" with Jax Jones.
Things got sentimental when he played my favorite song off Duality, "Together," with How To Dress Well.
If you're familiar with "Together," you know there's a gorgeous drop towards the second half of the song. I cried. Happy tears flowed down my face, and at that moment, I felt at peace for the first time in years. I realized how lucky I was to experience this moment in the flesh, and for that, I was overwhelmed with gratitude. 
Then, when he started to play "Ocean Drive," we all knew that the evening was coming to a close. A sad reality that we didn't want to accept. The crowd collectively sang in unison, and the energy was surreal. It was a beautiful moment for both us and Dumont. 
Overall, this was the best show I've attended in 2021. Duke Dumont outdid himself, and the 15-month wait was worth it. I highly recommend that everyone catch him if you can. His show is on the same level, if not better, than other greats in the scene – and it will change your life. Duke Dumont, you have so much to celebrate. Congratulations on your new baby and slaying two memorable nights at The Shrine! 
---
Follow Duke Dumont on Social Media:
Website | Facebook | Twitter | Instagram | SoundCloud | YouTube