Sam Blacky stopped by to talk about her debut EP Summer Solstice, starting Stabby Records, and how she keeps up with her hectic lifestyle.
---
Between balancing a busy modeling career and a rigorous DJing schedule that takes her around the planet, Sam Blacky seems to be able to do it all and is becoming an unstoppable force in the scene. This year saw her add even more to the mix as she looked to add producing tunes like "Too Late," and started her very own label, Stabby Records, as well.
With shows beginning to return around the world, Sam Blacky has dotted the globe with her body shaking, sultry club beats in tow to take the stage in Mykonos, Las Vegas, San Francisco, St. Tropez, and more in 2021 – but she didn't slow down on the release front at all. In the lead-up to her debut EP, Summer Solstice, she dropped singles like "Body," "No More," and "Paradise" to get fans in a groove before the full release was unveiled on August 13.
After the release of Summer Solstice, we had the chance to sit down with Sam Blacky and discuss her debut EP, her experience in 2020, and what she has in store for her future. So listen to the EP on Spotify or your favorite streaming platform, and read on for the full conversation!
Stream Sam Blacky – Summer Solstice EP on Spotify:
---
Hey Sam, thank you so much for stopping in to talk with us today! We are so excited about your debut EP Summer Solstice! It really gives off summer beach day vibes, having grown up in San Diego and spending a lot of time in Australia, did this play a part in influencing the direction of this release?
Of course! I think our surroundings and history inevitably play a huge role in our lives whether we realize it or not. I have always loved the feeling of summer, warm, tropical, beachy weather, and the feeling it gives you just being there. A sort of sunkissed, sweaty, sexy, and free vibe… and I absolutely want my music to transport you there. I know a lot of people are unable to travel, especially as of late, and that most of the world doesn't live in some tropical fantasy land, so I wanted to be able to share that and give everyone that feeling through my music. 
Can you share a bit about the production process behind the EP itself? Were the tunes all created with the full release in mind?
The tracks were not created with the whole EP in mind… they were a culmination of trial and error over many many many years. I have collaborated with many amazing producers, songwriters, and singers over the past six years or so to try and frame my sound. It's been a really long process but I finally found an amazing team and we worked on this EP for a little over a year swapping ideas back and forth until finally, single by single, it came to fruition.   
Earlier this year you launched Stabby Records, how has this made an impact on your music career? What do you have in store for the future of your label?
Honestly, I wasn't planning on going down this road, launching my own label, but I am so happy I did! My manager shopped the songs around to a few labels I loved and wanted to be on but they either weren't as interested or had pretty ridiculous terms, so he actually brought up the idea of starting my own label. It's been pretty crazy, but I can't wait to start signing other artists. There are just so many amazingly talented people that get overlooked. I want to help them get their foot in the door, give the underdog a chance when no one else is because I know all too well what that feels like.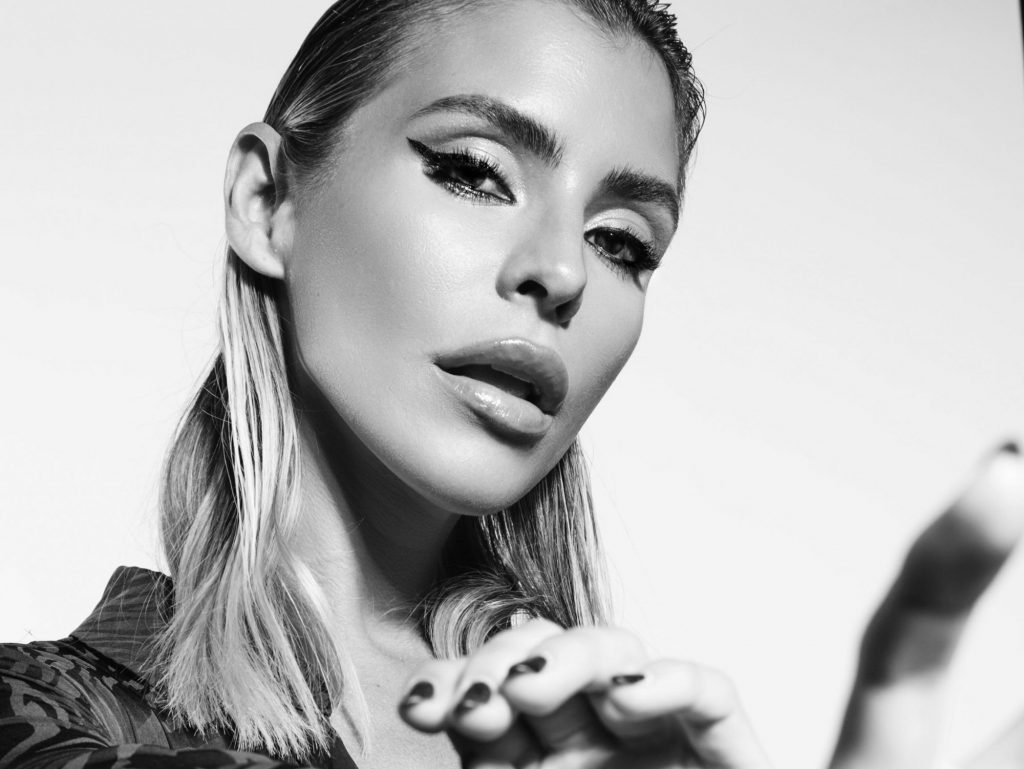 You have a lot on your plate between modeling, live shows, and producing music. How do you stay grounded and find time for yourself while staying so busy?
Honestly, I pretty much have no life outside of work. When I am home and have a couple of days off I totally hibernate; I rest, I chill out with my family and friends, and love on my corgi puppy, Mochi. I think my self-care regime is what saves me the most though… I try to work out a few times a week, I do hours in infrared saunas and cold plunges/ cryotherapy, and I always get an IV before I travel. I figure I'll get it while it's hot and rest later. I have no plans of slowing down until I reach my goals, then my personal life can start to come back.
This past year has been devastating to so many artists facing ups and downs, has this impacted your image of the music industry and your career?
This past year was by far the most difficult year of my life. As performing artists, we completely lost our identity, we weren't able to do what we love, which is a huge part of who we are, and that was really, really hard to wrap my brain around. It was a dark time for a lot of us. I don't blame the music industry, but it was sad to see how fragile the whole system is.
My career absolutely suffered, as did everyone, but I think some of us took advantage of the time to try out new things we weren't necessarily used to. For example, it gave me the time I needed to actually get this EP ready, I started a YouTube channel series called "A New World" where I  traveled to some of my favorite locations around the world and recorded live sets with beautiful drone shots to really capture the scenery and the vibe so people could feel like they were traveling with me, or at least be transported out of the lockdowns. Am I thankful for it? Absolutely not, but I can't deny that some good did come out of it.
With shows and festivals making their return in 2021 you've already begun performing again. What has it been like to be back on the road, have you changed your method of live performance at all?
It is so insane to be back on the road. I absolutely love it, but it's also pretty brutal after coming out of a year of essentially zero shows. At first, I was so stoked and everything was so easy and exciting, but then my body caught up to my brain and was like "slow down". I went from nothing to doing two states on the same day, to four states in a weekend, it was a lot.
I think the main thing that I changed about my live shows is cutting out the partying around my shows. Yes, at some of them I may have a few drinks with friends, but now it's much more serious and work-oriented rather than going around having a huge night everywhere I play. I take everything more seriously and I am proud of that, so I think that's definitely a positive.
As a woman in the music industry, do you have any advice for other women who are trying to make an impact on music through their art?
The best advice people gave me (particularly about electronic music) was to learn how to DJ properly, on CDJs, not with all these little tools and aids that they have now, and also to get into production sooner than later. I didn't get into production until maybe my fourth year DJing, and I didn't put out music until about my sixth or seventh year DJing. Aside from that, keep your head up. It is an extremely difficult industry to crack, I am still learning and trying every day! Do not give up… I have been doing this for nearly ten years and I am finally getting close to where I want to be. It absolutely doesn't happen overnight. 
2021 has been a huge year for you so far. Looking to the future beyond "Summer Solstice," what do you have planned to round out the year and going into the upcoming year?
I am focusing right this second on some really fun bootleg remixes to throw into my sets just for fun, and aside from that, I am planning on releasing singles as frequently as possible. I am also starting to create some really epic visuals which is something I haven't done before so I cannot wait to finally bring that to the table and share it with everyone at my shows. Moving forward, I am just focusing on how I can take things to the next level!
Finally, even though summer is beginning to wind down a bit like the fall creeps in, what are your favorite things to do during the sun-soaked season?
Obviously, my favorite thing to do is perform, but other than that I love to travel. Like, really, really love it. Fortunately and unfortunately, every single trip I have taken this year has been work-related or based around shows, so hopefully next summer I will have a little bit of time to just relax and take a breath while traveling! I really want to reconnect with friends I haven't been able to see since COVID, as well as travel to new places that I have never been to. This year I knocked St. Tropez off my bucket list so I am really thankful I got to experience that and perform out there. Next year I hope to hit at least 10 new places!
---
Follow Sam Blacky on Social Media:
Website | Facebook | Twitter | Instagram | SoundCloud | YouTube