Boomslang Recordings is a drum and bass label to look out for, especially after the release of the latest volume of their Slither EP series.
---
Originally created in 2016 by Noize Komplaint, Boomslang Recordings served as an outlet for the duo's productions – but as their career picked up momentum their plans for the imprint grew larger as well. Four years later, they officially launched the drum and bass imprint as a home for rising artists in the scene and have since gone on to support artists like Hyperbots, Jaybee, ESKR, Heist, and more.
Earlier this year, Boomslang Records dropped the first volume of their Slither EP series to further put their dedication to the drum and bass community on full display, and now the second volume has arrived with a fresh offering of underground tunes. This time around Bad Martin, SST, and Vmbrella join in on the fun with Noize Komplaint for a proper follow-up that will surely lure listeners in with its blend of neuro, drum and bass, and jungle.
All four tracks on the latest work carried out the perfect blend of fast breaks, drum patterns, and melodic snippets. The heavy, yet intricate basslines will consume your soul and take anyone on a relentless ride into the realm of underground drum and bass. Lead track "Feeling Strange" by SST and the closing tune "Ectoplasm" by Vmbrella act as the perfect bookends to the ride with their eerie, ominous sounds and samples that will hypnotize the mind.
Bad Martin's "Hard 2 Be Martian" is an immediate stand-out in the collection because paired with the beat is the lyrical style of Werd MC and Drea joining on on the track for a fantastic collaboration. And Noize Komplaint's own "Chubs" which transmits an industrial-like sound with steady basslines and a touch of grungy rhythm – once you begin listening, there is simply no turning back with this tune.
Make sure to check out the Dallas, Texas-based Boomslang Recordings, its older work, and Stream Slither EP. Vol. 2 on Spotify or grab your own copy on Bandcamp or Beatport.
Stream Boomslang Recordings – Slither EP Vol. 2 on Spotify:
---
Boomslang Recordings – Slither EP Vol. 2 – Tracklist:
SST – Feeling Strange
Noize Komplaint – Chubs
Bad Martian, Werd MC, Drea – Hard 2 Be Martian
Vmbrella – Ectoplasm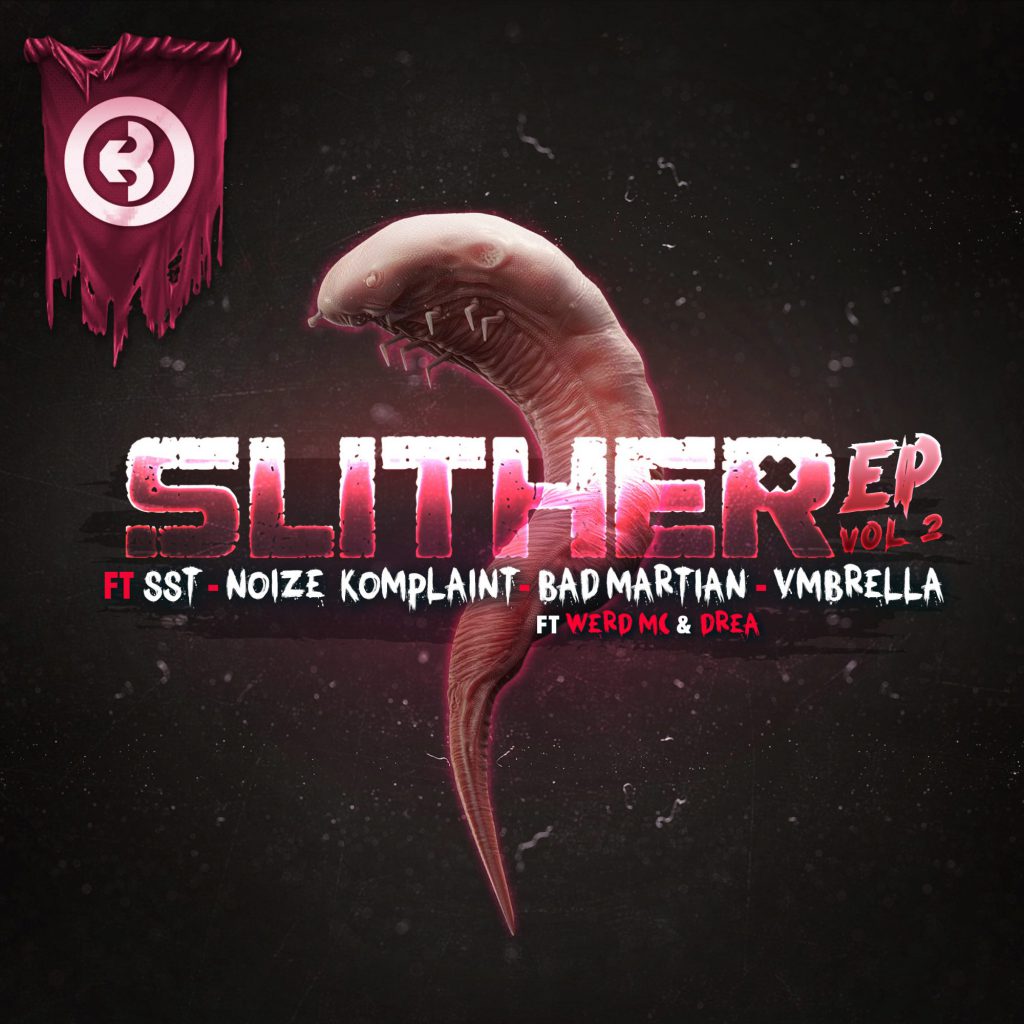 ---
Follow Boomslang Recordings on Social Media:
Website | Facebook | Twitter | Instagram | SoundCloud