---
On CRISIS VISION: REDUX, MUST DIE! recruits an incredible roster of bass artists to put their spin on tracks from his album CRISIS VISION.
---
Bass music legend MUST DIE! shook fans to their core when he released his album CRISIS VISION on Never Say Die in May. Stacked with fiery collabs and solo tracks alike, the album saw him reach new levels with his production, all the while traversing a diverse spectrum of genres from trap to hard dance to DnB. Tracks like "LOL OK" featuring Akeos and Skream as well as "NERVE DAMAGE" quickly became fan favorites as the producer proved that his status as one of the greatest still stands.
Now, bass fans have been blessed yet again with the much-anticipated remix package for the album, CRISIS VISION: REDUX. Featuring remixes from TYNAN, Good Times Ahead, and Kompany, to name a few, this collection is jam-packed with heavy bass, upbeat grooves, and contagious drum beats to keep you on your toes – literally.
Like a good remix album should, CRISIS VISION: REDUX maintains MUST DIE!'s authentic sound while adding all-new flavor from a diverse group of artists spanning different genres. There's constantly something new being brought to the table, so be sure to listen all the way through – you just might discover your new favorite artist.
Get your bass face on and indulge yourself in the insanity that is CRISIS VISION: REDUX by streaming the album on Spotify or your preferred streaming platform, and read on for a closer look into the chaos.
Stream MUST DIE! – CRISIS VISION: REDUX on Spotify:
---
CRISIS VISION: REDUX is all gas and no brakes from the very start as MUST DIE! brings the energy with a VIP version of "NIHILISM BEGINS AT HOME."
MUST DIE! himself sets the remix album in motion with an even heavier, more explosive variation of "NIHILISM BEGINS AT HOME." This new cut brings anticipation from the beginning as its build-up grows more and more menacing before culminating in a ferocious burst of distorted bass and punching drums. MUST DIE! takes the original production and cranks it up 10 notches, adding new glitches and screeches to make the track even more filthy.
Bass house icon Habstrakt takes the vibe of the album in an entirely new direction on his version of "LOL OK," giving the originally dubstep-heavy track a dancefloor-friendly rhythm. It's instantly recognizable as a Habstrakt creation with its infectious beat and vibrant melodic groove, making it impossible not to get up on your feet and dance to. If there's one thing Habstrakt knows how to do, it's taking any tune and make it dance-worthy.
Keeping on the route of genre switching, Syzy takes "FUCK UR STYLE" away from its trap leaning and goes full-blown dubstep mode with it. 808's are replaced with thrashing drums as Syzy takes the hip-hop-influenced track and makes it absolutely disgusting, implementing powerful basslines and maniacal wonks and glitches that will have you getting your stank face on as soon as that first drop hits.
Moving further along into the album, Trampa revamps "LIFE SUCK" with a heavy trap feel, while Nitepunk transforms the electro house tune "DON'T EVEN BOTHER" into a funky breakbeat groover. Followed by this is Good Times Ahead who up the tempo on "SORROW TECH" before switching it up with a trap influence on the second drop.
Jiqui puts his own unique twist on "BODY SCREAM" while preserving its DnB essence.
On his version of "BODY SCREAM," Jiqui keeps the energy at a high level, ensuring a frantic whirlwind of drum and bass that will send your mind into a frenzy. The track flows seamlessly into BadKlaat's take on "HELLBURST" which switches the vibe up completely with some good old guttural bass accompanied by hard-hitting drums that epitomize that classic Never Say Die sound.
Following up, "ERROR" gets a fresh reworking by rising bass artist Slippy who maintains the track's original glitchy dubstep sound while putting unique variations on the sound design and leaving his fingerprint on the track. Vibrant melodies meld effortlessly with in-your-face bass on this tune to create a monumental sound that resembles something off the likes of a video game soundtrack.
"Six million ways to die, choose one" – the iconic Cutty Ranks vocal sample embodies the ethos of "CHOOSE ONE," which gets a heavy bass redux by none other than TYNAN. Known for going balls to the wall on all his drops, he bangs out a colossal frenzy of distorted bass first before speeding things up with a hard dance style drop that serves as the perfect segué into Tisoki's high-energy remix of "NERVE DAMAGE."
One of the album's high points comes in the form of Oolacile and Aweminus' collaborative reworking of "DELETE IT ALL," which, put simply, is absolute hellfire from start to finish.
Right off the bat, listeners are met with an unlikely combination of heavy metal vocals and whimsical childlike vocals that create a bizarre yet irresistible contrast from Oolacile and Aweminus. Following this is an utter cesspool of grimy, distorted bass intertwined with heavy metal guitar samples and merciless sound design that persists throughout the song. Absolutely grotesque. Kompany brings us home, closing it all out with his take on "WHEREVER U GO." He doesn't hold back, either, unleashing utter heavy bass mayhem to ensure we leave the album with satisfaction – and a stanky bass face – guaranteed.
It's safe to say that every track on CRISIS VISION was done complete and total justice by this incredible roster of artists. It's not often that a remix album lives up completely to its original work, but CRISIS VISION: REDUX achieves just that and so much more. If any particular remix really sticks out to you, don't hold back; check out that artist's catalog, because you never know if you'll fall in love with their music. And this is the beauty of remix albums.
---
MUST DIE! – CRISIS VISION: REDUX – Tracklist:
NIHILISM BEGINS AT HOME (REDUX)
LOL OK (Habstrakt Remix)
FUCK UR STYLE (Syzy Remix)
LIFE SUCK (Trampa Remix)
DON'T EVEN BOTHER (Nitepunk Remix)
SORROW TECH (Good Times Ahead Remix)
BODY SCREAM (Jiqui Remix)
HELLBURST (BadKlaat Remix)
ERROR (Slippy Remix)
CHOOSE ONE (TYNAN Remix)
NERVE DAMAGE (Tisoki Remix)
DELETE IT ALL (Oolacile & Aweminus Remix)
WHEREVER U GO (Kompany Remix)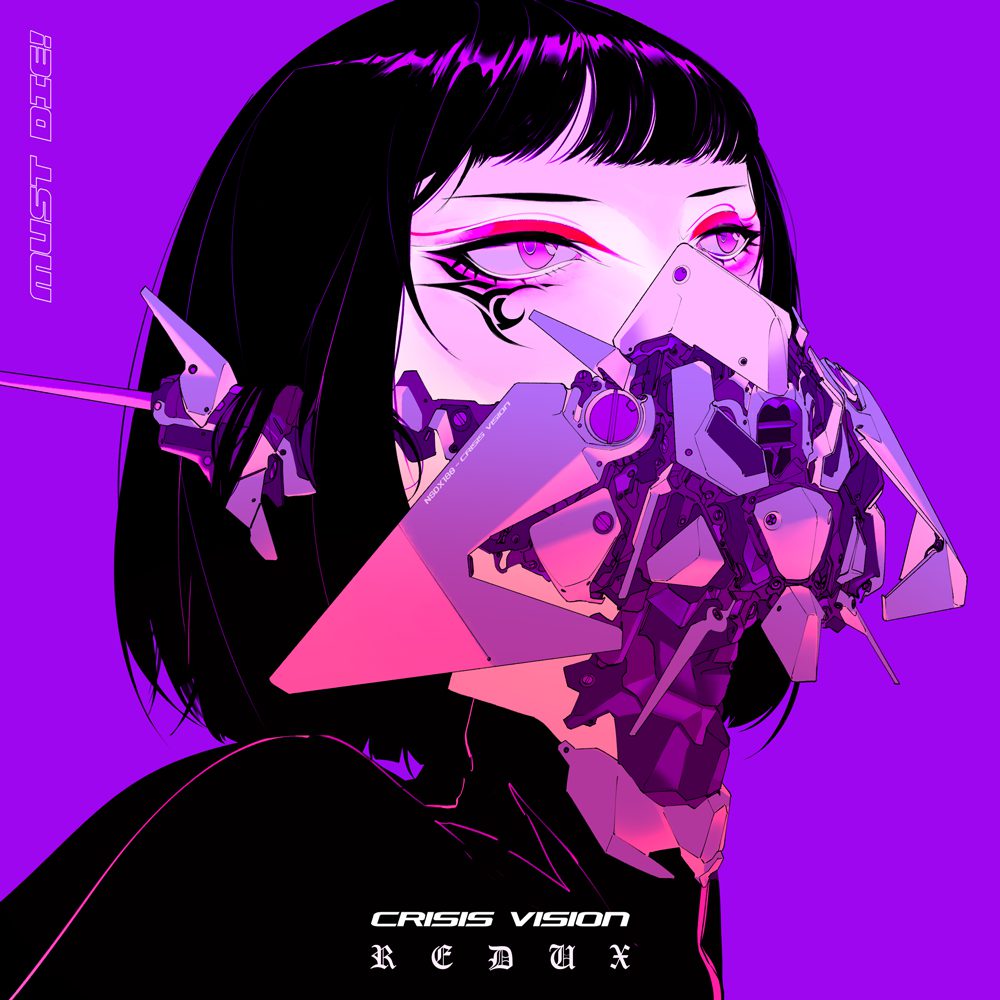 ---
Follow MUST DIE! on Social Media:
Website | Facebook | Twitter | Instagram | SoundCloud | YouTube