Legendary UK-based breakbeat duo Freestylers bring a fresh take to their classic sound on their sixth studio album Other Worlds!
---
UK-duo Matt Cantor and Aston Harvey, also known as Freestylers, have continuously evolved their sound throughout their prolific career. The two began creating music together in 1996 and released their first two studio albums We Rock Hard and Pressure Point on the iconic breakbeat label Freskanova. Since then, they've gone on to release two more albums via esteemed UK label Against The Grain, toured with Lenny Kravitz on the American Woman tour, and have taken the stage at global events like Electric Daisy Carnival, Glastonbury, and even MTV's Time Square Millenium Party.
Never resting on their laurels, Freestylers continue to release timeless productions and defy genres both of which are displayed prominently in their most recent album Other Worlds. Out now via Mama's Pie, the 14-track album sees the duo working at full capacity as they seamlessly weave genres together from across the electronic spectrum. The album also features a variety of artists that each bring their own flare to their respective collaborations including the likes of Plump DJs, Blapps Posse, Laura Steel, Scarlett Quinn, Spyda​, Tenor Fly, Hyperactive MC, Mad Doctor X​, and K-OSS.
Further, Freestylers have begun touring the album and will continue the Other Worlds tour through October making stops in cities across the UK including London, Redding, and Birmingham. If you are stateside or elsewhere in the world, you may not be able to catch a live show this year, but you can at least enjoy the new album in its entirety.
Listen to Freestylers' sixth studio album Other Worlds on Spotify or your preferred platform, check out the tour dates, and read on for a deeper dive into its tracks!
Stream Freestylers – Other Worlds on Spotify:
---
Other Worlds begins with "I Am" and showcases Freestylers' wide range of influences that include everthing from reggae and bass to breakbeats.
Listeners will immediately be drawn in by infectious drums on "I Am" as Freestylers effortlessly combine reggae dub with funky breakbeats before dropping into some heavy bass vibes. This tune has an impeccable balance of energy as the grimier portions of the track seamlessly transition in and out of the lighter vocal blocks. Much like every track on the album, the arrangement takes listeners on a journey through energetic highs and deep lows. One moment you want to get down as if you are at a dark warehouse party and next you are kicking back to an easy-listening reggae melody.
"Waiting" is an eerily meditative track that is led by a driving breakbeat and flutter of uplifting synths.
"Waiting" is one of those songs that will put you in a trance with its hypnotic and spacey synths. Freestylers layer dreamy vocals atop a grungy synth melody and head-bobbing breakbeat to create a mellow track that that will allow you to slowly drift away to another world. Before you know it, you are snapped out of your dream state by the high-energy "Electroshock". A nod to the early rave days, this tune is bursting with an array of colorful synths and drum kits that showcase the duo's ability to produce timeless hits.
The vibe continues to build up with "Black and Blue," "Fabulous," and "International Love."
While "Black and Blue" stays true to Freestylers' breakbeat foundation, the track also has a rock vibe in its drum kit and guitar riffs. Featuring the one and only Laura Steel, as well as samples from Blapps Posse, it has all the elements needed to shake up a dancefloor. On "Fabulous," Freestylers touch heavily in both the funk and disco realms. Scarlett Quinn's pop-infused vocals lead the charge as flares of synths support the main bass line to create an undeniably soulful and dancey tune. Freestylers go on to showcase their world sound in "International Love" in which the duo infuses heavy reggae dub vibes over a slowed-down breakbeat and acid-sounding synths.
Things start to get extra spacey and experimental on "My Sound" before transitioning into the ominous and cinematic tune "All Your Fears."
With her second feature on the album, Scarlett Quinn offers her poignant vocals to the accompanying ambient synths and driving breakbeat of "All Your Fears". A more progressive track among the rest, it perfectly leads into the heavier "Reality Check". A high-energy track from the first beat, Tenor Fly's vocals pair perfectly with the reggae-infused drum and bass and guitar riffs. "Reality Check" enters full-on dance mode when the wonky dark synths enter the game.
The album continues with "Action Jackson" which features a medley of punchy kicks and synths before Freestylers channelling more uplifting positive vibes on "Happiness".
With breakbeats as the foundation, Freestylers explore a wide range of elements on "Happiness" from trance and electronica to house. The track is an uplifting ode to the feeling we get while vibing out on the dancefloor and will surely be a crowd favorite come festival time. Taking a quick step away from breakbeats, "Puffin Da Herb" is a hip-hop-inspired production that showcases the duo's ability to reinterpret their earliest influences into electronic beats. With the record scratches and vocal samples, the classic hip-hop feel comes through in full while taking on energy from the percussion.
As the album comes to an end, listeners are greeted with the crescendos of "Unreal" and "Rebel Lion" that bring Other Worlds to a close.
In a time where the world is inundated with music, an album of this quality and diversity should not go uncherished. It's clear to see Freestylers' decades-long dedication to their craft translate directly into the creation that is Other Worlds. While breakbeats are the foundation of the album, Freestylers expertly weave in just about every genre from reggae to electro, bass, disco, funk, and more into a beautiful cohesive piece of art.
With six studio albums under their belt and a career already studded with huge accolades, there isn't anything this duo can't do. While we listen to this Other Worlds on repeat let us all collectively focus our energy on manifesting an appearance from Freestylers in North America.
---
Freestylers – Other Worlds – Tracklist:
I Am (feat. Plump DJs)
Waiting
Electroshock
Black & Blue (feat. Blapps Posse & Laura Steel)
Fabulous (feat. Scarlett Quinn)
International Love
​My Sound (feat. Spyda)
All Your Fears (feat. Scarlett Quinn​)
Reality Check (feat. Tenor Fly)​
Action Jackson (feat. Hyperactive MC​)
Happiness​
Puffin Da Herb (feat. Mad Doctor X​)
Unreal​
Rebel Lion (feat. K-OSS)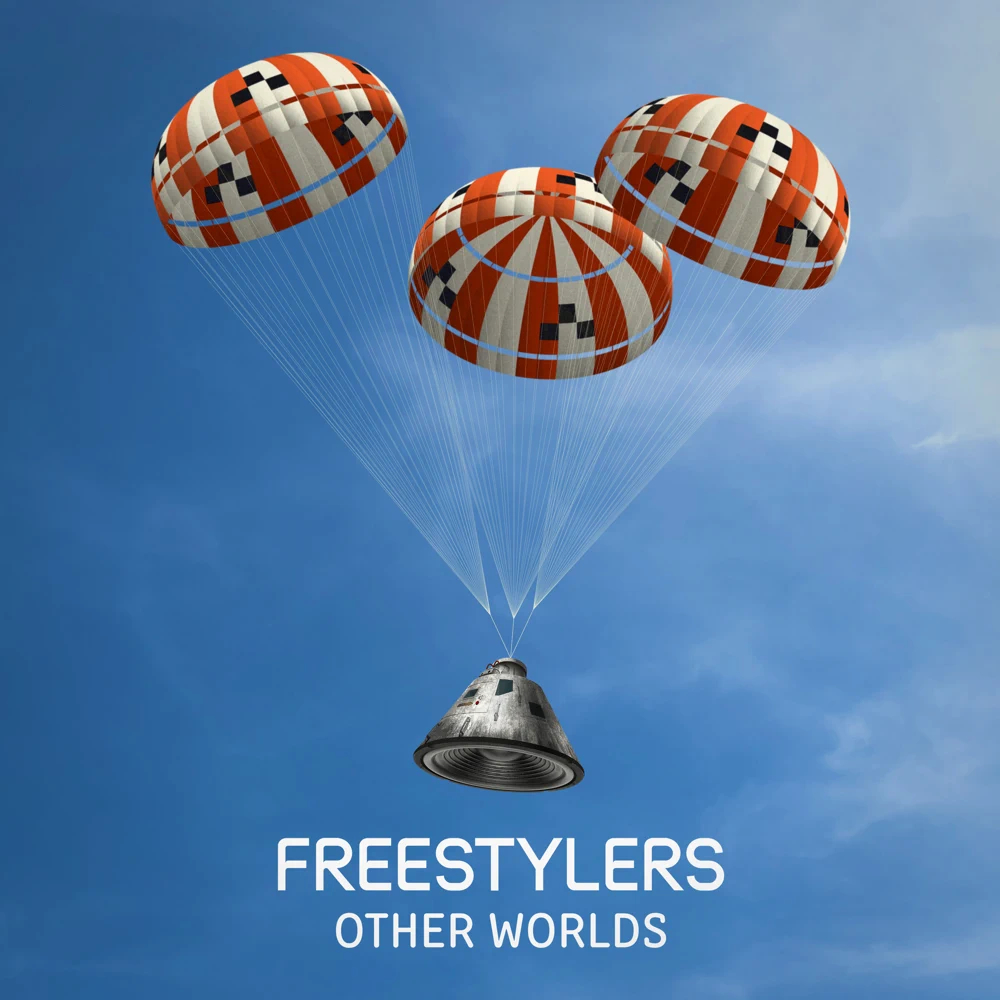 ---
Follow Freestylers on Social Media:
Website | Facebook | Twitter | Instagram | SoundCloud | YouTube