We caught up with LICK after his set at HARD Summer and got all the details on his upcoming tunes, working with Riot Games on Valorant, and more!
---
From humble beginnings as a bedroom producer to dropping an explosive set at HARD Summer's main stage just under a decade later, it's insane to see the progress that LICK has made in his career. His unique style of hard-hitting, dark midtempo bass music has propelled him far in the scene with fans always looking forward to experiencing his heavy sounds. With multiple releases on labels such as Deadbeats, Subsidia, and ALT:Vision in his discography, and plenty more coming soon, it's clear that there's no way but up for this rising star.
The last time we spoke with LICK was at Electric Forest in 2019 and since then he's accomplished quite a few things. His album DARK VIBE ORDER dropped, he collaborated with Riot Games to feature a track in their game Valorant, and he also released singles left and right lately, all in the midst of the pandemic. Now, with a busy schedule of festivals ahead that already included the aforementioned set at HARD Summer, he's ready to continue on his path of domination.
Before his schedule becomes too hectic over the next few months, we jumped at the opportunity to catch up with LICK after his blazing set at HARD Summer. Check out his tune with Nytrix, "ESCAPE," below and read on for the full conversation!
Listen to LICK & Nytrix – "ESCAPE" on Spotify:
---
Hannah: Hey LICK, thanks so much for sitting down with us today here at HARD Summer. What does it feel like to be performing back here on such a long break without shows?
LICK: Oh my god, it's been amazing. I actually almost lost my phone on the golf cart and my USB. So I'm just trying to get everything together and get back into the festival grind but it's been great. I'm happy to be back on, I played here two years ago before the pandemic and just to be back here… it's been so much fun seeing everybody out having a good time.
Jessica: That's awesome. Have you noticed anything about performing at HARD Summer? That's different from other festivals since there's so much non-EDM here? Do you notice anything different from an Electric Forest or an Ultra?
L: Oh absolutely, I feel in California, they just like to party. So it's a very good, diverse group of people out here. It's been really fun seeing and meeting everybody. Like, even though it's early out, I still had a great time bumping into people. It's just good vibes out there, which I really like.
H: You have plenty more sets in-store with appearances at Electric Zoo, Lost in Dreams, and Lost Lands on the horizon. Do you have any special plans for these shows in particular?
L: Absolutely. I think with these upcoming shows, it's a good time to finally showcase the new music that I've been working on since the pandemic. It's obviously been hard for the whole entire industry – artists, managers, and even festivals. So I think now's the time to really just go at it, go hard, and showcase the music that you've been working on and really give these fans something special.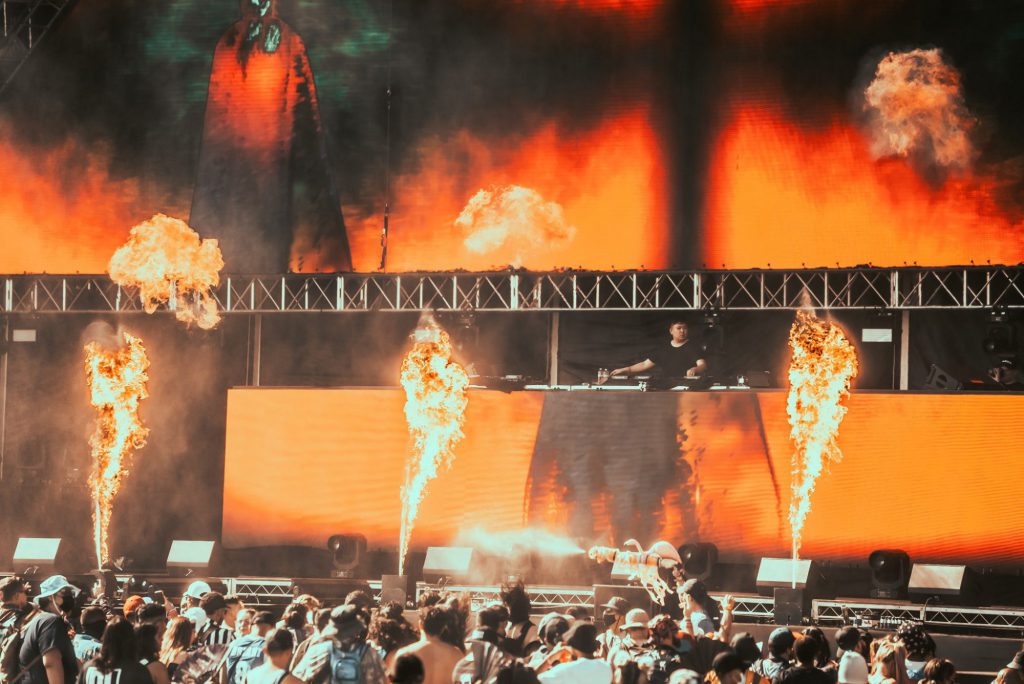 J: Not only have you been getting bookings, but you released your new single "Escape." What was it like working with Nytrix on that track, and how did you guys connect? 
L: Nytrix and I met online and yeah, it's funny, we made this song almost two and a half years ago. And we've been waiting to release it, but we wanted to play it live. So today for the very first time at HARD Summer we came out with a new version after two years of not doing anything with it. And finally performing live felt really great, got to bring him out on stage, it was a great time.
H: Riot Games also released a theme song for their video game Valorant, called "Ignition." How did this come about? Can you share your thoughts on the relationship between video games and electronic music? Do you hope to see more collaborations like this in the future?
L: Working with Riot Games was amazing, those guys are a really, really special, talented group of people. They gave me such an amazing opportunity to work on Valorant, it's one of the biggest games out right now on Twitch streaming. Just to be able to work with their whole entire team, they've got so many smart, talented individuals who work at Riot, it's an unforgettable experience. 
The song finally got released, I'm very happy with it. And I think tying in like the music and the gaming industry, they have definitely sort of fused together. If you see Cyberpunk 2077, and things like that, and Valorant, they really want to incorporate music to push the characters that they develop. Each character has a specific life story, and they want to use music to influence that, and they go down that path and there are like 10 different characters so it's crazy to see all the sounds fusing together and then spread on each individual path. So, working with Riot games has been amazing. I love them. I would love to work with them in the future.
J: The last time we spoke was Electric Forest in 2019, right before your album 'Dark Vibe Order' dropped. Since then, you've been dropping a number of singles. Can we expect a new album coming soon?
L: I haven't told anybody this yet. But yes, I am dropping an album, it's gonna come out later this year. We've been just dropping singles, and I'm really excited to put this one out because last year I just didn't get the opportunity to test these songs live, and I wanted to see how the crowd reacted. So now that we have found the opportunity, I'm super excited to roll out these releases. I've got some amazing collabs with some amazing artists. One of them is Dia Frampton, she's absolutely incredible. Nytrix obviously, and a couple of other people on there. So the album's gonna drop soon; it's called 'Beyond the Void' and I'm extremely excited for it.
H: Do you ever think you might ever stray away from the bass genre? Are you interested in exploring other genres of production?
L: Yeah, I like that question because I think it's very important for an artist to evolve. I mean, I made that very obvious from the get-go that I wasn't just going to stick in one lane. When I made music, I wanted to branch out and do and try different things. Because I feel that pushes you as a producer, as an artist, to really have your core influence, influence other genres, and see what you can do with them. So, I think that's a really cool thing. I don't think I'll ever just stick to one genre, ever.
J: How does it feel looking back when you started this huge journey? What are some big standout moments for you?
L: It's crazy because I technically have been touring for like a year and a half, until COVID started, and I had that amazing festival run just to see that all get wiped away… I was supposed to go do some tours, even my own tour, but COVID took that away. But you can't let that bring you down, you know? So you got to just stay on the course, and go at it, go hard. Yeah, I'm very hopeful for the future. I'm pretty happy where things are at right now and HARD's a great way to kickstart everything so, definitely awesome. 
H: Finally, having lived in Arizona for most of your life, but now living in SoCal, what's your experience been in SoCal so far? Is that what you expected? Or have there been any surprises?
L: Yeah, it's been amazing. I kind of just bounce back and forth right now. So if I need to work or work with singers and doing collabs, I'll just come out here and just stay out. And I basically come out here just for the weather, by the way, because it's so nice. Arizona is a hell hole, do not go there when it's summer, you go there during the winter! That is my tea for today.
J: We'll put that one in big writing. Thank you, this has been so fun to meet you. Nice to catch up.
---
Connect with LICK on Social Media:
Facebook | Twitter | Instagram | SoundCloud | YouTube