We sat down to talk with LICK at Electric Forest to get the lowdown on how he's paving his own lane in the electronic music community. 
---
LICK is an artist who is rising quickly in the electronic music scene. Bringing a dark, unique brand of mid-tempo bass music, the story of LICK begins as a bedroom producer nearly seven years ago. After years of consistent hard work, he has successfully found his sound, now capturing the attention of thousands of fans with his music.
Some of these fans include none other than Zeds Dead and their label Deadbeats who have taken LICK under their wing, hosting several of his releases and bringing him on tour to some massive shows and festivals. Most notably, LICK's Dimension EP came out on the label earlier this year. LICK really paints a dark and intriguing atmosphere with his music, and he showcased his talents perfectly on his debut EP.
In anticipation of his debut album coming out in August, LICK has been consistently releasing singles as well. These include "Disappear", "Runaway", and the latest being "No Way," a hard-hitting instrumental tune that he's been playing out at festivals all summer. With the first two tracks taking a more vocal and melodic focus, it's clear that LICK can flawlessly produce all kinds of styles while maintaining his signature vibe and sound.
We sat down to chat with LICK right as Electric Forest was kicking off on Thursday afternoon. Prior to his performance on the NGHTMRE & Slander hosted Gud Vibrations stage, LICK talked to us about his beginnings as a producer, achieving his dreams, his production process, and much more. LICK is an artist that all electronic music fans should be paying attention to, as his rise to the top will be fun to watch.
Stream LICK – "No Way" on Spotify below and on all other platforms here!
---
Thanks for taking the time to chat with us today, LICK!
Of course!
I saw you tweeted last week that Electric Forest is your #1 dream festival. You've been through a lot to be where you're sitting at right now. As we sit here a few hours before your set, what's going through your head, and how much does this moment mean to you?
Today means everything to me, honestly. Coming from a bedroom producer to where things have escalated to this past year has been pretty insane. I'm really grateful to be here today, and I'm super excited to play my set.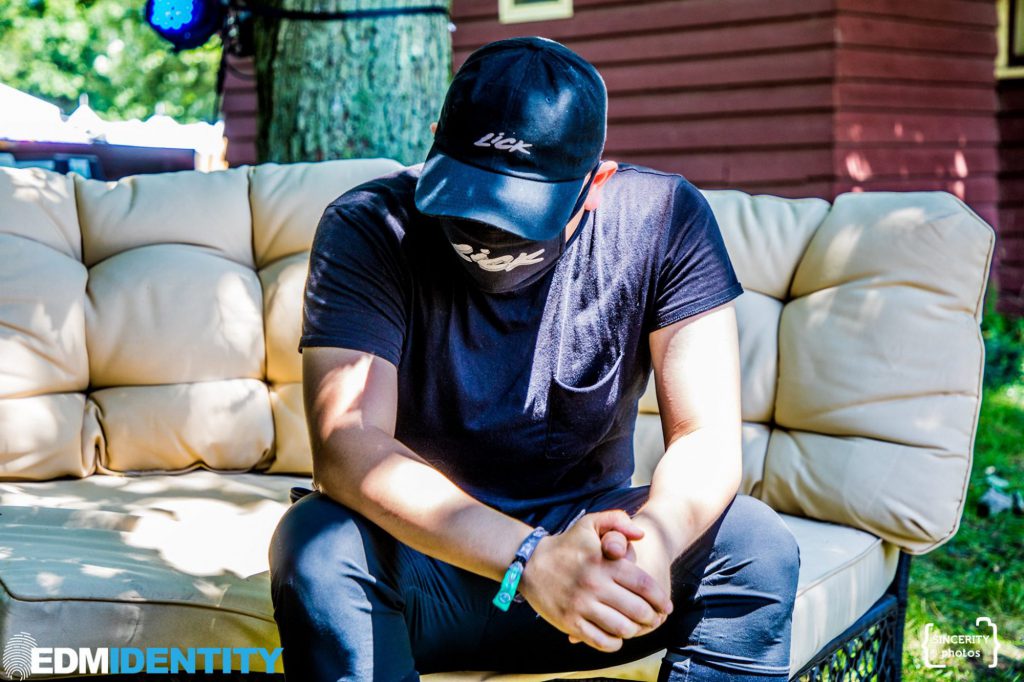 So you've made the journey from bedroom producer to here. It's been about seven years, right?
Yeah, about six to seven. It's just a huge grind. You always have to be persistent and disciplined, and sometimes you need a little bit of luck on your side too.
I feel like everything has been building up to this moment. Congratulations on achieving your dreams! What are some of the biggest hurdles you've faced and are there any specific pieces of advice that you can share to up and coming producers trying to make it like you?
This is what I tell everybody: fuck the rules and don't follow a certain path that's currently hype. It's more about finding your sound, diving into it, and being one with yourself. If you always try to mimic people, it'll never work. You have to be ahead of the curve. Just keep your head down and keep grinding, and you'll get there.
Your debut EP, Dimension on Deadbeats, came out earlier this year. What's the secret to creating such a powerful atmosphere on your tracks, especially on that release? How do you succeed in crafting such an emotional, dark sound?
I would say I use a lot of dark, ambient sounds. Most of the stuff out now is just so good; Splice is a huge tool that I use. A lot of sound manipulation, too. My top three VSTs are probably Spire, Arturia, and Serum.
"Runaway" featuring Tori Letzler, was recently released on Alt:Vision Records. What was it like working with her, and how does this track compare to your past releases?
Tori is one of my biggest inspirations. We sat down together and wrote the track in like 24 hours. It sort of just came together. She's done work with a lot of movies that are out right now, like some Marvel movies. We met through a mutual friend and got together in the studio. We wrote the track in one day, and it just worked out. Working with her has been amazing, and we actually have another song with her on the album.
So there's an album on the way? When can we expect that?
Coming out on August 2!
You've released countless remixes to your SoundCloud, including reworks of tracks by Kiiara, Seven Lions, and Virtual Self. What are some other artists or songs that you'd like to put your spin on in the future?
I've always wanted to do ODESZA. I love their music so much. I've done stuff for Illenium, and he's always a great one. I'd really like to do something official for NGHTMRE and Slander. I look up to those guys a lot. I'm playing on their stage today, and I'm super excited for the future and the opportunities there.
Tell us a little bit about your production process. What DAW do you use, and what's your process like for starting a new track?
I use Ableton Live. Basically, I just do what I'm feeling. It's hard to describe since you're literally starting a track from nothing. It's just that creative process: get inspired by different sounds, and keep going until you get your end product. What's important is knowing when to stop or ditch or project, and knowing when to continue on when you know it's a banger.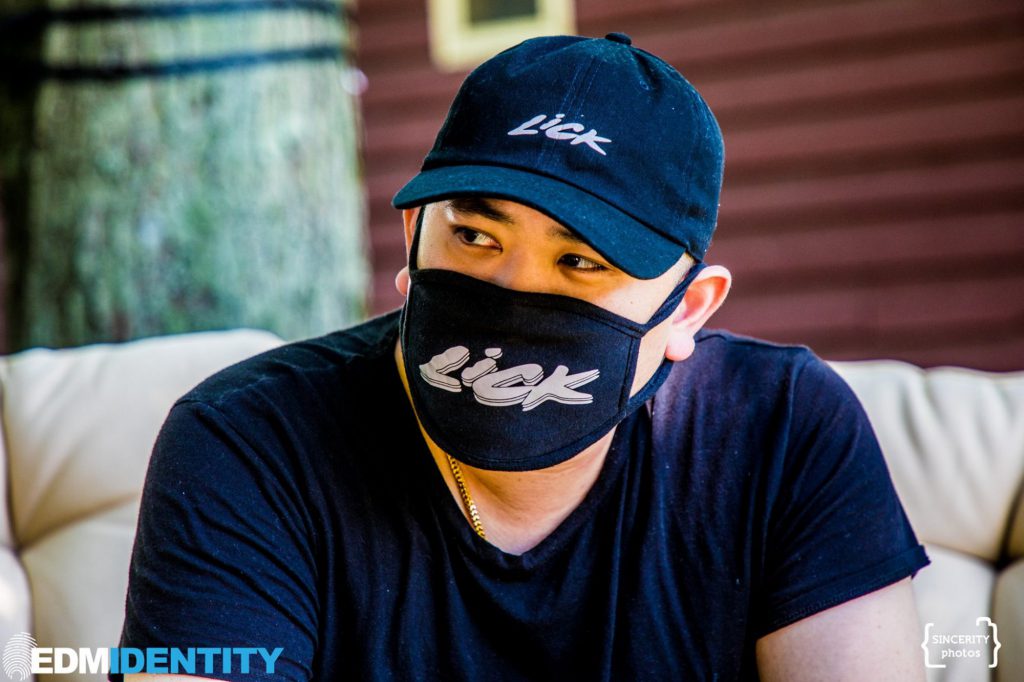 Many of your tracks feature really unique vocal samples. What's the process for finding those like, and how do you ultimately choose which ones are included in your productions?
The vocal sample chopping is pretty easy to do. I use it in Ableton through a sampler or simpler. Any type of vocal can be good, it's just how you post-process them and glue them into the track.
After Forest, you'll be heading to Colorado to perform at Deadrocks VI. What has the support of Deadbeats meant to you? I'm sure playing alongside Zeds Dead sounded like a crazy dream just a few years ago.
I started going on tour with them last year. My first show with them was in Utah. The boys and the label manager Harrison have been super supportive of me. Everyone wants to release on Deadbeats now. I'm really happy I got in early with them. It's funny, no one wanted my music before except for Deadbeats, so when I heard that they wanted it I was like, of course! Ever since then, they've been showing me mad love and support and I'm actually going to be doing a couple of tour dates with them this upcoming year.
In addition to Forest and Deadrocks, you're hitting HARD Summer, Electric Zoo, and Dancefestopia this summer, among other festivals. What are some other venues and festivals that you'd like to cross off your bucket list one day?
I think the three biggest ones we're aiming for next year would be EDC Las Vegas, Coachella, and Ultra. We're also looking forward to doing some shows in Asia.
Lastly, what's your secret to surviving Electric Forest? How many packets of Ramen did you bring?
I brought zero! That was just for the "gram"! I honestly don't know what the fuck I'm doing. That's why I have my tour manager [Amanda] here. I brought a special guest with me, J.P. [Blanke]. We're gonna do some fun things throughout this weekend. I'm gonna bring him out for a b2b some time at an afterparty.
Before we finish up, do you have anything else that you'd like to share with your fans?
Thank you so much for the support this past year! It's been really life-changing, and very humbling. I can't wait to see you all at these upcoming festivals, and thank you for being here for me!
---
Connect with LICK on Social Media:
Facebook | Twitter | Instagram | SoundCloud | YouTube