Fatboy Slim provides the perfect soundtrack to welcome you home to the dancefloor with the first of 12 mixtapes in his new series.
---
Renowned British DJ/producer Fatboy Slim is the personification of what it means to be dedicated not just to the art of music creation but also to the craft of music mixing. Now, he has released an energetic new mixtape series on Apple Music, YouTube, and Mixcloud. Aptly titled Welcome Home, this kicks off a 12-week mixtape series campaign – Everybody Loves a Mixtape, a celebration of music and camaraderie. And man, do the tracks on this specially curated batch of music generate that full sentiment inside of you when you take the full tour of these sounds. Each week, that feeling will be built upon further with a new mixtape from Fatboy Slim dropping every Friday, leading up to his big "We've Come A Long Long Way Together" tour which begins on November 4.
The mood of this entire mixtape is decidedly upbeat, festive, and dancey; and you're dared to listen to this series of songs without ending it with a goofy grin on your face. Fatboy Slim wields his taste to carefully select a cohesive range of dance music – mainly Latin-influenced dance music replete with reggaeton elements, nostalgic melodic house, and classic tech house. Even if you're just listening on headphones at your desk, it's like you can smell the ocean from the beach party or feel the sun on your shoulders as you revel in a vibey outdoor day party, with each rhythm and instance of uplifting house music chords transporting you to a paradise of good vibes and even better friends.
From that first opening track, a growling vocal describes how wonderful it feels to be able to be back with your friends, with (hopefully) the worst parts of our lockdown isolation behind us. After all, home is where the heart is, and this mixtape is the ultimate welcome home. By combining a mixture of modern and old school elements throughout – for example, including a song from Groove Armada but also an Eats Everything remix and Kyle Watson song, or including tech house songs that are a flashback to that more OG rave era – this mixtape will appeal to the kids and the heads. There's also an element of cheeky spunkiness as many of the tracks boast playful, repetitive lyrics, like the lines "can I take my mask off" in "Pinkie / Juice (Acapella)" and "shake that ass" in "Shake That / I See You Baby (Fatboy Slim Remix)."
On Welcome Home, Fatboy Slim provides the body and movement to remind you that summer isn't over, and the themed nature of these mixtapes will be sustained throughout the 12-week series. As a natural growth of his widely popular weekly lockdown mixtapes in 2020 that put the rave in "Kitchen Raving," it's no surprise that Fatboy Slim has managed to deliver once again.
Coming up, you can expect to see themes like Re-Edits, Ibiza, and Disco to keep you locked and excited. We cannot wait to see what he puts forth on the next mixtape drop this Friday, August 20. Listen to the debut mixtape for Fatboy Slim's Everybody Loves a Mixtape series on YouTube or on Apple Music and Mixcloud, and let us know what you think!
Stream Everybody Loves A Mixtape – Volume 1 (Welcome Home) on YouTube:
---
Tracklist:
Roland Clark, Bruise, Gregor Salto, BCUC – Glad You're Home (Acapella)
Kideko & Saffron Stone – The Music (Mixed)
Papa Marlin, Knicked, Lizzo – Pinkie / Juice (Acapella) [Mixed]
Dave Spoon – Steels (Mixed)
Kurd Maverick – Dancing To (Mixed)
Ultra Naté – Free (Live Your Life) [Ibitaly & Gregor Salto Remix]
JM, D-Tek, Groove Armada – Shake That / I See You Baby (Fatboy Slim Remix)
Nicole Zucchi, Madonna, ID – Shuffle / Into the Groove (Acapella) / ID
Shermanology – Bon Bini (Mixed)
MD X-Spress – God Made Me Phunky (Eats Everything Remix) [Mixed]
Stylo, Space Motion, Dominic Strike – Yeke Yeke / Heartbeat (Acapella) [Mixed]
Kyle Watson, Roland Clark, Mr Hermano – My Level / All My Friends / Hypnotista (Ambient Dub) [Mixed]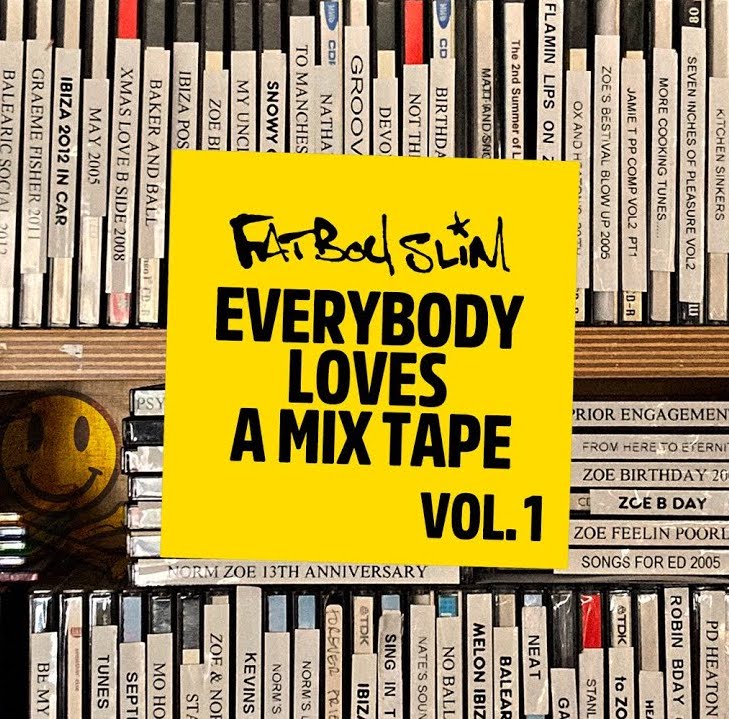 ---
Follow Fatboy Slim on Social Media:
Website | Facebook | Twitter | Instagram | SoundCloud | YouTube