We caught up with Louis The Child to chat about their newest single, the Euphoria universe, and their favorite restaurants on tour!
---
Over the course of the past six years, Chicago-based duo Louis The Child has paved their own way as one of the largest names in dance music– producing anything from pop and house to future bass and everything in between. This year, the boys have been expanding their new universe, Euphoria, which throws it back to the dance music scene in 2010, with the freedom to throw your hands up and dance, as well as lots of neon body paint and clothes of course.
After the announcement of Euphoria, Louis The Child has steadily released singles throughout the summer in order to further create that universe for their fans. Today, they've released the latest addition with a fresh single, "Hate U Cuz I Don't," a funky summer pop track featuring singer/songwriter Bea Miller. Alongside the track they also released an accompanying music video featuring artful editing and creative camera angles of the three artists; truthfully it looked like a really good time. 
Louis The Child has been busy since live music has made its return, trotting the United States to take the stage on the Euphoria tour that kicked off earlier this summer. Luckily, they found some time to sit down and answer some questions we had about Euphoria, "Hate U Cuz I Don't," and their Chicago roots. So check out the video below, download or stream their new tune on your favorite platform, and read on to learn more about what's to come.
Watch Louis The Child, Bea Miller – "Hate U Cuz I Don't" on YouTube:
---
Hey Louis The Child, thanks so much for taking the time to chat with us today. How have you guys been holding up during one of the hottest summers we've experienced to date? 
Freddy: No problem! The first few dates on tour were pretty exhausting in Arizona and Las Vegas but afterward, it's gotten easier! Been watching lots of YouTube and reports about the climate and I'm pretty worried about the future, climate-wise.  We partnered with Carbon Neutral on this tour to offset the greenhouse gasses we produce. They count our bus miles, plane travel, etc. and plant trees and plants, etc. to neutralize our greenhouse gasses emitted on tour. The shows have been amazing so far, though!
Robby: I've been sweating a lot.
Earlier this year you said that the Euphoria project is centered around the vibes from the scene a decade ago, can you share how you channeled that energy into the album that's to come?
F: I grew up going to Lollapalooza, which brought lots of amazing artists through Chicago.  And also Spring Awakening fest in Chicago had so many great electronic musicians coming through. I was in a Facebook group with some older kids in my high school that all shared the electronic music that was coming out at the time, and we were all listening to Wolfgang Gartner, Porter Robinson, Skrillex, Swedish House Mafia, deadmau5, Nero, Diplo, Tommy Trash, Mat Zo, Rusko, etc.
Today's electronic music landscape has evolved a lot, with future bass, trap, hip hop, and the modern house sound pushing producers in new directions. I was feeling like the sound and energy that made me fall in love with dance music was starting to dissipate. So Robby and I went back and started listening to and watching videos of 2009-2014 EDM shows and remembering great moments at the shows we were at. The overall "euphoric, put your hands up and feel free" type of energy mixed with some modern sounds is what we wanted to make.
How has Chicago shaped your music taste and what elements of the city's musical history influence your music the most?
F: Chicago made me who I am. Things would be different for me without it. When I was 7 or 8, I was out in my backyard, and I heard drumming coming from my neighbors' attic, and I was drawn to it. I knocked on their door and ended up getting a quick drum lesson, and after that, I was obsessed with drums. I eventually took lessons at a local music cafe called Boocoo with a fantastic drummer, Jeff Lien.
In Chicago, there was a jazz organization called Midwest Young Artists that I joined as a drummer. My mom's dad was playing in jazz bands all around Chicago and I'd sometimes sit in with them. From a young age, I was in love with jazz, hip hop/rap, and then Lollapalooza brought me some huge inspirations with the Chili Peppers and Modest Mouse, and a few years later, Rusko, Diplo, Flux Pavilion, Modeselektor, Skrillex, Excision, Dillon Francis, etc. So many moments that shaped me were because of Chicago's musical and artistic history and energy.
R: As Freddy mentioned, there were always amazing artists coming through the city to perform and that sparked my love for live music at a young age. I got to see so many great shows and have parents who nurtured my love for music throughout my life. Access to everything is a game-changer. In terms of Chicago's music legacy, Freddy and I are huge Kanye West fans and I was obsessed with Fall Out Boy in the mid-2000s. Knowing that members of FOB were from the same area as us showed me it was possible to make it in music.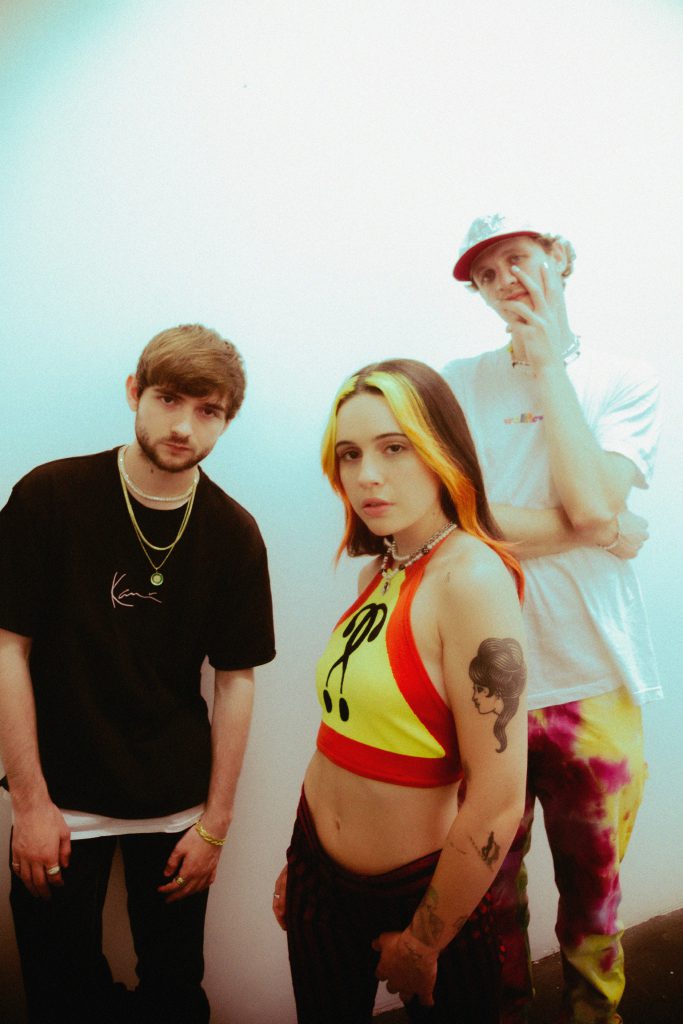 Your newest single and music video "Hate U Cuz I Don't" with Bea Miller fit so well with the rest of the Euphoria singles. How did you guys get linked up with Bea Miller? What was the production process like for that track?
It's interesting because we actually wrote that song before we finished up Here For Now. I think we got connected through our friend, Jessi Jamz, who used to tour with us and works with Bea now. Bea came in that day talking about this situation with a boy and we just took all of that and put it into the lyrics. It's cool that it fits perfectly into Euphoria because we were in the Here For Now headspace when we wrote it. Sometimes you're writing for projects you haven't even come up with yet. 
You're about to embark on the Euphoria tour with stops in Austin, Charlotte, Seattle, and Aspen. What type of production can fans expect who are catching one of the shows? Will you feature live elements like you did on the Here For Now tour? 
On the Here For Now Tour we played a lot of instruments and sang on stage because it felt like the best way to present that music. With the Euphoria Tour, it feels best to present it in a DJ set. We had a whole year and a half to create new songs and remixes so the show feels really fresh and exciting on the music side. We really focused on only playing songs that felt like they fit into the concept of Euphoria. On the lighting and video side, it feels like the best show we've put together. Scott Philibert, Christian Jackson, and Parker Shore all brought their A-game this tour and it feels great. 
While every stop on the tour will be something special, are there any specific cities that you're excited to be returning to, especially after the past year of no live shows?
F: I think Red Rocks and North Coast Chicago are the ones I'm looking forward to the most, but so far all the shows have been so much fun, I'm excited for all of 'em!
R: Red Rocks is always special for us so I'm definitely looking forward to that one a lot. Everyone tells me Brooklyn Mirage is an incredible venue so I'm stoked to play there too. Overall though I'm just happy to be back doing shows.
What are your inspirations for Playground Radio, will there be more playground shows across the US in 2022?
We feel Playground Radio is a great place for us to show people our music taste. Some days we're listening to new music, sometimes it's classic rock, 90s hip hop, some specific genre of dance music, world music, anything we can find with some emotion and a nice rhythm.
We take the same approach to our Playground Shows where we DJ whatever we're vibing on at the time and just go with the flow. The Playground Shows are really fun because it's a time where we feel free to experiment and try out new music without feeling the pressure of having to play a bunch of our own music. Our fans seem to really like it too which is a great sign. 
Along with your Euphoria tour, you recently brought your Playground show to Boston for two memorable nights– not to mention that boat party– as well as announcing another set in Tempe. Do you have any plans to have more of these shows pop up while on tour or is this something that will be shelved until 2022?
Definitely! Playground shows are usually the after-parties and late-night shows, but it was really cool to spend a weekend in Boston doing only Playground Sets. That Boston weekend was a great proof of concept that we can pull up to a city with that type of show and people are down with it. More of them will probably pop up along the tour in the form of after-parties.
Last year you guys released the second installment of the Candy Beat Tape series. How do you feel these releases have helped you grow artistically over the past few years; will there be more of these releases in the future?
The Candy tapes are so much fun to put together. We get to put out fun musical sketches/experiments with less pressure than a usual EP or album release. They're more focused on production and each song flows into the next like a DJ set. We have a cool concept for a new beat tape with a new name to come out sometime in the near future. We're excited about that.
Many artists have expressed that they've experienced creative blocks with all the problems going on in the world today. Do you have any tips for producers that feel stuck to help them break free?
F: We work with a method of 1) allowing music to be a freeing and liberating experience and 2) write a lot, release only the right ones. I look at the term creative block, and think, oh there's a block, so get rid of the block and let whatever you're feeling the flow. Rob and I will sometimes write raps about the most random things, like sending a pop tart in an Uber to the airport. And we'll be laughing for hours, just being creative. Then when you sit back down to write something serious or about reality, you're less in your head about it. 
The best thing a musician can do to make better music is practice. Spend hours in front of a piano or a drum kit or a notepad. The wolf you feed is the wolf that grows.
Finally, just for fun, what's one restaurant– anywhere in the country– that you can't pass up while you're on tour?
Raising Cane's
Lou Malnati's
Potbelly's
Sorry, that was three, they're all very important though.
---
Follow Louis The Child on Social Media:
Website | Facebook | Twitter | Instagram | SoundCloud | YouTube