The Gallery Sessions Series is bringing some fantastic artists to the stage in August with 28mm, Julian Gray b2b C.H.A.Y., and more.
---
Sundays have had a slice of truly amazing music ever since the Graydient Collective launched their Gallery Sessions series on Twitch late last year. A seemingly endless supply of fantastic beats from established artists and fresh faces alike have graced the series, along with some representation for their visual arts side as well. Now, on the heels of their showcase in LA with Space Yacht and Understated, as well as the news of their forthcoming Colors, Vol. 3, Graydient Collective has unveiled the full lineup for their run in August.
Pablo Artigas kicked off the month in style on August 1 with a stunning set, and now things are getting kicked to the next level during the following weeks. Members of the collective that will be featured on the upcoming volume of the Colors compilation are set to take the reins with Julian Gray and C.H.A.Y. taking over the decks on August 8 for a b2b you simply won't want to miss. Then, NoVinum will dominate minds with a set on August 15 to help ease into the second half of the final month of summer.
Related: Did you miss out on past editions of the Gallery Sessions series? Head over to Graydient Collective's YouTube channel to dive into the archived performances.
Charlotte-based artist Whenuknow will join the Gallery Sessions series on August 22 to keep the vibes rolling on, and you won't want to sleep on this set if you want some house grooves. His Anxiety EP found a home on Space Yacht Records earlier this summer and is filled to the brim with sensational sounds to soak in. Then, a familiar face named 28mm is set to bring the month to a close on August 29 and is sure to bring his unique style along with him. After delivering the massive tune "Air" with Julian Gray and Forts, if he's not been on your radar yet there's no better time than now to get him to the top of your list.
Make sure to follow Graydient Collective on Facebook and Twitch so you know the moment they go live, watch each episode below, and stay tuned for more from this fantastic group of artists in 2021!
Tune in to Graydient Collective's Gallery Sessions series on Twitch:
---
Graydient Sessions – August 2021 Schedule: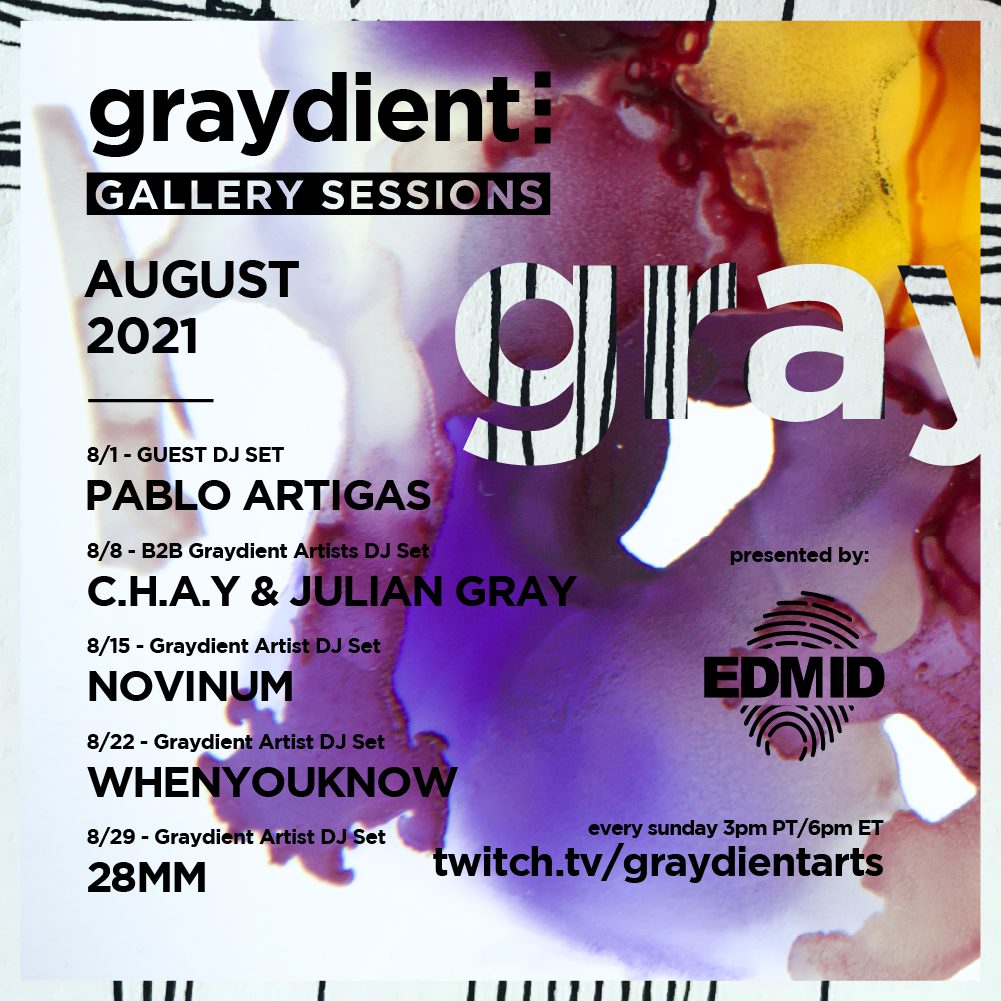 ---
Follow Graydient Collective on Social Media:
Website | Facebook | Twitter | Instagram | SoundCloud | YouTube | Twitch