On the hunt for a fresh progressive house tune to fall in love with? Julian Gray, 28mm, and Forts have you covered with their track "Air."
---
While the resurgence of progressive house in the dance music scene might have been slightly slowed due to the loss of live events in 2020, artists within that realm have continued to deliver some fantastic releases to keep everyone grooving to the beat. Now, with the onset of the summer and brighter days ahead, Julian Gray and 28mm have put their minds together with Forts to create an absolute stunner in the form of "Air."
This pairing is a match made in progressive heaven as each artist involved in the creation of "Air" has quite a catalog of impressive soundscapes. Julian Gray has landed releases on labels ranging from Anjunabeats to mau5trap, while also curating tunes on Graydient Collective and crafting his unique progress-o sound. 28mm has been rising through the ranks at a rapid pace, recently finding a home on PRGRSSN and Lowly while flexing his immense skills behind the decks as well. And Forts might be one of the freshest faces in the scene, but this Arizona-based duo is already causing a stir with their singles "The Dogs" and "Moonshot."
So when they came together to create "Air," some magic clearly happened in the studio. This atmospheric tune on Enhanced Recordings brings the precise production techniques Julian Gray and 28mm have and pair it perfectly with vocals from Forts to take it to the next level. After a short intro featuring some serene progressive elements, the lyrics arrive which are both relatable and impactful as they draw upon emotions many have felt of being stuck and held underwater.
Speaking about the track on Instagram, Mary Clare of Forts said, "It was written after a long year of me (MC) dealing with some health issues. They really took a toll on me, and I found myself feeling like I was underwater – wishing I could thrash my way out of the situation. I felt so stuck. My mental health started to slowly erode, leaving myself exposed to developing severe anxiety, which led to panic attacks, and the now-so-familiar feeling of not being able to breathe."
Mary Clare went on to explain that the lyrics are also about her reliance on her bandmate, Colton, who gave her strength to get through the hurdles she faced, and the hope she has for the future. And if there's one thing you can take away from this track, it's that there really are brighter days ahead for all of us if we just take some time to breathe. So take a moment, sit back, and give this track a spin, because it will fill you with uplifting energy to get you through the rest of the year.
Check out the lyric video for "Air" below, stream or purchase the track on your favorite platform, and let us know what your thoughts are in the comments!
Watch the lyric video for Julian Gray, 28mm, and Forts' "Air" on YouTube:
---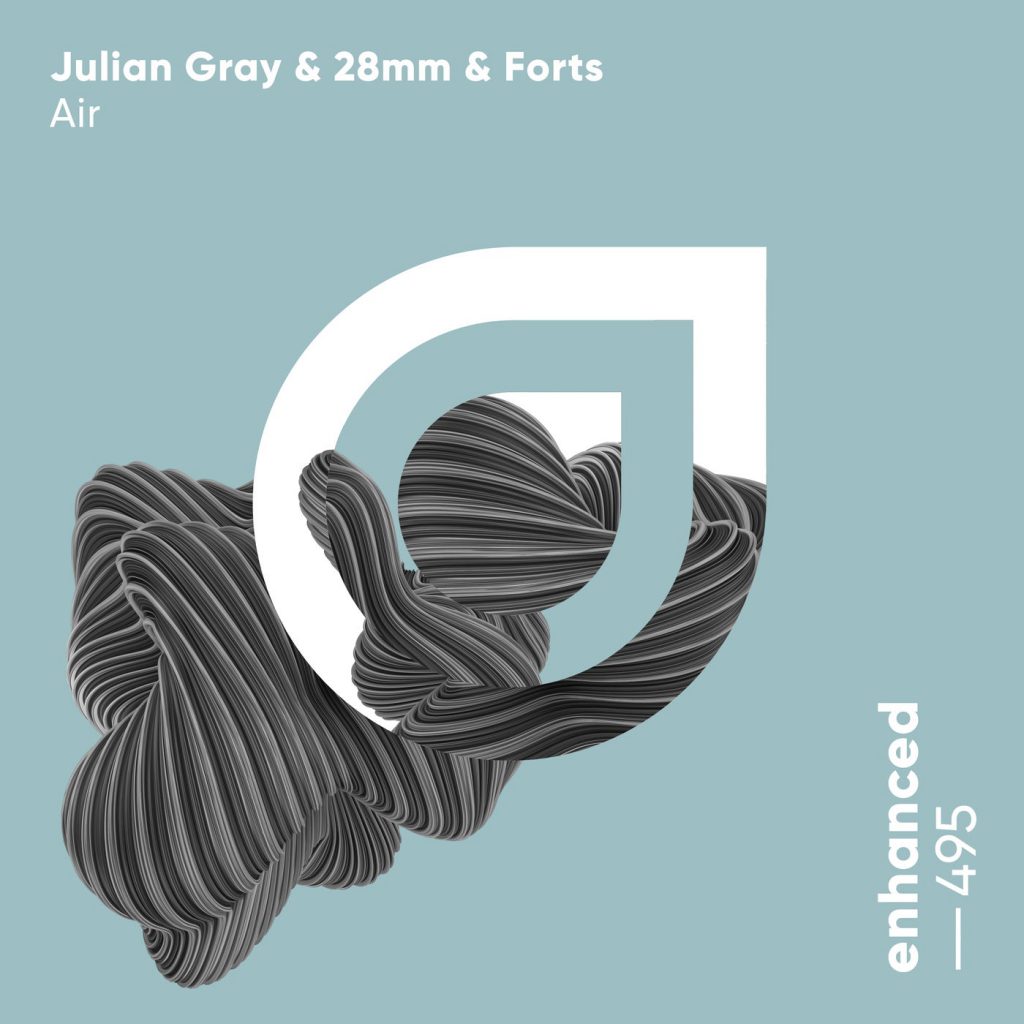 ---
Follow Julian Gray:
Website | Facebook | Twitter | Instagram | SoundCloud | YouTube
Follow 28mm:
Facebook | Twitter | Instagram | SoundCloud | Spotify
Follow Forts:
Facebook | Twitter | Instagram | SoundCloud | YouTube