Defqon.1 At Home connected Weekend Warriors from 115 countries and made for an epic celebration for its second year running.
---
Defqon.1 At Home has come and gone for the second year in a row – and hopefully the last before fans get to reunite in person. Over the course of four days, Q-dance took fans from all over the world on a creative, mind-blowing journey through hard dance music from The Gathering to the Closing Ceremony on their newly minted Q-dance Network. Of course, fans also got to experience the traditional Power Hour, but this was presented in the format of "the worst film ever," and they also featured the Warrior Workout and a number of Zoom rooms as well.
Despite being a virtual festival, Q-dance sought to create the experience closest to being in-person and exceeded all expectations. During the day (or night if you watched in the United States), Defqon.1 At Home showcased the best of the best and even after it was over, still gave fans a truly live experience with the addition of The Wasted Lands after party. This was one of my favorite parts every day because you never knew what to expect, as The Wasted Lands was live and unscripted. There were incredible sets including The Roughstate Alliance and a very entertaining Sound Rush and More performance where they were "joined" by many friends including Angerfist and Gunz For Hire.
I was very impressed with the dedication that Q-dance has for delivering the best experience to its fans. Not only do they care, but they also care about solidifying hard dance music as the most beautiful, extravagant, and emotional music in the universe. As someone who has never been able to attend the in-person Defqon.1, this edition of the festival made me feel a part of the action and included in the Weekend Warrior tribe. After watching and listening to four days of madness, it only further deepened my desire to experience this in person and be united with other hardstyle lovers at the Holy Ground in 2022.
Before we dive into the recap of the weekend, one thing I wasn't the biggest fan of was that Defqon.1 At Home sets are stuck behind a paywall. Essentially, if you had purchased a ticket and missed one of your favorite sets, you're out of luck unless you subscribe to the Q-dance Network. However, this isn't anything I hold against Q-dance because someone has to pay for those incredible fireworks, but it would be great to be able to re-watch sets at least once if you bought a pass. Regardless, they still put on a great show from Thursday – Sunday, so let's get into all the action.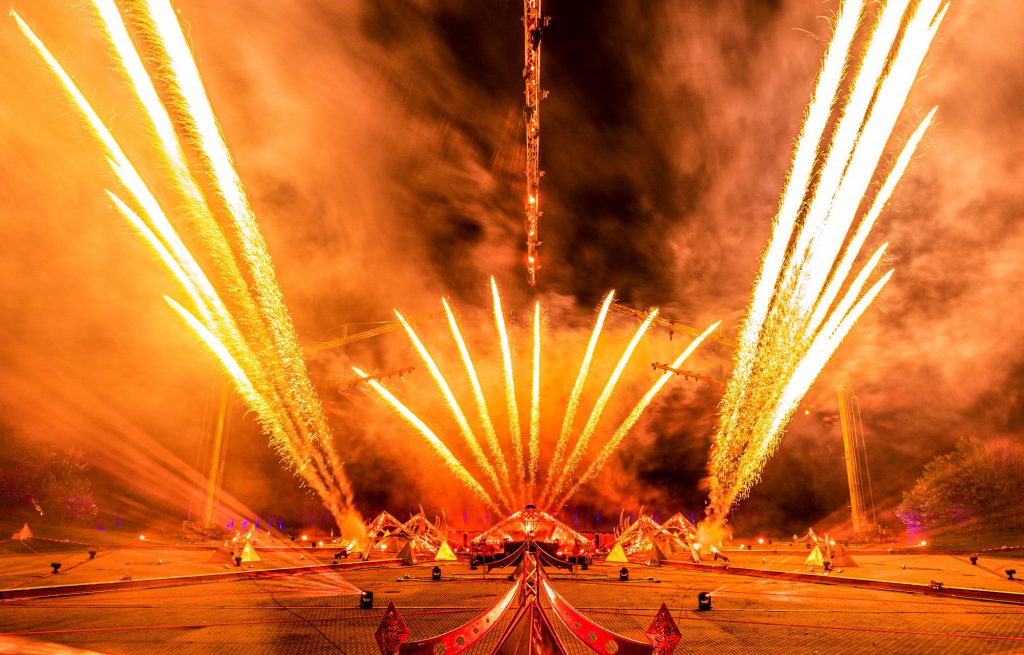 The Gathering was an epic warm-up to the weekend with amazing sets from the biggest names in hardstyle.
The day got right into the energy with a beautiful sunset performance from the one and only Wildstylez. He brought the powerful, euphoric melodies to set the mood and prepare the Weekend Warriors for the madness that was about to ensue. As soon as the sunset and night fell, we got a taste of the incredible production that Q-dance is known for. A highlight of the set for me was when he played the Wildstylez remix of "Radio Love", as it's been one of my favorite recent records by him.
Q-dance is known for its incredible production, and they went above and beyond this year complete with brand new stages. After Wildstylez, Coone took the decks to highlight another one of the stages the festival had to offer this year. He played a highly emotional set, and it was obvious he misses all of the Weekend Warriors, as do I. He played many current tunes and even premiered Firelite's brand new remix of Coone's record with Scope DJ, "Traveling". This was truly a treat for the nostalgic fans like myself that got attached to Coone's sound via his highly acclaimed album The Challenge.
After this epic warm-up came my favorite set of The Gathering. Dr. Peacock and Sefa took the "stage" to introduce the world to their Symphony of Freedom. Usually, Dr. Peacock has his orchestral live show at Defqon.1 but this year he recruited his prodigy, Sefa, to be part of the show and it made for an incredible experience. Not only was this set complete with violins, cello, piano, vocalists, and clarinets, it was also in the middle of the ocean!
This was by far the most beautiful and unique set I've ever experienced. Dr. Peacock and Sefa understood their assignment and excelled. Like Sound Rush said afterward, "Thank you Sefa & Dr. Peacock for bringing back the emotion in music." These two truly showed that Frenchcore music doesn't have to be a purely "hard" genre, and there's lots of room for innovation, emotion, and melodic sounds.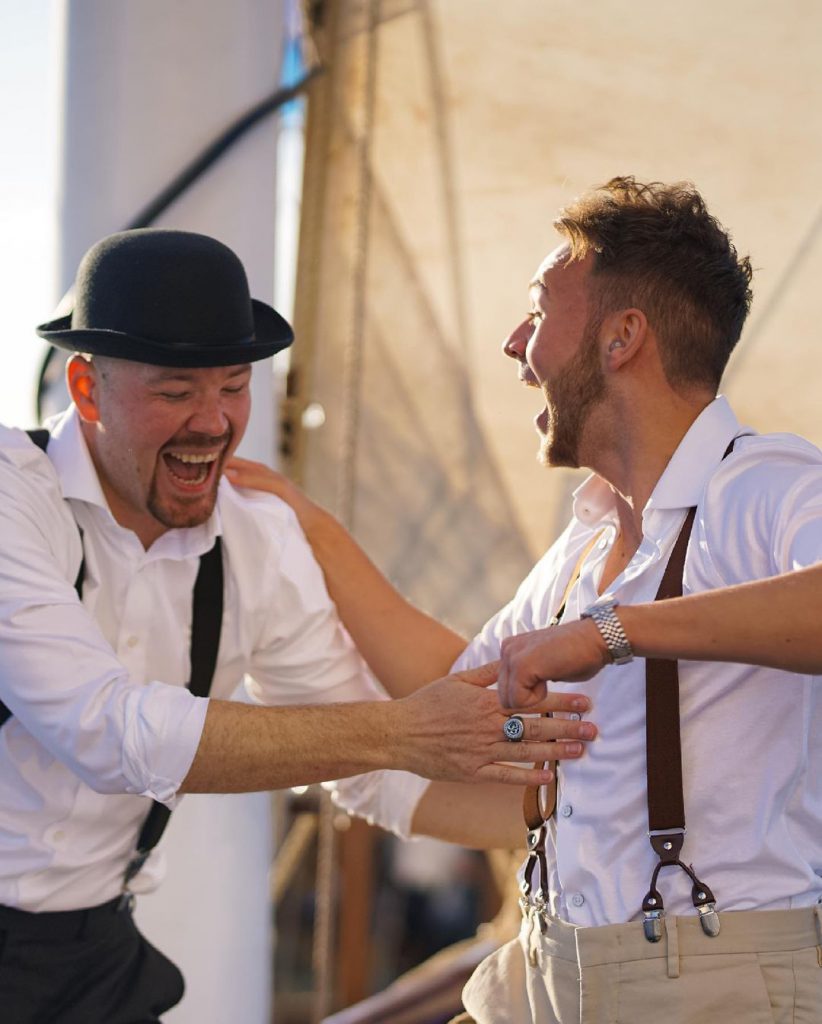 It was really hard to top this amazing set, but if anyone was going to, it was Adaro.
Adaro came back to the Blue stage to introduce the Weekend Warriors to the world of rawstyle. There was something missing up until his set, and it was the aggressive, brutal, and distorted kicks dedicated fans have come to know and love. Raw sets are usually forward-moving with no breaks, but Adaro found the perfect balance between distorted kickdrums and powerful melodies. In addition, he also premiered a brand new, highly anticipated Gunz For Hire record, "A Hard Knock Life".
Miss K8 brought the speedy hardcore sounds to the stage when she took the privilege of closing down The Gathering. Miss K8 also closed down the last in-person edition of Qlimax, Symphony of Shadows, so it was amazing getting to see her tear the stage up and close such an important event once again. She brought the ground-and-pound kicks with the drifting screeches showcasing her signature sounds and the best that hardcore has to offer. I was particularly happy to see a woman headlining such an important date and ceremony in the world of hard dance. Anything is possible, and big ups to Q-dance for putting women in positions of power.
After The Gathering, everyone was aching for more tunes. Luckily, Q-dance gave us a little after party called "The Wasted Lands" showcasing the best in rawstyle music on Thursday. This was truly a test of your endurance as we got massive sets from the leaders of rawstyle including Ran-D, B-Front, Rejecta, Digital Punk, and another edition of the Roughstate Alliance. This marked the end of Thursday and was a day for the books, only to be followed by an epic Friday.
Friday, the first full day of Defqon.1 at Home, was full of incredible sets.
Q-dance kicked it off with D-Block & S-Te-Fan for a beautiful euphoric set where they went on to play a number of unreleased records including a brand new collaboration with Frontliner and the premiere of "Enter Your Mind", the lead single off their upcoming album. After DBSTF, the show went straight into rawstyle mode with sets from Luna, Crypsis, and then there was an interesting hard techno set from Formshift.
Friday was dominated by rawstyle and hardcore with exceptional sets from Mr. Ivex, The Viper, DRS, Deadly Guns, and more. I loved all the rough kicks, but I was really excited for Stormerz because he released one of my favorite records this year called "Can't Breathe." He stood out to me because he brought the fans back to pure hardstyle with euphoric melodies among all the chaos of the harder genres.
Another standout set from the day was Phuture Noize presents Electronic Heartbreak Live, a performance complete with the vocalists. Phuture Noize's Electronic Heartbreak was released on June 24, so this was the perfect celebration for this new album. The entire purpose of this album was to showcase his advancements in harmony and songwriting and he proved he's gained knowledge in those areas as all of the records struck emotional chords but still smashed the dancefloor.
Atmozfears and Sound Rush also made their Defqon.1 debut as 2//\\1 – and it was nothing short of epic.
The trio introduced the world to the project at Impaqt in 2019 but never got to perform after that due to the ongoing pandemic. They finally got to show the world who they are at Defqon.1 with a set full of unreleased music, including one of their highly anticipated records "Come Back Home." There were at least three unreleased records and remixes in their set, so this is only the beginning for one of hardstyle's hottest new groups.
After the day was over, Q-dance took the Weekend Warriors back to The Wasted Lands for a hardcore party featuring DJ Promo, Evil Activities, Nosferatu, N-Vitral, and Partyraiser & Bulletproof to cap off the Friday festivities.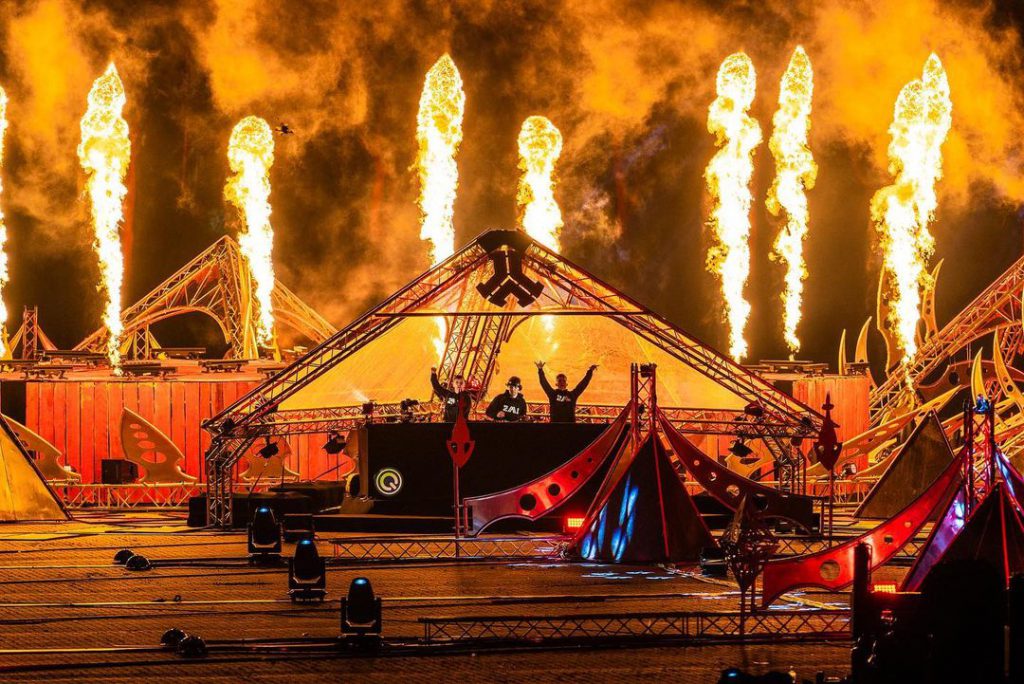 Saturday was jam-packed with the best names in hardstyle, but it all started with the Warrior Workout.
The Warrior Workout was an interactive part of the festival which I highly enjoyed. Not only did it have me pumped at 2am, but it also kept me awake for the madness that followed. Following the Warrior Workout, Rob Gee got to showcase his eclectic style in a speedy set that took fans back in time for some proper Gabber. As the only American on the lineup, Rob Gee did us proud and I hope that more artists get the opportunity to represent the United States at Defqon.1 in the future.
Later in the day came "probably the worst movie ever", Power Hour the Movie. To say the least, this was a chaotic and fun way to deliver the Power Hour that only the twisted minds of Q-dance and MC Villain could come up with. The film was complete with cameos from the biggest names in hardstyle and was backed up by the best records to get you moving and grooving, like the hardstyle remix of Tiësto's, "The Business". Taking nothing away from the film, I hope this is the last time we see a Power Hour movie because it only made me miss the live celebration much more.
Another standout set during Defqon.1 At Home came from MYST, who has had quite an impressive year with the release of an album called Trinity. Needless to say, he's been one of my favorite producers of 2021 and he surprised fans with hard-hitting tracks that contain an abundance of emotion. His Defqon.1 At Home set, Trinity, was a perfect representation of how the album should be heard, and I cannot wait to see this specific show live in person.
After an emotional set, MYST was followed by Warface who brought back the rawstyle with screeches that pack-a-punch. Then, legendary artist Headhunterz followed with a set like no other. Apart from the songs fans know and love, Headhunterz previewed records from his brand new Art of Creation sublabel, Eternity, which brings Last of Us, JGSW, and A-RIZE into the family. After a beautiful performance from Frequencerz, the day culminated in the epic, jaw-dropping Endshow complete with beautiful melodies, fire, and many, many fireworks.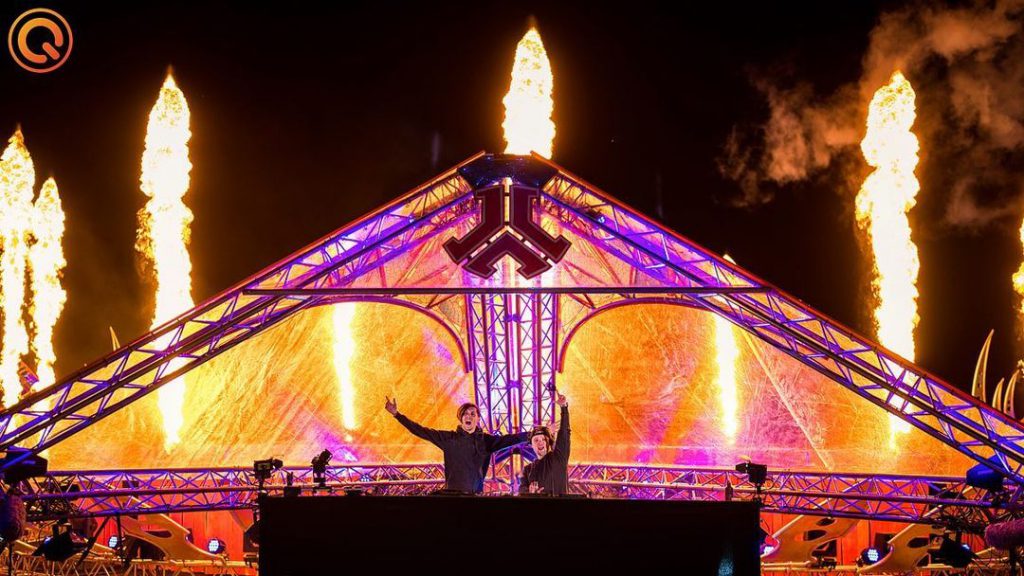 The final day of Defqon.1 At Home was a bittersweet moment.
Over the course of three days, I came to love this virtual festival and really didn't want it to end. Nonetheless, the show went on, and Sunday was the perfect day to say goodbye until next year. Max Enforcer and Da Tweekaz had great sets with melodies that strike your emotions and Sound Rush brought "The Great Escape" to the show as well.
Later on in the evening, Sub Zero Project took the stage to present their new era of music including "Halo" and "A New Beginning." And the Defqon. 1 Legends set also was filled to the brim with stunning tunes as D-Block & S-Te-Fan, DJ Isaac, and The Prophet took fans back in time with classic records and new spins on the golden hardstyle tunes.
Act of Rage & Rejecta had been a set I wanted to experience for a long time, and they absolutely smashed the stage. D-Sturb took the blue stage and set it on fire with kicks that pierce your chest and monstrous screeches that send chills up your spine. The only person that could follow it up was Angerfist who brought the classic hardcore sounds to the stage playing his biggest hits including "Solid Stigma" which perfectly represents his unique hip-hop-influenced style.
Finally, the festival ended with the Closing Ritual. Just like the Endshow, it was a grand spectacle that can only be truly experienced in person to understand the beauty and marvel. I'll just have to wait until next year to see it for myself, but Q-dance pulled out all the stops to make this edition something special for the global hardstyle community.
Overall, Q-dance put on an epic celebration so that hardstyle fans around the world could connect and feel "at home."
If Defqon.1 At Home showed me anything, it's that as a fan, I want hardstyle to thrive in the United States so we can eventually get something similar, or even a return from Q-dance to the states. For that to happen, the community in North America needs to come together and advocate "hard" for hardstyle and the many subgenres of hard dance. Hard dance is still very much a DIY scene, but it can grow and go to places it's never been before if the producers and fans become a collective supporting each other.
Q-dance didn't have to do any of this for their fans around the world, and especially not on such a large scale, but I think I speak for many in saying that we are grateful they did. After my experience over the weekend, all I can say is "thank you." Thank you to Q-dance for always going above and beyond for their fans to deliver the greatest experience possible, and thank you for connecting millions of people worldwide for what I think is the most beautiful sound in the universe. Hard dance is here, and it's here to stay. We hope to see you at next year's Defqon. 1!
---
Follow Q-dance on Social Media: