As bass DJ and producer CANVAS continues her rise to stardom she swung by to chat about recent releases, industry diversity, and UNTZ!
---
If you're into the body rocking thump of the bass then CANVAS is a name that you're going to need to keep close on your radar. She's an incredible Atlanta-based artist on the rise who creates insane beats that smash you square in the gut! When she takes to the stage, she drives the journey with immense amounts of energy, weaving us through unexpected twists and turns, fueled by an unyielding passion that she makes evident from her interactive movements behind the decks.
CANVAS' future-forward, outside-of-the-box creativity, and fearless attitude have caught us hook, line, and sinker – and her releases have us flipping out for this hungry dream chaser. Take one gander at her brand new track "Call Me Freak" and you'll feel every hair on your body vibrate with electricity and then throw on "Strange Signal" and give in to an alien abduction as the edgy sound patterns inspire an out of body reaction. But, it goes even deeper than that.
CANVAS is so invested in her fellow humans that she created a track called "How To Grieve," which came with a special message in the hopes that it could help her fans find the solace they need in tough times. There's also "My People" which was inspired by the concept of unity through diversity, a topic she dives into later in this interview. With so many deep layers, it's no wonder she's a fan favorite on the party circuit, delivering the thunder at Shaky Beats and The UNTZ Festival while preparing to make waves at Equinox this September in Harmony, ME.
With the world at her fingertips and the future looking vividly bright, we were beyond excited to catch up with CANVAS and get to know more about her. Continue on for our chat as we explore everything from her musical vibe to her experience in the industry and everything in-between. Of course, while you're reading, press play on her exclusive guest mix and prepare to fall victim to her earth-quaking pulse!
Stream EDMID Guest Mix 283 || CANVAS on SoundCloud:
---
Hello CANVAS! Thank you so much for taking time out to chat with us! Let's get started with a little history lesson. Can you talk about your orchestral upbringing and then dive into how you got your start as an electronic music DJ/producer?
Thanks for having me! I honestly don't remember a time without music in my life. My earliest memories involve me in some sort of band, orchestra, or music-related project. Like a moth to a flame, I've always had an innate draw to music.
I got into DJing when I left for college. In school, I worked in the music department between classes. That experience allowed me to explore specialized sound courses offered, leading me to learn more about sound synthesis. I would spend my downtime exploring different analog and digital synthesizers. My interest spiraled from that point on. I remember truly discovering electronic music like I was hearing it for the first time. DJing and music production came along with that rediscovery.
Coming up in Atlanta, GA, surrounded by a phenomenal array of electronic dance music artists, who are some of your personal influences from the local scene?
Atlanta is so full of talented creatives. After over a decade in this wonderful city and scene, I'd say my local personal influences are more from the underground community as a whole; The hustle, the energy, the artists, promoters, and fans. We have had and continue to have something special here in Atlanta. I do have my local favorites, but my inspiration comes from many here.
For the new bassheads coming to one of your shows for the first time, how would you describe the CANVAS experience? What sets you apart from the rest?
Expect everything and nothing! Nothing is off-limits! I play between tempos, genres, and emotions but the energy stays up and we keep it moving! It's the momentum that elevates our consciousness collectively.
You can expect music from any era. No track is "too old" for me to sample or perform. Why limit expression that way? In that same vein, I don't stick with my tracks only. I'll play plenty of my IDs, remixes, and originals but expect music from artists that inspire me and my sound. Artists that make #GutMusic.
It's a ride every time. Each set is a fingerprint, unique to that crowd's energy, that stage, that space, that time. I give you every bit of me and see every part of you through sound.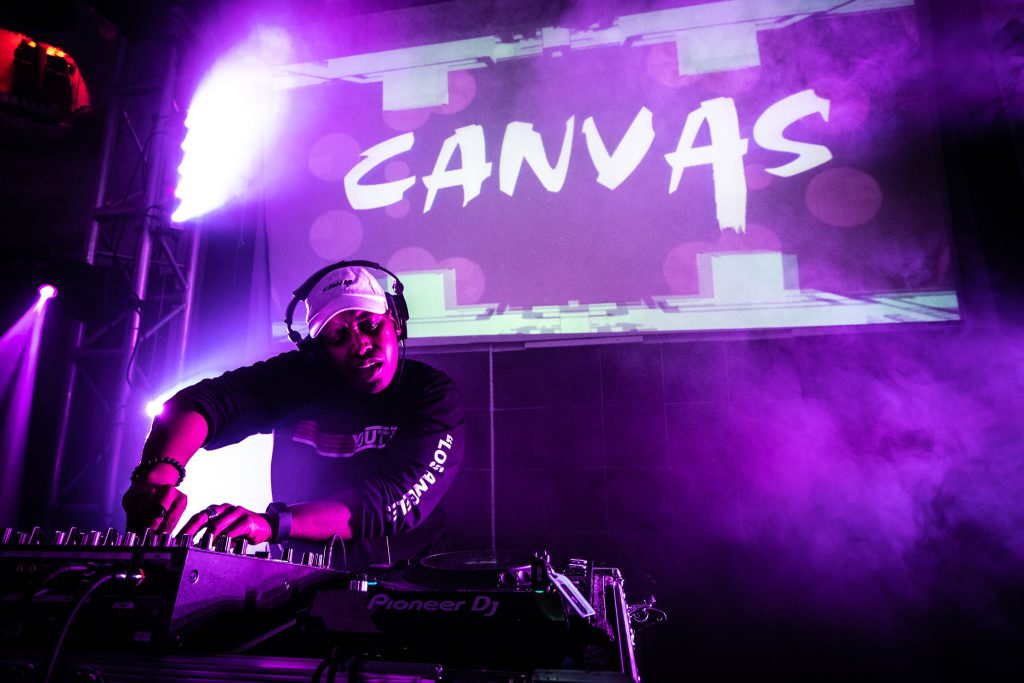 Speaking of the live front, how was your UNTZ debut? Can you talk about some of your set highlights?
The Untz festival was incredible! I loved watching the crowd grow and come to life as I carried the sound through the heat of the day. Shoutout to everyone dancing from their tents right up to the stage! It's fascinating to see sound influence movement and vice versa. You really get to create this special relationship with the crowd and feed off of one another. Having performers on stage was definitely another highlight. That was a first for me like that! I would gladly perform at The Untz any day!
You just performed in New Orleans as direct support for your friend and fellow beatmaker NotLö and you're gearing up to play for VEIL and NotLö in Nashville, TN on August 21. Can you tell us the story about your history with NotLö and can we expect any music collaborations from you two in the future?
NotLö is amazing on so many fronts, shoutout girl! We connected over Twitter and I've been following her sounds for a while. She's definitely one of those people with special energy and stage presence. We hit it off immediately in New Orleans and spent some time together at Sound Haven. She's a treasure!
And we might be thinking about a discussion around the idea of maybe making a song at some point in the near future or maybe not 😏…
Before we dig into your music, I want to touch on an important topic. As a POC and a member of the LGBTQIA+ community, what are some of the challenges you've had to face in your career, and in what ways can the dance music industry do better when it comes to representation and respect for POC/LGBTQIA+ artists?
The industry is by no means perfect but it's definitely making strides, for example, less gatekeeping. I'd like to clap for the progress we've made so far. My challenges, I share with many in my communities. From only getting booked for "all-female lineups", to lower booking offers, disrespected time slots, and equipment sabotage, the hurdles have been there. I choose to learn from those moments, adjust my strategy, and embrace my progress.
The change starts with all of us. Change up your environment, your bubble, your think tank. Engage in events that get you out and around people who look and think differently than you. Talk to someone different and look to find common ground. Like working out to grow muscle, work to expand your mind and assumed beliefs; challenge them. The music industry is just one of many mirrors of our society, and the challenges we face as a union. For the industry to change, we must fundamentally change as human beings. I'm hopeful!
That being said, your track "My People" comes with a beautiful message. You stated that your inspiration was to craft something that reflects the idea of unity through diversity. Can you dive deeper into that concept for us?
Of course. Our differences are what make us strong. Unity through diversity is acknowledging that we can create more together by leveraging what makes us different. It's the idea that we can build a better experience by creating with our differences instead of using them to define what we fear. Can you see this? Can you hear that we all fundamentally want the same thing? To be accepted for who we are. That should be unifying.
When you're working on music such as "Dissociate" and "Homebound," what does your studio process look like? What were the most challenging aspects that came up while creating those tracks and in what ways did the result compare to your original vision?
Controlled chaos, haha! It's a balance between utter freedom and defined tasks. Each session will vary depending on the day. A sound design or idea session is silly, flippant, and just fun. A mixdown or arrangement session will be more time blocked and focused. It just depends on the step of the process.
The most challenging aspect is "being done". You work and work on a track, listening to it nonstop, tweaking the subtlest of details, experiencing it evolve. Eventually, you hit a point of diminishing returns where your adjustments aren't having the desired impact on the final track. Or these changes aren't noticeable to you anymore (cue ear fatigue). Finding that point is my struggle! Even when released, a song never feels "done". It's a gift and a curse. It pushes me to learn more, experiment, and grow as a producer… but the feeling lingers!
As a future-forward artist, you recently dove into the AudioNFT game by offering up 5 limited digital editions of an unreleased vocal edit of "B.D.R." from your Tunnel Vision EP. What made you want to get into NFTs and in your opinion, why is it important that we pay attention to this type of digital asset?
We live in a rapidly changing day and age. Information is doubling at unprecedented rates, and we're seeing that influence in the art sector. Diving into audio NFTs is another vein of expression and collaboration in this modern age. NFTs have improved potential to perpetually credit original artists as their art spreads. The importance to me is really the idea of what it represents, giving control back to creatives and making art more accessible.
Looking to the future, what are some of your major goals/dreams when it comes to both studio work and event bookings?
I'm looking to expand my sound into other arenas like film, video games, documentaries, television, etc. This has been on my wish list for a long time!
Collaboration is another big theme for me. I'm collaborating more than ever this year on music, events, and experiences. Curating more atypical experiences and highlighting different artists across mediums. Expect a lot more from me in this area!
Finally, what's something that your fans may not know about you? Any quirky hobbies or interests outside of the music realm that you'd like to share?
I'm obsessed with popcorn. It is the greatest snack!
---
Follow CANVAS on Social Media:
Website | Facebook | Twitter | Instagram | SoundCloud