Alesso and his friends pulled out all the stops to bring everyone Together Again for two dream-filled nights in Los Angeles.
---
When it comes to Alesso, he's a household name that many dance music lovers adore. Since his arrival on the scene, he's worked incredibly hard to show the world his talent and potential. Alesso remained resilient over the past decade as he climbed up the ranks to evolve into one of the most famous dance music producers – and you can't deny that he doesn't deserve all the success that he's seen. 
Over the years, it's been lovely watching him take the stage at festivals, so when Insomniac announced Alesso presents: Together Again at ROW DTLA, dance music lovers in SoCal went ballistic in the best way possible. Not only were we getting live events again, but it was happening in our own backyard. And a new venue to call home, somewhere close enough to popular club venues like Exchange and Academy for the after-parties, of course.
For two glorious days, Alesso recruited a troop of producers to lend their support including BlackGummy, Kendoll, Deorro, Noizu, Anabel Englund, Westend, and more to help him bring attendees together again. And if you attended, you already know how special both nights were, so let's relive them one last time.
Before the ROW DTLA existed, the venue itself was a desolate lot dominated by American Apparel. 
That's right, the American Apparel factory used to be the home of ROW DTLA, but that all changed when American Apparel went South in 2017. Since then, the space has evolved into hip dining, shopping, workspaces, pop-ups, and now a venue for Insomniac Events to use for SoCal ravers. Luckily the area provides an excellent sized parking structure, but parking isn't free, so bring cash if you're attending an event here. The best part is that you're a short walking distance from the event itself, and within minutes of arrival downtown, we were walking in to the heavenly sounds of BlackGummy. 
As expected, Together Again was in a large lot. It's big enough to hold a massive crowd, but the space still feels intimate at the same time. I noticed that the venue hired many event staff, including security and cleaning services, and Insomniac did a solid job at the organization. The bar and food trucks were located at the edge of the event perimeter, leaving a ton of space for the crowd to walk around, rest, and dance. The food and beverage options were top tier and included various options to accommodate dietary restrictions. (Great job, Insomniac.) And as always, I found the agua fresca stand to indulge in a divine jamaica refresher. 
I experienced VIP for once, and it didn't disappoint from a comfort and safety perspective. 
The Delta variant of COVID-19 is determined to disrupt the sacred timeline, and there are concerns about the rising covid cases in California. My sister and I decided to wear a mask at Alesso for sanity purposes and noticed many people doing the same. VIP offered us a close spot to the stage with plenty of space in the back to distance ourselves from people. Keep that in mind if you're worried about covid yet interested in attending shows, VIP could be an option for you. In addition, VIP provided a food truck, private bar, seating, private bathrooms, and VIP purchasers received a pretty neat lanyard, too.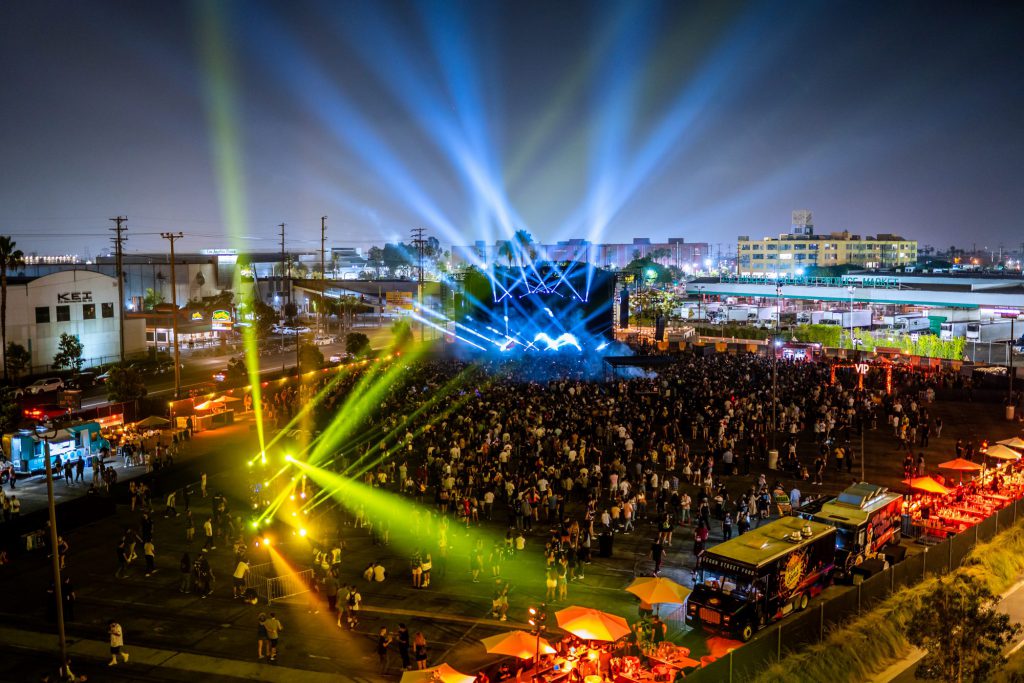 Alesso invited some friends to awaken and warm up the crowd. 
BlackGummy is a gem that deserves more recognition in the industry. He's the creator behind immaculate tracks like "SuperHuman" featuring Colleen D'Agostino, "Lost In Translation," and "The Machine." I fell in love with his music after he opened for Rezz in 2019 and couldn't get enough of him afterward. His set was truly magical, as it was packed with range and booming bass. From there, Deorro entered the chat, and the crowd erupted with force once he stepped on stage. Before I knew it, I was standing behind a sea of panda jerseys as Deorro opened with a slowed-down version of Selena's "Como La Flor" and tossed roses to the crowd.
You can expect Deorro to play the jams that will get bodies moving, and he did just that. The best part about his set was the massive representation of Latinx folks in the crowd. Representation is crucial, so to see such a diverse crowd at Alesso made my soul happy. Deorro dropped songs like "DAKITI" by Bad Bunny and Jhay Cortez, "La Mama de la Mama," by El Alfa, Chael Produciendo, CJ, El Cherry Scom, and "Baila Conmigo" by Dayvi, Victor Cardenas featuring Kelly Ruiz. My favorite part was hearing his track "Five More Hours," which is a true gem. 
I can't deny Deorro's ability to get the crowd hyped, but his set felt like something a club DJ would put together. Unfortunately, certain moments of his set felt scattered and muddled. His transitions were abrupt at times, but the crowd didn't lose a single ounce of momentum.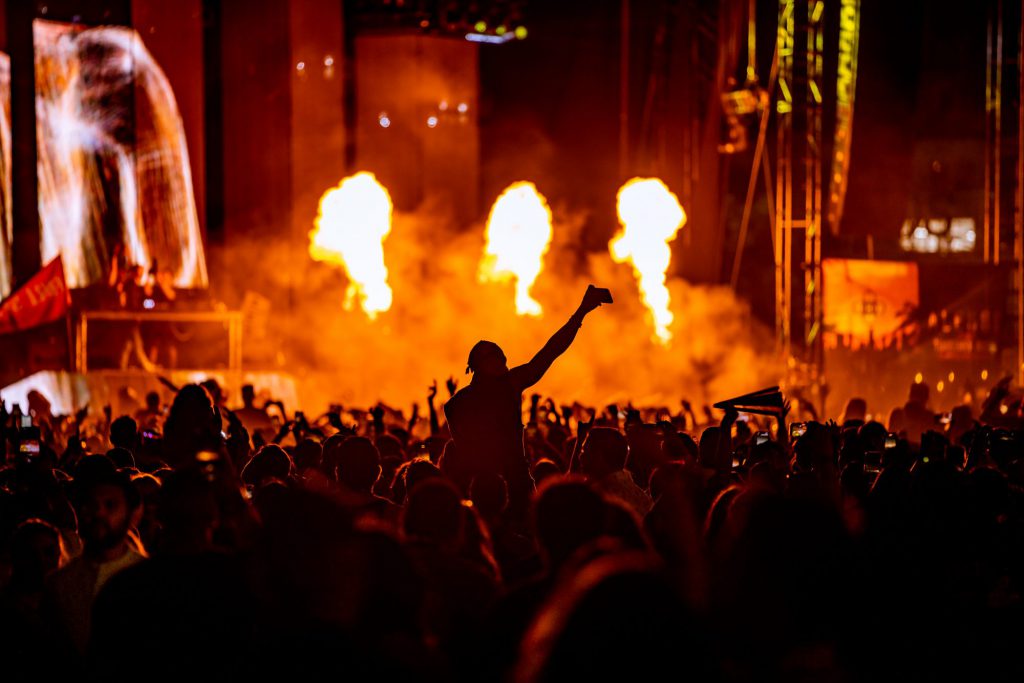 Once the sun went down and the dark skies took over, it was time for Alesso. 
Alesso is always a great time. His sets are always fun and make you feel alive on the inside. And honestly, I couldn't get over the stage production. Everything from the lighting and stage design to the visuals were all on point. The visuals and animations left me speechless, and I couldn't stop looking at the stage in awe. 
From the moment he stepped on stage, the crowd went mental. He kicked things off with "Together" off his most recent project PROGRESSO VOL2, and for the entire two hours, the crowd remained engaged and present. I couldn't help but feel the overwhelming energy circulating in the air. It was contagious. Whenever I looked around at the crowd, I could only see big smiles and happiness. Alesso did a brilliant job of pacing out his set and leaving us all on the edge of our seats. In addition, he showed Swedish House Mafia some love when he dropped their latest single, "Lifetime," featuring Ty Dolla $ign and 070 Shake.
The best moments were when he dropped classics like "Under Control," "Heroes (we could be), "Reload" by Sebastian Ingrosso, Tommy Trash featuring John Martin, his remix of "If I Lose Myself," by OneRepublic, "Going Dumb," and more. To witness people shouting, jumping around, and dancing made everything feel normal again, and nothing compares to that feeling because the last year and a half have been challenging. Alesso creates feel-good music that makes you feel free and euphoric, so hearing all his music in the flesh was needed. 
In closing, Alesso was a pretty good time. 
He accomplished his mission of bringing LA together to let loose and enjoy good music. In addition, the ROW DTLA is a great venue to produce and host smaller-scale shows in the area. In fact, the next dance music event set to take place is Factory 93 presents Boris Brejcha, September 11. Overall, I am genuinely thankful that I got to experience the first dance music show back at the ROW DTLA. I'll never forget it.
---
Connect with Alesso on Social Media:
Website | Facebook | Twitter | Instagram | YouTube | SoundCloud