Looking for a bass-fueled destination festival to attend in 2022? Excision has you covered with Paradise Blue in Cancún!
---
There clearly is no stopping Excision from continuing his domination in the bass music scene. From stunning releases and creating his new imprint Subsidia to hosting festivals and events that have become renowned for their lineups – he's quickly made moves as the scene re-emerges from the pandemic. Now, after dropping insane lineups for Lost Lands and Bass Canyon, Excision has announced the latest festival for headbangers to check out – Paradise Blue.
Set to take place on April 29 to May 1, 2022 at Paradisus Cancún and the Marriott Cancún Resort in Cancún, Mexico, this all-inclusive destination festival is sure to be a headbangers dream. Each room package for Paradise Blue will give attendees transportation to and from their hotel, as well as all the food and drinks they can consume, and access to the music events that will take place at multiple stages around the resorts (including the main stage directly on the beach).
While Excision will be playing three sets during the experience at Paradise Blue, he'll be joined by some of the bass scene's biggest artists and rising stars alike. Names like 12th Planet, ATLiens, Bear Grillz, Kompany, Sullivan King, and Dion Timmer stick out immediately, but others like Hi I'm Ghost, Champagne Drip, YOOKiE, LAYZ, Trivecta, Ray Volpe, and G-REX are ones to not miss as well.
Beyond the music itself, those who make their way down to Cancún for the weekend of fun in the sun can also treat themselves to a number of excursions including horseback riding, a catamaran expedition, and other sightseeing opportunities to make the most of their trip. Pre and post extensions will be available for those who are looking to extend their stays as well. Head over to their FAQ page for more info.
Packages go on sale Tuesday, August 10, 2021 at 12:00 PM PT via their website. Please note that packages can be purchased in full, but also payment plans and other options to pay with friends will be available to ease up on the initial cost.
---
Excision Presents: Paradise Blue 2022 – Lineup: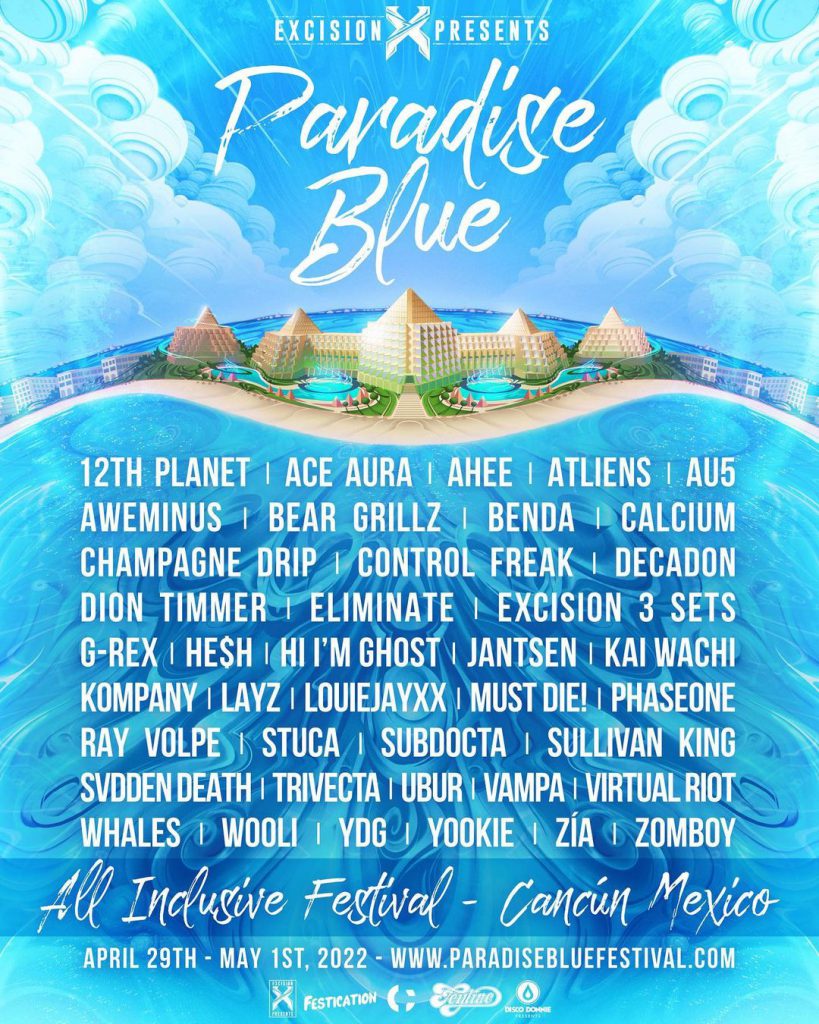 ---
Excision Presents: Paradise Blue 2022 – Lineup By Artist:
12th Planet
Ace Aura
AHEE
ATLiens
Au5
Aweminus
BearGrillz
Benda
Calcium
Champagne Drip
Control Freak
Decadon
Dion Timmer
Eliminate
Excision (3 Sets)
G-REX
HE$H
Hi I'm Ghost
Janten
Kai Wachi
Kompany
LAYZ
Louiejayxx
MUST DIE!
PhaseOne
Ray Volpe
Stuca
SubDocta
Sullivan King
SVDDEN DEATH
Trivecta
UBUR
Vampa
Virtual Riot
Whales
Wooli
YDG
YOOKiE
ZIA
Zomboy
---
Follow Excision on Social Media:
Website | Facebook | Twitter | Instagram | SoundCloud | YouTube | Twitch
Follow Paradise Blue on Social Media: