The weather is hot and the music is even hotter – and Hydraulix is proving that in full by curating a Summer Heaters playlist.
---
There's no introduction needed when it comes to Hydraulix, a beat connoisseur. The producer's knack for creating tracks of epic proportions helped to quickly solidify a career. Whether it's dirtier ones like "Let Em Drip," or more aggressive ones like his "Demon Hunter" remix, Hydraulix always manages to keep it fresh and bring massive amounts of energy. He further proved this in one of his latest releases, "Concrete" with Ohio-based rapper, Jasiah, which is the third track off his forthcoming album.
"Concrete" has this dark feel to it, especially with the vocals that Jasiah brings in. The low-end beat and layers of distortion made this high-energy tune one of the hottest releases of the summer. On top of releasing "Concrete," Hydraulix also just released the fourth track off his new project, "Wish I Never Met You" which changes up the mood on the other releases we've heard from his new album. Veronica Bravo lays down her vocals on the emotional tune, giving it an even more powerful feel. You might want to pull out the box of tissues on this one, it's sure to hit right in the heart.
Hydraulix continues to expand his sound design and prove that there are no boundaries when it comes to creating. This summer has been one with constant fire getting dropped right and left across the board in music. And Hydraulix was gracious enough to put together a playlist full of those sounds he hasn't been able to get enough of.
Summer Heaters consists of 21 tracks that Hydraulix has been bumping as of late. Not only electronic music either, but he also added tracks from artists in other genres. Such as TOKYO'S REVENGE "IRRESPONSIBLE," and Swrvo and Rose Hills' "SHAWTY DANCE." Other artists featured in the playlist are Herobust, Champagne Drip x G-Rex, Dimension, and so many more. While the artists found within the playlist are vastly different from one another, one thing's for sure, they're all truly fantastic tunes.
Check out the playlist below and make sure to catch Hydraulix when he goes on tour this summer and fall. You can catch him on the road as he takes off on the Imposter Syndrome North American Album Tour which kicks off in August at Bass Canyon and hitting cities like Denver, Atlanta, Dallas, Tampa, and more.
Stream Hyrdaulix's Summer Heaters Playlist on Spotify:
---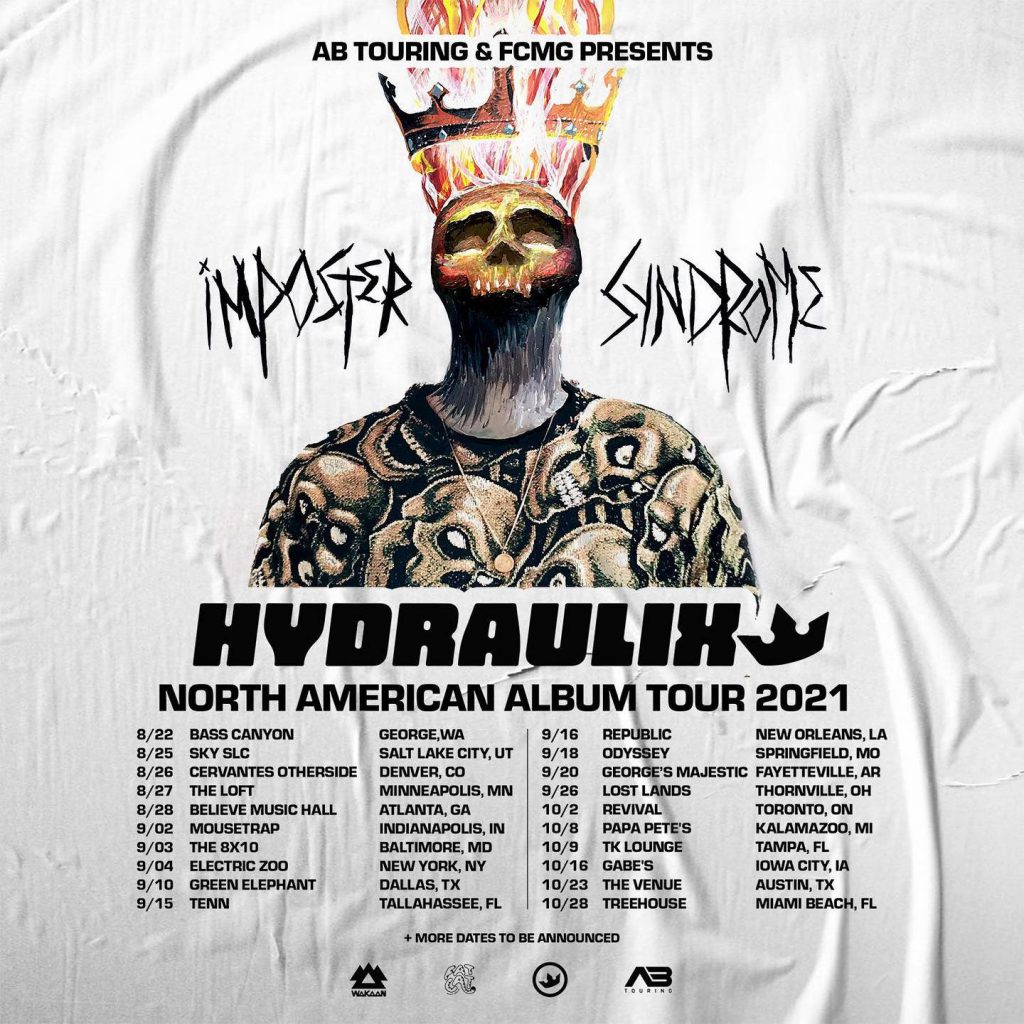 ---
Connect with Hydraulix on Social Media:
Facebook | Twitter | Instagram | SoundCloud | YouTube | Twitch