London-based wave artist Klasey Jones delivers his new EP, Hostile Takeover, which dazzles across its four, vibrant tracks.
---
Artists from London have presented the world with some of the finest electronic music for over three decades. The sounds of house, techno, drum and bass, trance, and dubstep have all boomed through speakers of its nightclubs, as waves of innovation surfaced from brilliant icons like Skream, Carl Cox, Fatboy Slim, and countless others. Now, yet another Londoner is pushing the boundaries of electronic music to create something truly unique: Klasey Jones.
This DJ and producer strives to make a high-energy, foreboding style of music that blends dreamy melodies, thumping bass, and frenetic drum patterns into his own signature sound. Now, Klasey Jones has put that on full display with his latest release, the Hostile Takeover EP.
Throughout the release, Klasey Jones seamlessly blends all elements of his sound into four stellar tracks, each one showcasing a variety of rhythm and energy. It starts strong with "Majority Shareholder," where an ominous intro gives way to an intense bass-driven melody. Up next is "Worst Way," which was a personal standout due to the beautiful balance between the high and low ends. Then, Jones pulls back the tempo a bit on "Synapse Industries" but still keeps the energy up with some fantastic drumwork over a steady melody. Finally, "Against Myself," a stunning collaboration with vocalist Sooski, brings the EP to a dazzling close.
Like many artists, Jones places a ton of emphasis on the visual elements of his art. The EP cover was created by Mizucat and features a drawing of three men in suits, each one slumped on a boardroom table with what seems to be a gunshot wound to the head. A woman, whose face is not visible, peers out a window overlooking the city. It adds another layer to the foreboding feeling on the EP, and we hope that Jones pushes further into this visual branding!
Klasey Jones' production prowess is on full display with Hostile Takeover, so make sure to stream this incredible EP on your preferred platform today!
Stream Klasey Jones – Hostile Takeover EP on Spotify:
---
Klasey Jones – Hostile Takeover EP – Tracklist:
Majority Shareholder
Worst Way
Synapse Industries
Against Myself (feat. Sooski)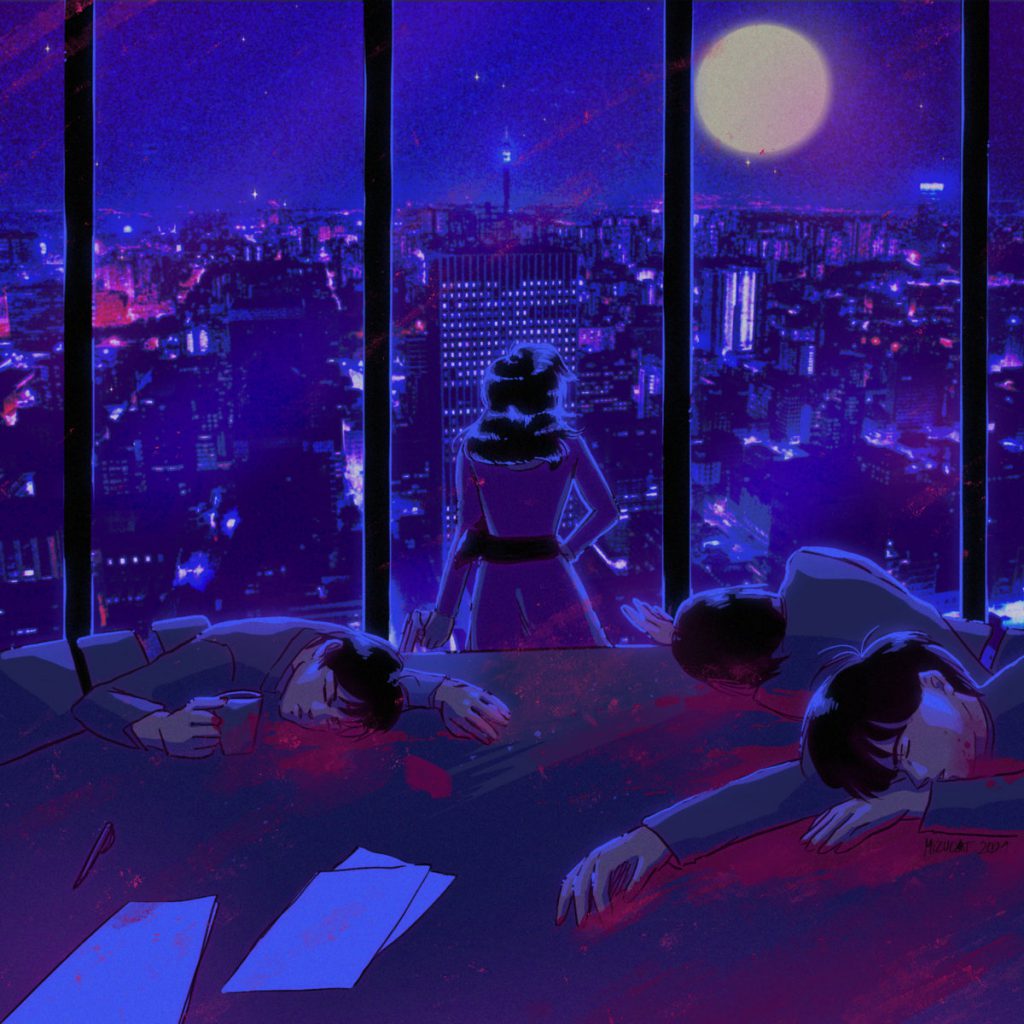 ---
Follow Klasey Jones on Social Media: