VNSSA and friends brought the heat at Day Trip, and with stacked house events every week this summer, your "Sunday Fundays" are covered.
---
It's been well over a year since I attended a massive festival or live music event in general, and if you're anything like me, that can seem overwhelming. Thoughts of doubt and worry swirled in my mind — will my body be able to handle it? Will my mind be able to handle it? Will things be the same? Well, if you're nervous about getting back into the hectic crowds then smaller shows are the move, and scheduling a Sunday Funday at Day Trip is a great way to dip your toes back in.
Set at the grass-covered patio of Academy LA, Day Trip has all the vibes of a daytime festival, but since it's relatively short, you're able to keep one foot on the ground mentally. And of course, the lineup of artists who are set to play the venue is insanely packed. The music was on point, and the crowd is sweet and welcoming, but there are definitely a few things to keep in mind to make sure you're partying safely and comfortably.
First, let's talk about the incredibly bouncy house music that kept things light and fun, and had everybody moving and grooving.
Every edition of Day Trip this summer is completely stacked with some of the best house music in the industry. I love to see women behind the decks, and Kari Duran got things started with a bang. It's so worth it to come early for the openers; there isn't a single person's set you want to miss. Plus, it's the perfect way to ease into crowds and festival craziness. Personally, I prefer when the dance floor isn't as packed, especially when the music is so groovy you can't standstill. No awkward swaying and standing around at Day Trip!
Ciszak, a member of the Dirtybird flock, kept things moving with bouncy house beats, and Steve Darko, the genius behind a Dirtybird anthem, "Fried or Fertilized," came in with all kinds of house vibes from darker beats to straight-up fire. Finally, the house legend herself, VNSSA, took the decks and the crowd went wild. Unfortunately, when the crowd got more packed, I had to take more breaks and couldn't really experience the entire set from start to finish — luckily you can still hear the music very well in the breezy alley with the vendors!
Speaking of the crowd, they were just as awesome as the music. LA Shuffle Squad made their presence known, tearing up the dance floor and being all-around sweet souls. If you go to camping festivals like Dirtybird or Lightning in a Bottle, it's fun to wear some kind of merch from those festivals so other festival go-ers can strike up conversations with you. Even just a fingernail painted with the Desert Hearts logo is enough to catch the eye of another camping festival go-er, and spark a new friendship!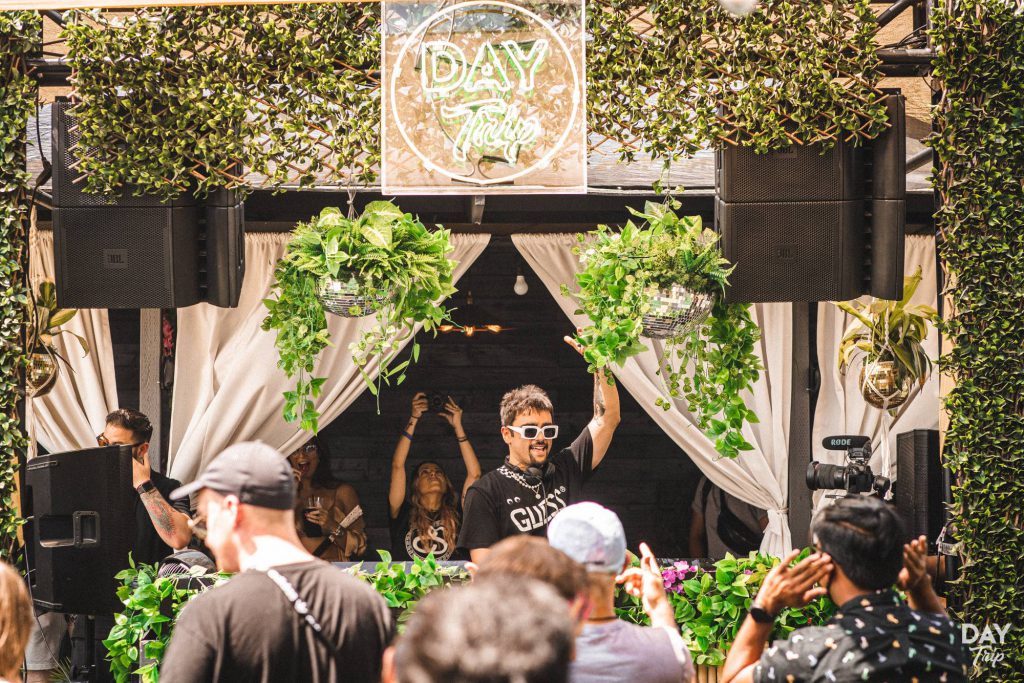 One more thing I need to point out about the crowd here, especially as we return to festivals in general: You never know who you're standing next to, so lead with an open mind and an open heart.
I met a cute blonde girl who happens to be an awesome R&B artist. Another girl who hosted a radio show promoting lesser-known artists — a gem! A guy who was about to work his last shift at his job that night after the event, and start a whole new life in just a few days! Everybody has a story.
But the interaction that stood out to me the most was meeting a nurse who was on the front lines of the COVID-19 pandemic. I can only imagine what these dedicated people have had to endure over the past year and a half. As hard as the pandemic was for me, sheltered in my little bubble, these people were never able to hide from the hardest and darkest parts of COVID-19. I asked if I could give him a hug, and he obliged with a smile of gratitude — and it was one of the most heartfelt hugs I've ever given.
If you run into a nurse, doctor, or anyone who was on the front lines of the pandemic, be sure to show them some extra love and appreciation. They've truly been through hell and back for those who were hit the hardest, out of the goodness of their hearts. As a general rule of thumb, just be as nice and considerate as possible to whoever is standing next to you. You don't know what they've been through in the past year and a half, and now that events are back on, it's time to show everyone some extra love and compassion.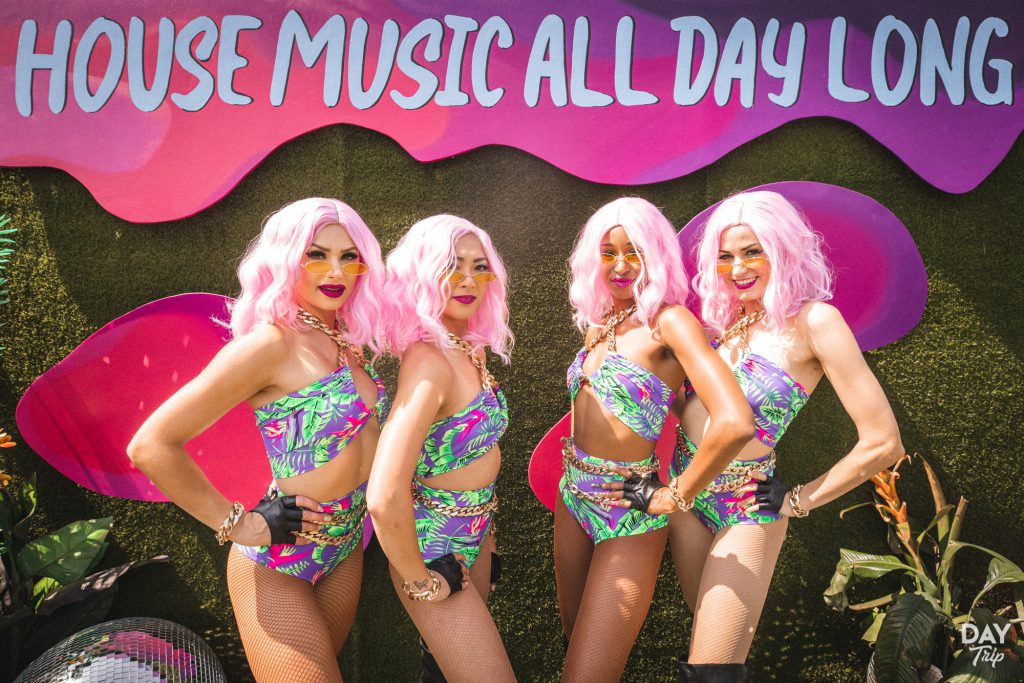 Next, let's talk about the venue. There are useful hacks to beat the heat and stay comfortable in the intense heat of the LA summer.
Los Angeles weather in the summer can be ruthless. When it's 90+ degrees outside, in mostly direct sunlight with barely any breeze making its way to the dance floor, it's important to keep cool — and luckily the vendors can help you do that! Right as you walk in the door, there were sweet vendors selling fans, spray bottles, artwork, fresh flower crowns, jewelry, popsicles, and more. I highly recommend stepping out for a popsicle in the middle of the event (I had two throughout the event — pineapple and spicy mango. Both awesome.) They are delicious and can effectively help you cool down your body temperature from the inside out.
Taking the time to talk to the vendors is always a great idea. Many of them would be partying alongside you on the dance floor if they weren't working, and they're just all-around dedicated, inspiring creatives. Don't rush by them, they put their hearts and souls into their offerings! Plus, unlike on the dance floor, the breeze comes through in that area really nicely.
If you're going to indulge in some drinks, you're in luck — there are three bars around the perimeter of the small patio. They offer a selection of fishbowl drinks that average about $45 (a reasonable price when you see the size of them) while offering regular cocktails, too. There's also free water in the back corner by the bathrooms. My #1 hack for this event is to share a fishbowl cocktail with a friend, preferably one with mint. Once you finish the cocktail, fill up the fishbowl with the free water — then, you have ice-cold minty water for the rest of the event. More refreshing than I can even put into words.
Although I had a great time at Day Trip, there are some things that could be improved about the venue to make the experience more comfortable and enjoyable for everyone.
There were a few moments where I felt myself overheating, and needing to take a step out for a minute. But once you decide you have to get out, you have to navigate a dense, sweaty crowd by the stage to get to some fresh air. I feel like the venue could seriously benefit from misters around the dance floor which could cool down the temperature by a good 15-20 degrees.
Also, there is an okay amount of shade in some places, but there could definitely be more. Some people were huddled by the bathrooms just to take advantage of the shade, which isn't exactly ideal. That being said, there are shaded VIP cabanas behind the DJ booth available for purchase, and I'd say they are well worth it for this event if you can find enough people to split it with.
The VIP Cabanas would also be clutch if you're looking to get off your feet as there were limited places to sit. I get that you don't go to Day Trip to sit down, but it's a long event on a really hot day. Adding some more shaded seating could help people take comfortable breaks, rather than sitting on the hot ground by the vendors (as many people resorted to doing). Plus, having more spots to chill and take a breather could encourage more people to show up earlier and catch the openers.
Regardless, my earlier statement holds true if you're looking for a great place to kickstart your return to live shows. You can have a great time at Day Trip — just make sure you take it easy and listen to your body throughout the day. Check out the schedule for upcoming dates, and pencil in a great day-cation for yourself!
---
Follow Day Trip on Social Media: