PEEKABOO

brings the bass on the Black Hole Tour with support from Buku, Champagne Drip, EPROM, TVBOO, Of The Trees, and more.
---
With exceptional production skills and an inimitable sound, PEEKABOO has captured the attention of many in the scene while cultivating a fanbase known as "the Boo Crew," since his breakout into the scene in 2017. Tracks of his like "Maniac" and "Babatunde" with G-Rex quickly became anthems and his sound caught the ear of fellow artists as well who have since supported his hypnotic tunes. Now, fresh off a mind-boggling set at Forbidden Kingdom, the renowned bass producer has announced the details for The Black Hole Tour, which spans over 39 dates across the U.S. – and he's bringing some of the best names in bass music along for the ride.
From hectic, headbanging beats to experimental bass sounds, there's something for everyone to drool over when this tour lands in cities including San Francisco, New Orleans, Chicago, Seattle, Los Angeles, Detroit, and Atlanta, among others. Each stop will have its own curated list of support artists – but even if you're not familiar with an artist at the show you're going to, we highly recommend showing up early because there's not a name on this list that you'll want to miss.
Those attending can catch some recently released bangers like Buku's high-energy "Right Here," Champagne Drip's melodic "Midnight in LA," EPROM's experimental "Dangerous Sound," or Mize's trippy "Refraction." Others will be able to swoon to Ravenscoon's ethereal sounds, bob to infectious beats from Smoakland, SubDocta, Sully, and TVBOO, and enjoy the deep, ear-pleasing bass of smith., Of the Trees, Space Wizard, Ternion Sound, Yheti, and Tsuruda.
To find out which performer is going to be at which show, look closely at the tour dates and find the symbols next to each date to find your ideal lineup. Once you decide which show you're going to, make sure to grab your tickets before they sell out — pre-sale for the Black Hole Tour begins on Wednesday, June 23, so make sure to head over to PEEKABOO's website to grab them.
---
PEEKABOO – Black Hole Tour – Fall 2021 Dates: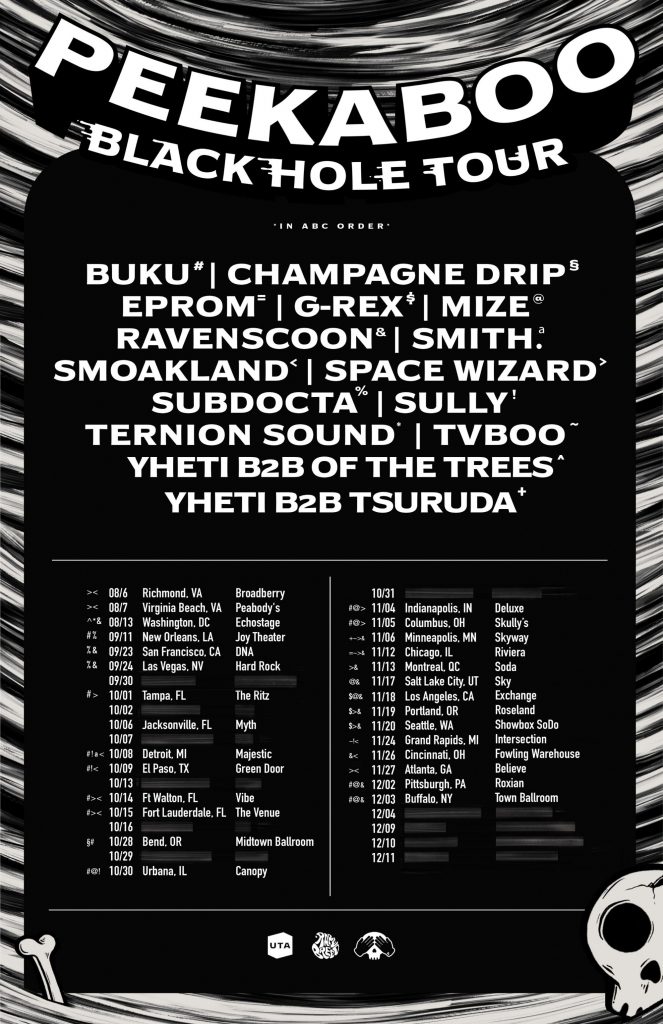 ---
Follow PEEKABOO on Social Media:
Website | Facebook | Twitter | Instagram | SoundCloud | YouTube