Lizzie Curious swung by to chat about her new single "One Day" with Doc Brown, her passions for music, and giving back to the dance music community.
---
To know Lizzie Curious is to love her, even if you only know her through her music. She is a beacon of good vibes as a resident of Groove Cruise, a teacher and mentor, a talented vocalist, and she makes some of the most infectious house beats the scene has ever seen. As a business-savvy master of many art forms, Lizzie Curious is not only a trailblazer — she offers her expertise of the business side music industry to those who share the same dreams as her, paving the way for the next generation of artists.
Fueled by a fiery passion for music from a young age, Lizzie Curious has an unparalleled sunny disposition, positive outlook, and huge, warm heart — all of which is palpable in her music. More recently, she teamed up with Doc Brown for her latest single, "One Day." This track paints a beautiful daydream of when the entire world opens up and returns back to normal, and we can all be together on dance floors around the world once again.
With brighter days on the horizon and her recent single in tow, we caught up with Lizzie Curious to find out what kind of music she listens to in her free time, where her passion for the dance music scene began, when you can party with her on Twitch, and more. If you're a producer, DJ, or just a music lover, you might be surprised to find you have something in common with the house queen herself! So listen to "One Day" on Spotify or your favorite platform and read on for the conversation!
Stream Lizzie Curious & Doc Brown – "One Day" on SoundCloud:
---
Hi Lizzie! I'm so excited to have the chance to catch up with you, you're such a beacon of light in the dance music scene, and your love for it shows through in your music so clearly. Can you tell us a little about how that love for the scene blossomed? Where were some of the first clubs or shows you went to? 
And it's great to be catching up with you, thank you for that lovely intro! My love affair with dance music began in the early 2000s when I was dancing the night away at raves under the railway arches in London! There were so many events in the capital that I loved, but I loved a night called 'Riot!' Which was an amazing Sunday party held at the infamous club The End in London. I also loved going to Turnmills, Bagleys and there was a fantastic night called Knowwhere at The Fridge — and in fact, I went on to be a resident in their house room. I have such amazing (if a little fuzzy!) memories of those incredible parties at The Fridge in Brixton!
You've mentioned that you started playing the recorder and the flute at a very young age. How would you say that technical knowledge in traditional music has contributed to your production techniques and styles? What is it that drew you to house music over other genres?
I think it's safe to say I have always had the music bug. My mum tells me my favourite toy when I was a toddler was a Fisher-Price record player! So, I started the recorder at 4 years old, the flute at about 10, and then I also studied singing, piano, and the cello all the way through till college. I'm so lucky to have been immersed in music from such a young age, but it wasn't till I was a late teen that I discovered dance music. I think it was the energy and excitement that first captured me — that magical uplifting vibe that united people together. And that's what I still love about house music now!
I think having those classical studies when I was younger really helped me, especially with performing vocals, working on melodies, and bringing a track together. I am such a fan of pianos in house music — in fact in my new collab with Doc Brown, we have a monster piano riff in the breakdown!
I have so much respect for how you continued to pursue your passion for music while earning a degree. Many people put those concerns on young people to focus on "practical" careers. What would you tell your past self if you could? What advice would you give to someone in that position now?
It's interesting that you mention this, as I was due to go to University to study for a traditional music degree, but I didn't quite get the grades I had predicted to get into the University I had been hoping for. At the time it felt like a real crushing blow and that's when I decided to get a "sensible" degree. Twenty years ago there were not the amazing types of music tech and business courses that are available now and back then I wasn't confident that I could make it in the classical music world.
Of course, when I was at uni that's when I fell in love properly with dance music, bought my vinyl decks, and taught myself how to mix (it was a lot harder when there were no Google or YouTube videos!) I'll never know what would have happened if I had studied classical music at university, but I like to think it was all meant to be. I would definitely tell my past self to not put too much pressure on myself (although I still do that now!) To anyone deciding on their career path, I would say definitely follow your dreams — but make sure you obtain the tools and knowledge that will help you achieve those dreams and have a long and successful career.
Congratulations on your one-year Twitchiversary! How has your experience been on Twitch? What got you started there? What does Twitch give you that things like live shows don't offer?
I started live streaming on Twitch back last year when things were tough in lockdown. Like so many other artists, I was struggling to find a purpose and motivation to keep on making music and was finding the situation very difficult. So I started live streaming to give myself something to look forward to every week, and with the hope I'd be able to also provide some of my friends with a little slice of joy, by playing really uplifting music and trying to put some good vibes out into the world. Now we have a super lovely, welcoming community (my Curious Crew), I absolutely love live streaming and I am so grateful for everyone's support!
Twitch gives you an amazing opportunity to connect and share your music with like-minded people from all across the world. It's also a very friendly platform to live stream on, so all the DJs tend to also help each other out and support each other too. In fact, I was inspired to ask Doc Brown if he wanted to collab after watching some of his live streams and seeing how the energy of our communities seemed to be very similar. I felt that the combination of his underground tech house sounds with my 'curious energy' could make for something really special. Because Twitch is so interactive, we were both able to test out versions of "One Day" with our communities and get feedback whilst we were making it, and I think it's really great for fans to be part of that journey too.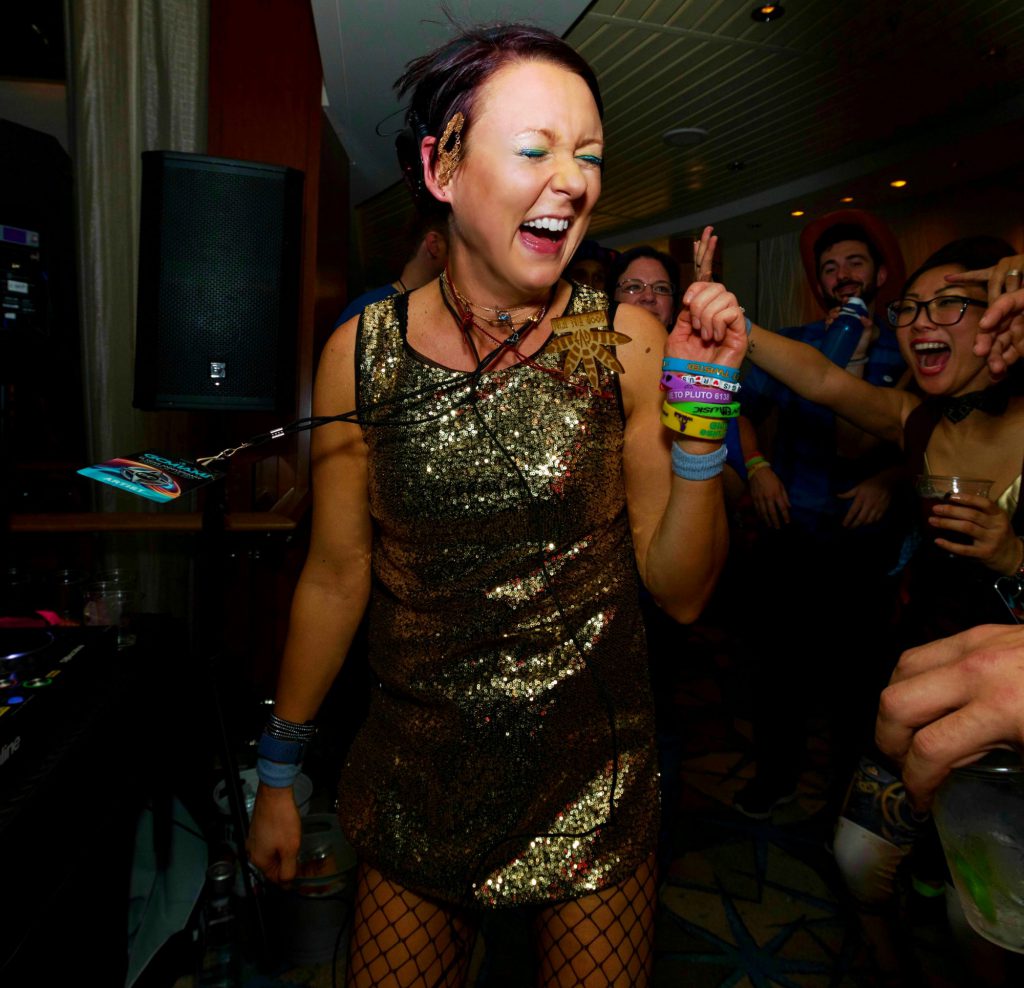 When you're listening to music, do you gravitate towards house music as well? Who are some of your favorite artists to listen to just for fun?
There are several shows that I listen to every week and these include Toolroom radio, David Penn's Urbana, and the Let There Be House / In It Together shows, too. And I'll never miss a mix or live stream from Fatboy Slim, he is one of my all-time favourite DJs — in fact, we are going to see him live in November and I can't wait!
Unfortunately as we know, there are some huge inequalities between male and female DJ's and producers in the scene. As a respected and successful female DJ, can you speak to any struggles that you experienced in your journey? Do you have any advice for up-and-coming female artists looking to break into the scene, and find their names on line-ups?
When I first started DJing (nearly 20 years ago, yikes!), I received a lot of comments from guys in bars who would say things like "What are you doing behind the decks, you're a girl" and for example sometimes in the clubs, sound engineers would think they need to explain to me how a mixer worked. Though I quickly got used to being the only female on a line-up and working in a male-dominated world, I think to be honest I blanked out a lot of the sexist comments and actions. It was challenging at times not to let it get you down and doubt yourself.
I had always assumed that over time that the ratio of male to female would balance out… but sadly this doesn't seem to have happened yet. In the last couple of years, I think there is more active support out there for up-and-coming artists in the minority groups, but as an industry, we still have a long way to go. So, I would say to up-and-coming female artists, firstly, believe in yourself, network with your sisters and support each other! There are some fantastic, proactive groups and movements to support artists in minority groups, so get involved and check those out, for example, Toolroom has the fantastic #WeAreListening campaign.
You're a vocalist, a musician, a DJ, and a producer AND a teacher — a full-on powerhouse, and always paying it forward. Are you still teaching at Point Blank Music School? What drew you to that institution? What inspired you to give back in this way?
After informally beginning my teaching career a few years ago by helping friends learn how to mix, I went on to help other vocalists with their recording techniques and then onto guest lecturing at various universities and colleges, all of which I really loved doing. Point Blank is a very well-respected academic institution, so as soon as I heard they were recruiting new lecturers for their Music Industry module I got in touch with them. I have now been part of the team for over three years and am module leader for the Music Industry course. I've always loved helping people and I really feel that by teaching at Point Blank, I'm able to play a part in helping students to fulfill their career aspirations in the music industry and that's something I'm very passionate about.
Finally, since the fun days of summer are on the horizon, where can we catch you hanging out when you want to let loose this season?
Well sadly, things are still a little bit tough in the UK as we still have some fairly strict restrictions in place. This means it will be a little longer before gigs in real life — where people can actually dance — start to happen again. So in the meantime, I'm really making the most of my streams on Twitch, where you can catch me every FriYAY 1700 BST / 12 noon ET and TUNESday 1600 BST / 1100 ET. I'll be beaming out curious energy and good vibes to our amazing community. If you'd like to tune in, my channel is www.twitch.tv/lizziecurious.
And it's a little way off, but I am also super excited for the next Groove Cruise voyage in January 2022 with my fellow GC resident Doc Brown! Due to the pandemic, it will be two years we have waited to sail together, and the energy on that ship is going to be unreal! "One Day" will definitely be getting played in our sets and I know every single person is going to have their hands in the air at that moment!
---
Follow Lizzie Curious on Social Media:
Website | Facebook | Twitter | Instagram | SoundCloud | Twitch