OMAIR presents OHM One Zero Zero, the 100th release on OHM Music featuring tracks from MBX, Danilo Ercole, Arkam, and more!
---
Brought to life by trance guru OMAIR, OHM Music has offered a platform to starry-eyed dreamers and innovative boundary breakers so that they may gift the community with music that ignites the spirit and inspires the body to groove. Some of the most exciting music on the planet has come out of OHM like OMAIR's "Dreamcatcher" and Danilo Ercole's Across The Sky EP. Now, they've reached their 100th release and are turning the page on a fresh chapter of their story.
To celebrate, the release of OHM One Zero Zero has arrived – a magnificent 20 track compilation featuring cornerstone family and friends of the imprint! Get ready because your ears will be graced with grand remixes that have bloomed out of the foundational bedrock as well as brand new dance floor heaters primed and ready to shock the system. From the introspective opening of Lilla Støv's "Afraid of the Dark" to Danilo Ercole's intense "Elemento" closer, the musical atmosphere builds on an upward trajectory. We even have Ellez Ria showing off his Arkam alias on two infectious offerings while Table 18 and Theology turn to their Wæde Wätts project for "Time Warp."
Prepare your heart for the moments that inspire a sing-along, uplifting atmospheres that take your breath away, and soul-expanding soundscapes that will make you fall even deeper in love with the blossoming brand. Whatever your heart is searching for, OHM Music has a track to match and OHM One Zero Zero provides the journey! So, as they smash through this milestone, it's time to turn the volume up and look forward to a bright future paved with uplifting melodies and earth-quaking basslines.  
Stream OHM One Zero Zero on your favorite music platform, listen to the album below, and continue on as I highlight a few of the standout tracks!
Stream OMAIR Presents – OHM One Zero Zero on Spotify:
---
As I travel down the lush path that weaves through trance paradise there's some magic along the way. These are the tracks that stopped me dead in my tracks.
Tantra's "Muladhara" is the first to raise my brow as the sensual dark energy makes me feel extra mischievous. The bassline chug bonds to the pulse in my veins and it's easy to fall victim to the ominous vibe. In Hindu tantrism, the Muladhara is the root chakra and the vibrations felt throughout this offering stabilize my body's energy as I wind and groove to the mystic melody.
Once I arrive at "The Infinite Exploration" by Mahaputra I'm ready to float away, deep into my imagination. A heavenly voice reassures me that I've entered a safe space, cloaked in love and overwhelmed by the life-giving melody. The unexpected rise makes way for a grand mic drop moment when the synth takes over and the peak hour energy explodes out of the speakers.
When Arkam drops in with "Thunderbolt" I'm ready to let loose and allow my happy feet to pitter-patter all over the floor. I'm obsessed with the tech-soaked vitality that kicks things into overdrive before the billowing melodic accents take me for a deep dive into the underground. The boiling energy compliments the fanciful nature of this track and makes for one invigorating dance session!
As the sweat drips off my brow, Nico Cranxx's "Khatulistiwa" keeps the temperature hot like fire. It's as if this track was designed exactly to my taste and I'm knocked square on my rear end by the mystic detail that morphs within the exaggerated progression. This track smolders from beginning to end and when the kick drops in for the brain-bending finale', I catch myself hollering at the top of my lungs in approval!
As I try to gather myself from that random moment of extreme jubilation, I realize that my experience isn't settling down anytime soon!
In fact, it's about to get even crazier. "Time Warp" by Wæde Wätts keeps the flames burning with a laser-focused electric punch that melts my brain into pure mush. I love the discreet trippy flair that ultimately makes way for the exposure of a majestic trance atmosphere. This track has loads of attitude, yet finds a way to keep me light on my toes as I dance my way across time and space.
To top off this captivating moment, I make a stop at "The Kingmaker" by OMAIR and Josh Bailey. Originally produced to take aim at America's political state of affairs, it has always been one of my go-to favorites. As an extra special treat, Sygma jumps on remix duties and delivers a ferocious rendition that makes me want to climb the tallest mountain, reach my hands to the sky, and stomp to the beat until my feet can't take it anymore.
Climbing down off the mountain, Jackob Rocksonn gives me one final stun to the senses with "Echoplex." This a track with loads of grit and chilling top-end expressions. The creative spark is almost too much for my brain to compute! I don't know whether to be terrified of the menacing shadow creatures lurking off on the horizon or accept that it's just the sounds of "Echoplex" messing with my head. Either way, I'm fully digging what Jackob's laying down.
When all is said and done, OHM One Zero Zero provided the perfect snapshot of OHM Music at its core.
Their mission aims at welcoming the driven, the talented, the forward thinkers, and the dream chasers. They are a family of musical pioneers and creative visionaries, from all walks of life around the globe. Even though I only touched on a few of my favorites, it's important to experience the album full-on because these amazing men and women have poured everything into their craft, asking for nothing more than to see you dance!
---
OMAIR Presents – OHM One Zero Zero – Tracklist:
Lilla Støv – Afraid of the Dark
Sunlight Project – Glorious Days (Hudi Ardianto Remix)
MBX – Seasons
Jon Bourne – Curiosity
Initial Eyes – Under The Cover Of Night
Tantra – Muladhara
Apex Sound – The Great Journey
Karbon Krow – Purper
AC Lights – Icarus
Karybde – Take Control
Mahaputra – The Infinite Exploration
Arkam – Thunderbolt
OMAIR x Arkam feat. Bev Wild – Take Me Back
Nico Cranxx – Khatulistiwa
Sean Joseph feat. Hussain Ali Shah – Halo
Wæde Wätts – Time Warp
Arkam – Lantern
OMAIR & Josh Bailey – The Kingmaker (Sygma Techy Remix)
Jackob Rocksonn – Echoplex
Danilo Ercole – Elemento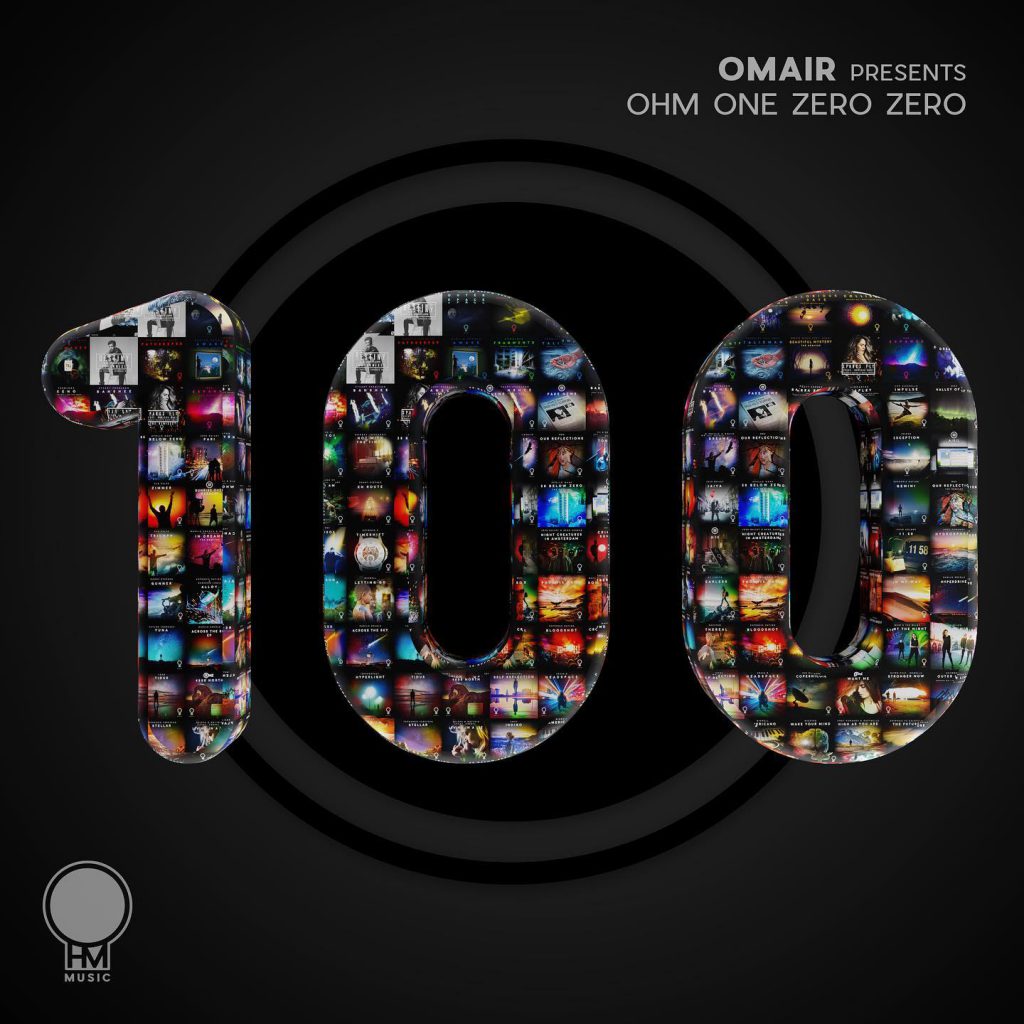 ---
Follow OMAIR on Social Media:
Facebook | Twitter | Instagram | SoundCloud | YouTube
Follow OHM Music on Social Media:
Facebook | Twitter | Instagram | SoundCloud