The Dirtybird Campout 24-Hour Flash Sale is happening now, but you can enter for your chance to win a pair of passes!
---
Even though Dirtybird CampINN has come to a close there's still so much excitement in the air because Dirtybird Campout West looms right around the corner! It's been a long time since the flock has gathered together on the Modesto Campgrounds and on October 15, the gates will open and you'll be welcomed to a party unlike any other party on the planet. From house and techno to bass and DnB, your favorite music will be guiding you through the shenanigans, brought to you by the DJs and producers that make Dirtybird colorfully eclectic and full of edge.
For those of you that desire a stimulating immersive experience, your adult summer camp awaits with games, recreation, sports, and contests available at every turn. Some of the stand-out activities from years past include a talent contest, bingo, balloon toss, archery, tug-o-war, wood carving, and the list goes on and on. Even sweeter, chances are you'll get to mix and mingle with your favorite Dirtybird artist, as this is a festival that lives and breathes inclusivity and unpretentious social interaction. You may even get to play a little dodgeball with Claude VonStroke himself!
Related: Dirtybird has announced the Road To Dirtybird Day Festival in Los Angeles, CA on August 8 at Expo Park. Check out the post for details and ticket link!
While we wait to see what's in store for us this year, it's time to place our focus on the here and now and that means grabbing your ticket and/or entering the contest below, which provides you the chance to win two general admission passes. Who doesn't love free stuff?! But, please note that Thursday arrival passes, vehicle passes, and Birds Nest luxury packages are available for purchase at lower ticketing tier prices if you grab them during the flash sale.
Finally, don't forget, you'll need to provide proof of vaccination or a negative COVID-19 test for entry to the festival because Dirtybird loves each and every one of us and wants you to have the best time ever while staying healthy and protecting others. So do your due diligence and we will see you at camp!
For those of you who have joined Birdfeed and signed up for the mailing list, the Dirtybird Campout Flash Sale is happening right now and runs until early bird passes have sold out! But, if you're feeling lucky, take a chance and enter to win two passes below!
---
Enter to win a pair of passes to Dirtybird Campout 2021:
Win a Pair of Passes to Dirtybird Campout West Coast 2021
---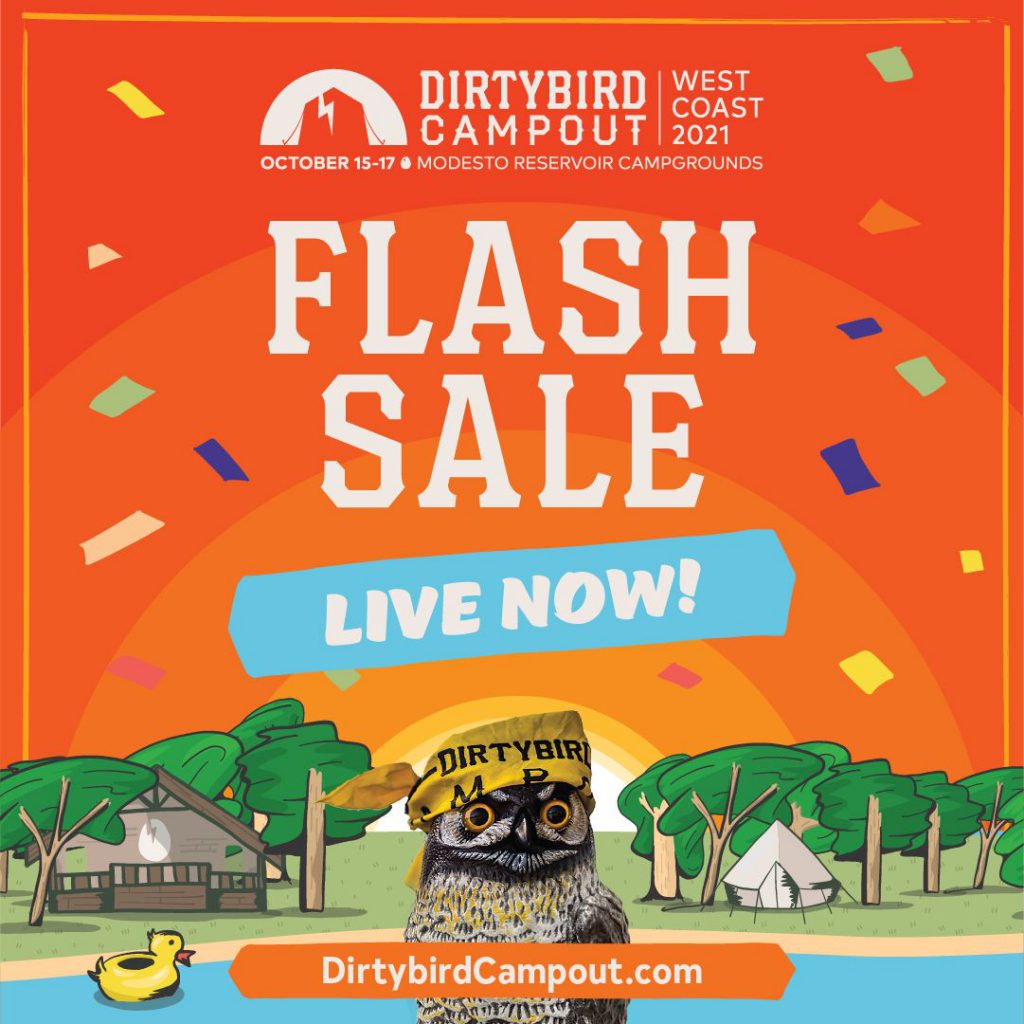 ---
Connect with Dirtybird Campout on Social Media:
Website | Facebook | Twitter | Instagram | SoundCloud | YouTube